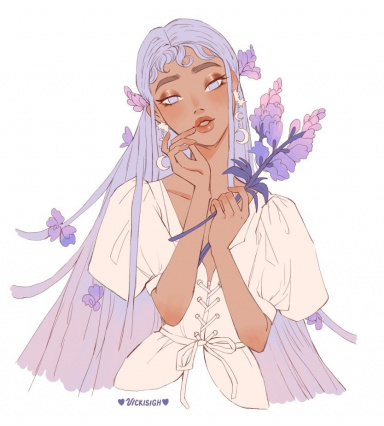 Rotten and Delicious
Original poster
Invitation Status

,
Posting Speed

Multiple posts per day, 1-3 posts per day, One post per day, 1-3 posts per week, One post per week
Writing Levels

Adept, Advanced
Preferred Character Gender

Female, Primarily Prefer Female
Genres

Fantasy, Horror, Romance, Yaoi, Magical Girl, Supernatural, Victorian Goth, Steam Punk

Howdy!

Note:
As of 11/05/2019 I am open to doing FxM plots with the right partner and have one original plot for fxm. I will do FxM under normal circumstances if your plot intrigues me.


Please respond by PM
!
Down below, I will present some stories I am interested in weaving with another femslash lover.

If you must know, I prefer to write at least 4-5 paragraphs on average, but will do much more if my partner forces it out of me by making extremely detailed and juicy posts. You can request a sample post, or search for my old posts to determine if we will be a good fit. If you request a sample post, you should be prepared with your own, but I have attached one below for your convenience:

I usually stick to anime face claims, but it really isn't a big deal to me that I use a real person, or use physical descriptions. I feel I am capable of writing a multitude of genres, but I like fantasy, supernatural, slice of life(only w/ ridiculous amounts of drama), action/adventure, and horror. Time periods really don't matter to me - we can play with pitch forks and arrows, or guns and lasers. I love it all. I'm not very squeamish either, so we can go pretty dark if needed. I don't consider myself a doubler, but I will introduce side characters, villains, and whatever else we need to get the story moving and keep it interesting. I expect the same from you. However, our MCs will always be the stars of the show and should be the OTP.

I prefer to roleplay through PMs. My smut to plot ratio is 20:80. Let's get nice and steamy for like, a long ass time before they seal the deal. I'm willing to make exceptions if bangin' is somehow relevant to the plot, but I'm more interested in story. Since we're on the topic, in stories I go with switch and sub. Sure, I could dom, but I'm not going to for the most part. I'm not completely unwilling.
There will be times where we may have to take a break or move on, hit me with a message and it's all cool with me. If you just ghost me though??? Well, maybe we can work something out. Muse is a fickle bitch, and I get that. Just let me know!
I like to not be bothered to post, and usually won't bother you about it either. However, if a month or so has passed without a response the rp is on hiatus or over, depends how far along we were.

Follow me to the plots, folks! Most of these come to me randomly and aren't well thought out. I'd like someone to help me world build and plot. If you aren't offering any ideas and expect me to do it all then I'll probably just find someone more dedicated. All of these stories are meant to be long term.

All stories will feature characters 18+ and follow all iwaku site rules! I don't play on here much, but I will if I get some good bites here. :)


A smile began to form on Hanma's lips when Katherine seemed to be offering some sort of reassurance about her running off, but it was actually the complete opposite. Hanma's shoulders tensed at the near accusation that Katherine seemed to be making. A brow lifted as she turned her neck to the side, and simply stared at Katherine with a look of awe. Excuse me? Hanma was certainly offended, though, self-aware of the fact that she was more on edge than usual since Lana had been killed. She shook her head slowly, like she was talking herself out of something. Sister Theresa did inform Hanma that Katherine had lived a very different life from her, and that patience would be needed in this new chapter of their lives together. The more Katherine said, the more she missed her old partner and the close bond they shared. Just how much patience was she supposed to have?

Hanma exhaled slowly through her nostrils and turned her attention back to the ancient, robed man at the podium. Her eyes closed as he began his speech, and she thanked him for intervening in a way. Dear Lord I beg you for peace and understanding in this cruel time as I am faced with...new obstacles and dark dreams. May the angels guide my sister into your heavenly kingdom and protect her. Let her suffer no longer. Amen. The whole church stood on the Archbishops cue, and Hanma rose in sync with Katherine. Her own heavenly voicedblended with the congregation and chills shot up her spine at the power of their song. Lana had always told Hanma she should sing more, instead of that fake singing Hanma would often do when forced to sing in church. Releasing her voice was empowering, in a way, healing. Though the ceremony was impersonal for those who had lost someone dear to them, she would rather grieve with all of her sisters than alone at Lana's grave.

As her spirit was filled with the gift of song, an icy cold dagger cut through the holy hymns and Hanma's left eye twitched annoyingly. Only her eyes moved as she searched the cathedral for the source of the demonic energies that she felt. She looked to Katherine, half registering what the woman said. "I did. What does...it mean?" Hanma whispered, concern in her voice as the dark feeling grew nearer to her heart. It has been centuries since a demon has set foot inside of the cathedral. There's no way they would get past the doors. A shrill scream from outside of the closed double doors leading into the main hall effectively cut into the holy reverie that had captured the church. Others must have sensed the demonic presence as well, as the music had died down and people were beginning to talk. Others weeped. Many of the nuns lived within the walls of the church their entire lives and never left. It would be the first time a lot of them would ever be faced with a demon.

Deep growling resonated from behind the thick wooden doors, and Hanma turned her head slowly towards where the sound was coming from with wide, frightened eyes. After witnessing the destruction of her friend, she wasn't sure if she could face another catastrophe. She prayed this was only a sick vision and that it would all return to normal soon. When the banging started, Hanma planted her feet firmly in place and clenched her fists. There was what sounded like struggling and muffled screams coming from the other room, when another scream filled the air. A deep, layered roar followed after it and the doors busted from the hinges and flew down the aisle. Hanma instinctively crossed her arms in front of her as a powerful blast of energy shook the room and sent those in the back rows flying. A flurry of thick wood splinters and concrete flew into the room, knocking some people out and impaling others.

"D-demons!" A nun screamed and pointed into the thick cloud of debris near the entrance. Several shadowy figures with menacing dark auras flaring up like a dancing flame stood blocking the door way. The cloud died down to reveal the faces of priests distorted by the demons now possessing their bodies. One of them held the body of a young nun in their arms. She did not bear the insignia of those with divine powers. The poor girl never stood a chance. Her body was tossed to the side like trash, her near lifeless body sputtering blood and groaning off to the side.

Hanma's expression fell cold as she laid eyes on Lana. She was...looking in Hanma's direction too, holding the body of a nun. Lana. She mouthed the name breathlessly, her hand raising to finger the holy trinket dangling from her neck. It was Lana, Hanma was sure of it. Her stomach felt ill and her skin turned ghost white. "I don't understand. Y-you're dead." Hanma muttered to herself. Hanma's heart was pounding so loud she could hear it in her ears. She couldn't believe it. She was sickened and disgusted by the Lana that stood at the entrance, the demonic energy that surrounded her body. The pain of knowing that her soul was not yet at peace, absolutely broke her heart. Who would do such a thing? Hanma could barely move.

"Die, filthy creature of night!" The nun yelled fiercely, as she leapt through the air with her palms pointed at the trio of dark priests. A light blue glow shot from her hands, and ice chunks suddenly shot out from her hands and pierced a demon through her right shoulder, causing it to stagger to the side before growling. It was her duty as a holy warrior to slay and vanquish all demons. She wore a holy trinket around her neck, a 'halo' with a snowflake insignia cut into the white gold metal. She had to protect her sisters. One of the re-animated demons leaped up into the air, dodging the ice attack with a quick flash and clutching its claws around the woman's throat, squeezing tight and cackling with the voice of ten different people. It was terrifying.
Plz understand these are rough ideas, and need a lot of work to be playable from both our parts. Well, unless you like whats originally written here and just want to do some light pruning.
A song in the sky: Inspired by The Fifth Element (Preference for this is FxF, FxNB)
Genre: Space Opera, Sci-fi, Fantasy.
YC is an officer in the galactic space force and is aboard a space cruise ship on vacation. She mingles with a mysterious alien woman(MC), but didn't happen to catch her name in time before she disappeared. Moments later that same alien woman takes the stage and performs a lovely space number for those in attendance. After the show they get a moment to chat and be a lil gay, when the lights go out and a shrill scream is heard from somewhere in the dark. An enemy of the galactic space force has taken the opportunity to attack the space ship, and what's more, the singer is somehow caught up in the middle of it? Note: Alien will be humanoid in appearance.)

Starstruck: Anime only - FxF, FxNB
Genre: Slice of Life, Romance, Drama, Comedy
YC moved away seven years ago to attend a prestigious performing arts academy and becomes an instant star. She later rejoins the world of normal people during their first year of university. Everyone is super stoked to see YC, except the one girl(MC) who YC used to bully and literally made her life much harder than it needed to be during those precious years of youth, but has possibly turned over a new leaf. Both are shocked when they are somehow stuck with each other as roommates and apart of the same musical program.

Notes: For this I would love to do something where they are very opposite. Mine would be lavendar and bows, ballet, literature and yours...whatever you want.

Rise of the Living Dead: Inspired by Resident Evil, Telltales:TWD .
Genre: Horror, Action, Supernatural, Romance
While on vacation in South America, a historical museum is overrun by crazed humans attacking and eating each other. Our characters will be total strangers and get stuck together fighting for their lives. Along the way they will encounter zombies, both mutant and human types. They will also have to try and find a way back home, and discover who the real monsters are as the zombie apocalypse takes over and they acclimate to the new world.
Note: In this universe, zombies have never existed and this is the first time our characters will be hearing about them.

Cyber World:
Inspired by: Sword Art Online, .hack, Ready Player One, West World (FxF, FxNB)
Genre: Sci-fi, Fantasy
Our characters play a VR MMO and have recently just met in a popular gathering hub, when bugged NPCs begin attacking everyone and no one can log out of the game. Rumors ignite that a virus has spread, others say that outside sources are affecting the game. Either way, MC and YC are stuck in their virtual bodies and somehow work together to get to the bottom of this.
Note: As for what type of MMO this is I don't really care. We could go the classic medieval setting with dungeons and dragons and magic, or something like West World.

Unholy Confession: (An original idea)
Themes: Religious, Faith, Gay
YC is on path to becoming a priest and mine is a nun. Both have seen each other around and have often caught each other stealing glances. One day they grow closer than deemed appropriate, and everything begins to unfold from there.
Note: Since there are no female catholic priests, we will need to create our own religion, which might be fun to include other elements inside of this roleplay. Maybe our holy characters fight demons for a church, but romance is forbidden and they take an oath of celibacy.

Roseburn City: (A semi-original idea)
Genres: Supernatural, romance, horror
A girl's body turns up in the woods with wounds caused by a rather large animal. Cops speculate that it was a bear. Very little details are released and some don't buy it. After all, Rose burn has a history of supernatural shit. Anyways, MC and YC were the victims closest childhood friends and recently the victim had reached out to both of them hoping to reconnect before she was murdered. Guilt ridden, or not, they work together to attempt to solve the mystery behind their friends death and uncover the mysteries of their city.
Note: I actually want this to be a supernatural roleplay that goes on for awhile, like vampire diaries. No, we don't have to be vampires, but I'd like ours to at some point be revealed to be supernatural. I envision my character from a witch family.

A Princess and a Guardian (Kind of original, but not rlly.)
Genre: Mahou shoujo
YC is a magical girl soldier who has guarded Earth for many years, her soul reincarnated after a normal life cycle. MC is a magical girl princess who governs Earth, though her soul is said to be from a distant planet and deeply connected to the Earth. After an impossible enemy shows up, MC saves YC from death, though YCs friends weren't as fortunate. They work together to defeat the enemy, but life is forever changed when enemies continue to show up. Like in all good magical girl stories, no one is ever really dead.
Note: I imagine a futuristic world like Crystal Tokyo from Sailor Moon, but I would like to use OCs and come up with new powers, etc. It's a rough idea, so muust be willing to plot plot plot.

Runaways(X-men/Heroes type rp)
Genre: Adventure, Survival, Action, Romance(duh)
Two mutants escape from a facility where mutants are led to believe that it is a safe haven for their kind. When they escape they find an apocalyptic landscape where they have to fend for themselves against other mutants, and military forces. Not only that, but that facility they escaped from wants them back. Seems one of our characters did something to really piss the warden off, but what?
Note: Think X-men Days of Future Past. Would love to coordinate and make two special mutants and keep this story going a long time. Our characters will not be pros with their powers, but be very powerful eventually. Bonus if you wanna do cyberpunk type settings!

Journey West (Inuyasha-esque)
When a daimyo's daughter falls suddenly ill, a priestess comes to find that she has been possessed by a powerful dark magic. Said to be tricked and cursed by a Kitsune, the priestess attempts to exorcise the dark magic, but is met with darkness and then tells the daimyo that the princess will die. However, there is a rumored artifact to purify the princess and defeat the princess, but it is guarded by many trials. The daimyo enlists the help of outside help to escort his daughter on this perilous journey.
Note: Very rough around the edges plot, but let's plan?

Totally Spies: Next Generation/Charlies Angels *NEW*
Genres: Comedy, Action, Adventure, Romance
After the original spies from Whoop are killed tragically by some antagonist(obvi), Jerry attends several universities as an undercover talent scout, hoping to fill their shoes. What the ladies don't know, is that they are being hand picked by the old spy to replace Alex, Clover, and Sam. As of right now this is a 1x1, but could be a 1x1x1 if I got a good trio willing to equally play their role in this.

Superheroes and Villains: *NEW*
Genres: Action, Adventure, Comedy, Epic Fights, Comic
MC arrives to a new city to start her new teaching position at a university, or, that's what she has told everyone. In all actuality, she has moved to flex her new super hero abilities after being affected by some strange radiation during a class trip a few years ago and being exposed in her small home town. YC, is up to you, but she is a villain, or at the very least an anti-hero. I also would like her to be in a position of power for a woman, a business mogul, a ceo, something powerful. YC has a scheduled seminar in MC's campus and coincidentally, a villain sends out a strike at the student body where they are forced to work together wearing their secret identities.
Note: They may or may not have met up until this point. We can work all that out.

Dance with a Demon: (This plot if specifically for FxFuta, or FxM) *NEW*
Themes: Romance, unrequited love, sad, feel good
After a stranger(YC) shows up in the dark of the night, they become entangled with MC and impregnates her. YC leaves for several years, and the child grows up to exhibit powerful abilities that lead ppl to believe she and the child are cursed. Finally, for whatever reason, YC returns to the village hoping to reconnect with MC and unaware of the fact that YC has also created a spawn. MC will have nothing to do with yours, but does not deny YC the right to your child. This is a journey of co-parenting, and reigniting the flames of love!



Fandoms:
Sailor Moon
Attack on Titan
Naruto
Madoka Magicka
NaNa
Utena
Harry Potter (I've only read the first three books, but seen all of the films)
Lord of The Rings

Pairings: (The bold is mine. If there is no bold its safe to assume I have no preference.)
Demon x Human Sacrifice
(Taken)
Vampire x Human
Vampire x
Fae
Sheriff x
Pastor's Daughter (Western)
Bandit x
Pastor's Daughter (Western)
Feel free to send me ideas of your own that you think I might be interested in!
Last edited: