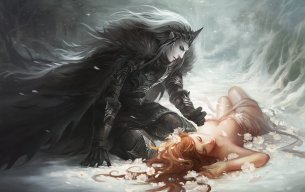 Edgelord
Original poster
FOLKLORE MEMBER
Invitation Status

Looking for partners
Posting Speed

1-3 posts per day
One post per day
Multiple posts per week
1-3 posts per week
Writing Levels

Intermediate
Adept
Advanced
Adaptable
Preferred Character Gender

Female
Genres

magical, romance, adventure, action, vampire, mythical, heroic, apocalyptic, historical, pirates, superhero, damsel-in-distress
---
---
---
It is set in the 30th century. All was well in the land, Pluto took up her position at the gate again (NPC) while the other senshi lived in Crystal Tokyo with Neo Queen Serenity. Each of the Senshi took up the mantel of Queen of their ruling planet and remained as Neo Queen Serenity's counsel.
Over time children and even grandchildren were born to the senshi.

Then disaster struck, Crystal Tokyo came under attack once more. Neo Queen Serenity and her court fought bravely, as did Small Lady Serenity and her court, but they couldn't save the world, their power wasn't strong enough. Sailor Juno, Ceres, Vesta, and Pallas were killed, their Sailor Crystals taken from them in a heartbeat.
Not wanting the dark forces to lay their hands on the rest of the Sailor Crystals, the Senshi gave up their powers, and died.

The grandsons and granddaughters of the original senshi were sealed into an ageless slumber, until now. Now it is time for them to wake up, and take up their roles in reclaiming the kingdom.
---
So that's basically the story.
The children (ages 14-20) can be either males or females.
Everyone is a 3rd generation senshi. That means for example: The new Sailor Moon is Usagi's grandchild, Chibiusa's child. The new Sailor Mars is Rei's grandchild, etc.
The goal of the RP is simple:
Reclaim the kingdom.
To do so they need to do the following:
Try to work together as a team, figure out who their enemy is, and defeat it
.
Let me know what you think, do you think it could be an interesting story, would you participate, and which senshi would you then want to be, any questions, etc.
(You may play up to 2 characters)
Moon (reserved)
Mercury
Mars (reserved)
Jupiter (reserved)
Venus (reserved)
Neptune (reserved)
Uranus (reserved)
Saturn (reserved)
Pluto (NPC)
The children of Sailor Juno, Ceres, Vesta, and Pallas will not awaken until the Sailor Crystals of those four are returned. So for now they can not be chosen.
---
---
Last edited: