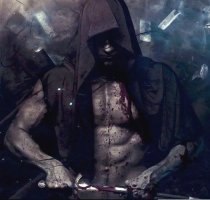 Wolf of the North
Original poster
Invitation Status

, , ,
Posting Speed

Speed of Light, Multiple posts per day, 1-3 posts per day, 1-3 posts per week
Writing Levels

Give-No-Fucks, Beginner, Adaptable
Preferred Character Gender

Male, Female, Primarily Prefer Male
Genres

Fantasy, Sci-Fi, Modern Fantasy, Romance
Legends. Stories scattered through time. Mankind has grown quite fond of recounting the exploits of heroes and villains, forgetting so easily that we are remnants, byproducts, of a forgotten past.
Man, born from Dust, was strong, wise, and resourceful. But he was born into an unforgiving world. An inevitable darkness, creatures of destruction, creatures of Grimm, set their sights on man and all of his creations. These forces clashed, and it seemed the Darkness was intent on returning man's brief existence to the void.
However, even the smallest spark of hope is enough to ignite change. And in time, man's passion, resourcefulness, and ingenuity led them to the tools that would help them even the odds.
This power was appropriately named, Dust.
Nature's wrath in hand, man lit their way through the Darkness. And in the shadow's absence came strength, civilization, and, most importantly, life.
Ruby looks out the window of the ship.
"What do ya think, little sis? Ready to go to Beacon?"
"I don't know, Yang. I got moved ahead two years. I don't wanna be treated differently."
"You'll be fine. That just means they'll like you more."
"Will they though?"
Ruby looks around the ship at the other students. Luckily, noone was looking at her. She rubs her weapon, transforming Sniper-Scythe named Crescent Rose reassuringly.

Lurcolm