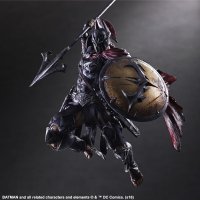 129% of people exaggerate.
Original poster
[fieldbox="Aspida Labs Miami Branch, blue, solid"]
The click of high heels echoed through the halls as Maxine Redwell walked, a clipboard in one arm and a red hazard container in the other. She wasn't alone though. Three men dressed in black accompanied her each one sporting a R.E.I.F. patch on their shoulder. Brown door after brown door passed by until she finally stopped. Knocking on the door, she opened it before the occupant could answer , "Ms. Ramsden? Hi, I'm Maxine Redwell and I've been tasked with conducting random blood tests on employees. Your employee I.D. Number came up, so if you could accompany these fine gentlemen to the testing lab in a moment, we'll get this done and have you back to work in no time."
Her red lips parted revealing perfectly white teeth as she stepped to a clear counter and placed the red case upon it. Opening it, she pulled out a vial and then removed a sticker from the clipboard before gently placing it on the vial, "Take this with you," she handed the vial and a sheet of paper to her, "And be sure to fill the paper out first. I'll meet you down there."
She smiled again before exiting the room.
In the testing lab, Maxine waited until Ms. Ramsden joined her. With steady hands, she slipped and tide the rubber band around the woman's arm before gently slapping at her vein, "I don't know why we do these random tests. It seems to be silly to me," she slipped the needle into the woman's arm and watched the red liquid fill the vial, "We're all tested before we start work," she pulled the needle out and pressed a piece of gauze against her arm before taking away the band, "Hold that there for a few minutes while I run this test. It'll come back negative, I'm sure, but protocol insists you wait."
She patted the woman's shoulder before stepping out the door and rounding the corner before stepping into another room. The three other men were standing there only now they were dressed in tactical gear carrying automatic weapons. Maxine popped open the red container and pulled out the testing kit, "Once this shows up positive. Take her hard and fast, non-lethals only. Aspida wants her alive."
She poured the blood in the testing kit and introduced the identifier. While they waited, one of the men handed her a pistol, "Come on, Come on, Come on," she said. After another minute passed, the blood stayed red, "What?" Maxine inquired, "How?"
"Maybe the intel was wrong?" answered one of the men.
She shook her head, "The intel wasn't wrong. She beat it somehow. Go. Take her and we'll find out how she beat it later."
--------
Go. Take her and we'll find out how she beat it later.
"Send them in. Do it now!" Keegan ordered right away.
"Lex," Jade's voice came over her earpiece, "Go! Hurry! Josie's been compromised. Get her out now! Your whole team's a go!"
"Wait," Keegan interrupted, as he looked up at the screens, "Mack and Luna, get Josie. Lex, you need to get her notes. Keith can walk you through it. I don't need to tell you how important it is to retrieve both of them, but if you must choose, rescue Josie."
He watched on his screen as the Rogues jumped into actions, "Godspeed," he spoke as he watched the scene unfold.
[/fieldbox]

Reina
Reythaak

Kat

CloudyBlueDay

Elle Joyner

Aero Blue

Mobley Eats
Kimberlyn
Link to
Character Index
Last edited: