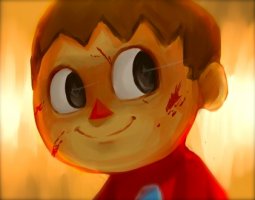 Hi-def
Original poster
LURKER MEMBER
FOLKLORE MEMBER
Preferred Character Gender

Male
Genres

Fantasy, Horror and Sci-fi. I'll try basically anything though. I also love strange and unusual RP genre concepts. Different is good!
RETURN TO HOGWARTS
As the crisp air of early september blew softly over the surrounding countryside, a lone blackbird landed high atop one of the high stone peaks in the magical school of Hogwarts. If we could be lucky enough to have the exceptional view of this particular blackbird, we would see down upon the open court yard of the beautifully maintained castle. Thick rows of bright evergreen hedges outlined neat, cobblestone walkways. Every so often a small tree would poke up here and there, offering contrast to the perfectly trimmed greenery.
The blackbird, who was in the process of chewing down a rather large, and plump worm, was suddenly startled. It flew off in a hurry from its roost as a shrill bell rang out into the morning sky. At this point rows of students, all dresses in matching black gowns, whos only differentiating traits would be the various colors that hung from either scarfs or small idems, signifying their respective houses. Griffendor, Slytherin, Raven Claw or Huffelpull; The four founders of the greatest school of magical study that has ever existed.
-------------------------------------------------------------------------
THE LAYOUT OF THE SCHOOL
http://fc08.deviantart.com/fs13/f/2007/021/4/3/Hogwarts__Ground_Floor_by_Hogwarts_Castle.jpg
TERMINOLOGY
((Awesome, right?))
http://infohost.nmt.edu/~armiller/potter/potter.htm
-------------------------------------------------------------------------
PROFESSORS & CLASSES ((NPC & PC))
Potions - Taught by Professor
Alaister Taboran
and Played by
Grumpy
Defense against the dark arts - Taught by Professor
Robert McLeod
and Played by
Darkness
Magical History - Taught by Professor
Stormac Hein
Herbology - Taught by Madam
Bonnie Brush
Transfiguration - Taught by Professor
Emily Eastwick
Study of magical creatures - Taught by Groundskeeper
Rubious Hagrid
Divination - taught by Professor
Lauren La loopa
Astronomy - taught by Professor
Dean Gray
-------------------------------------------------------------------------
THE PLAYERS & CHARACTERS
Patty Pixie
, playing
Aurora Malfoy, Slytherin, 6th Year
Diana Notacat
, Playing
Alathea Hawthorn, Ravenclaw, 7th year
October Knight
, Playing
Maximus Greywind, Griffindor, 6th year
Big Red
, Playing
Zeromus Liberi Fatali, Griffindor,
Latsyrc
, Playing
Columbia Star,, Ravenclaw, 6th year
Warmasterdeath
, Playing as the
Spteznaz, a Super elite russian special ops unit
((as there are several characters he will be playing as, please refer to the OOC
http://space-kitten.org/iwaku/showthread.php?t=372
For info on the unit))
Blood Magdelene
, playing
Kaori Amakusa, 4th year Ravenclaw
------------------------------------------------------------------------------
I.C.
Maximus Greywind
, known as Max to most of his class mates as well as professors, hurried down the narrow hallway bridging the courtyard and the Trasnfiguration hall. On his way he past a noisy group of third year girls, who seemed to be obsessing over the newest flavor of Bertie Bott's Every Flavor Beans. The flavor was apparently called "First kiss" and to Max, who on more than one occasion had had terrible experiences with the beans, they sounded disgusting. He took a sharp left at the end of the hallway when he felt a cold shiver run down his spine, causing him to shake uncontrollably.
" Morning, Nick." Said max to one of the many resident ghosts that swarmed the grounds. Nearly headless Nick, who seemed to be in quite the hurry, said a quick hello then was on his way. Max payed little attention to the abrupt behavior of the "Headless haunt" as he had more important things on his mind this morning. For weeks now, Max had been Taking a some what hidden passage that went from the Transfiguration hall to just outside the eastern side of the Greenhouses. It was a passage that ran through the walls, and despite being dark and dank, it served for a quick way to go from point A to Point B during class changes.
As Max approached the secret entrance, that was located between a broom closet and an old picture of a wizard with a glass of wine, he took care to look both ways before entering the almost un noticeable passage way. He loved finding new ways to travel from class to class, and in all his six years at Hogwarts the thrill of new discovery never ceased to amaze him.
After several twists and sharp turns, Max saw the dim light that indicated the end of the passage. He stopped for a moment to tighten his red and gold scarf that hung around his neck. He next patted the inner pockets of his ropes to insure his wand was safely concealed, and as always, it was. He peered out into the bright morning light and saw that the coast was clear. As he stepped out onto the soft grass he took a quick glance back and noticed that the entrance, or exit rather, had already closed back up. It seemed that this particular hidden passage was One way, that was fine with Max as it had once again served it's purpose.