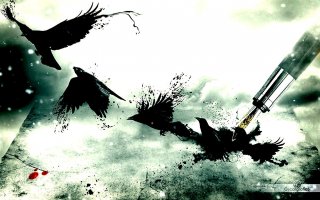 An Artist of Words
Original poster
She tumbled out of the wall of a flower shop, disoriented, lost and kneeling on the edge of a curb, just lucky enough not to land in the middle of traffic. The young woman gasped, scrambled barely back to her feet and immediately smacked into the brick wall next to the door. She cried out loudly when she bounced off, then frantically began to dig.
The people around her were struck with a sudden panic, some having begun to run away, the others, those closest to her, were hyperventilating and dizzily falling to the ground. One woman had a dog that had started whining and cowering beside its shaking owner.
Her hands surrounded by white energy, the bricks in front of her were engulfed in white as they were flung from the wall as swiftly as she could move them out of the way, some of which crashed through nearby shop windows, grazed parking meters or clattered into the road behind her. She screamed as the bricks ran out and left a hole into the flower shop
"No!! You are NOT Leaving me Behind! No!"
Her fists pounded into the plaster over and over, dust clouds falling from the wall and causing the girl to cough as tears started streaming down her face.
She felt like she couldn't breathe. She had forgotten her father's lessons in self-control, her mother's calming exercises, all of the promises she had made to never let herself hurt anyone just because she was hurting. Yet here she was. Just a kid who had gotten home from school to meet the end of the world, now with new rips in her jeans and holes in her t-shirt where her injuries dotted the fabric with blood.
She had no idea what to do. No idea where she was or why or how to go back. She was shaking now, knowing that her mother had stopped time. So there was still time to do something! She had to do something! Her blows to the wall grow weaker as her sobs got louder.
"Mo-om"
her weak voice cracked as her knees collapsed beneath her. Her already bloody knees left small red patches under her kneecaps as she kept trying and failing to think of a spell, incantation, Anything to get her home. She was still unaware of her surroundings or why everything smelled like flowers, but she didn't care. As far as she was concerned, Hope was all alone and desperately wanted to help her family or die with them.
A block away on either side of the unfortunate flower shop, things seemed as normal as ever in Gotham. Any news van drivers that tried to drive into the area had to pull over in order to try and catch their breath, feeling desperate and terrified without knowing why. The small, pale girl covered in burns, scrapes and bruises still faced the broken brick wall before her, lost in her own mind and gaspingtrembling with crackling energy radiating from her.
Last edited: