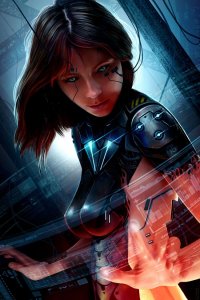 The Murrstress
Original poster
LURKER MEMBER
FOLKLORE MEMBER
Invitation Status

Not accepting invites at this time
Posting Speed

Multiple posts per day
1-3 posts per day
Writing Levels

Adept
Advanced
Prestige
Douche
Adaptable
Preferred Character Gender

No Preferences
Genres

Scifi, Fantasy, Modern, Magical, Horror, Noir, apocalyptic, Grimdark, yaoi, yuri, anything really.
Now, I figured that it might be a good idea to make this thread myself for various reasons...
Ok, so let's get this ball rolling, ok? This thread is on STAFF POLICIES.
Now, when someone first joins Iwaku, right off from the start, they check out the guide where this is proclaimed:
Member Rights & Terms of Use
As a Member of Iwaku you have the right to:

- Roleplay!
- Chat!
- Share ideas and opinions!
- Enjoy yourself and the company of others!

These rights are given as long as you follow the Guide and Policies of Iwaku! All private content and conversations remain so unless bad behavior has been reported. If you harass members on Iwaku or continuously break policies, your conduct will be brought to the attention of the Staff. All members are able to report posts and private messages when they feel like someone is harassing them or breaking rules.

Staff Members discuss the situation and decide what to do about any bad behaviors. If your behavior is deemed a threat to the peace of Iwaku, you might receive a small warning or have your account suspended or banned. Issues are always taken on a case-by-case basis.

So please remember: Treat others as you wish to be treated! And your stay at Iwaku will be a happy one!
It clearly stated a "Threat to the peace of Iwaku" is the only reason we might get involved within member behaviors and have your convos. This is not "wire tapping" or anything to that angle, it's so that the ENTIRE staff can make a decision together after brainstorming what is the best course of action in the BEST interest of the COMMUNITY. This is an important process. Here, lemme give an example.
Say a member..... hmmmm Let's pick "Orion" decides to do one of the following
1. Have a huge fight with Jinx, it drags on for days and Orion is ranting about it everywhere.
2. Decides that well, he's upset, for some reason RL isn't working out and he tells everyone he is DONE with life.
3. Personally goes after a staff member for any reasoning.
1. The reaction to this is in the best interest of both parties, but also for the peace of Iwaku so that no one has to get dragged into the crossfire. Usually the Staff will try to talk to both members and help resolve the issue. Chat logs MIGHT be take into account so solid judgments can be made and so that everyone is on the same page and also so that we can give good help. W
2. Suicide threats are serious matters. We have to keep a log of those at least so everyone in staff knows and tries to actively think together on a solution on how to help that person.
3. In this case, it would work much like 1. would.
This is in no way an attempt to control or take away your rights, But this is a way to actually SAFEGUARD them. It's a method to ensure that what one staff member is saying is helpful and well thought out. It's a way to check and make sure of a certain situation. And it's not often done.
We're not playing "Big Brother" and if you think that staff discussions on how to proceed are communistic, then I'm sorry, but you're clearly mistaken.
This is a way to keep things organized and updated when needed.
Do you have problems with this Privacy policy? If so, how would you change it? What would you do instead?