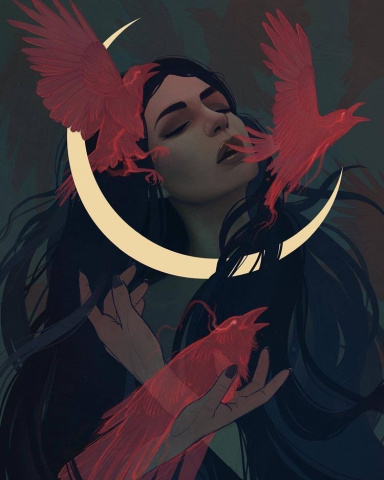 "𝔑𝔢𝔳𝔢𝔯 𝔱𝔯𝔲𝔰𝔱 𝔱𝔥𝔢 𝔩𝔦𝔳𝔦𝔫𝔤."
Original poster
Invitation Status

Looking for partners
Posting Speed

Multiple posts per day
1-3 posts per day
One post per day
Multiple posts per week
1-3 posts per week
One post per week
Writing Levels

Adept
Advanced
Preferred Character Gender

Primarily Prefer Female
Genres

Horror, Dark Romance, Fantasy, Dark Fantasy, Supernatural, Victorian, Modern, etc.
WELCOME TO MY RP SEARCH!
You can call me Sapphic. I am 22 years old and my pronouns are she/her. I am currently on the look for roleplay partners.
I hope that some of you will be interested and we can come up with an amazing world!
꒷꒦˚︶︶꒦꒷︶꒷꒦˚꒷꒦˚︶︶꒦꒷︶꒷꒦˚꒷꒦˚︶︶꒦꒷︶꒷꒦˚
⛥ RULES & INFO⛥
- 18+ ONLY. NO MINORS ALLOWED.
- I do not tolerate anyone who is rude, homophobic, transphobic, biphobic, ableist, or anything along those lines.
DO NOT INTERACT WITH ME. I WILL REPORT YOU
- I am ghost friendly, but a warning beforehand or a farewell is nice. I will do the same.
- We must work together with plotting otherwise it will not be fun.
- I don't have many triggers, but I will keep in mind of others. I won't be talking about such subjects unless it's okay. I want this to be safe space and fun
environment for my partners.
⛥ PREFERENCES⛥
- Romance is preferred over any pairing, but I do enjoy adding friendships within the roleplay. I also love to double or even triple.
- The more pairings/characters the merrier.
- All my characters are apart of the LGBTQ+ community.
- I love talking OOC. I like to get to know my partners and possibly become friends and of course only if you are okay with it. There's no pressure.
- My preferred pairings are F/M or F/F, but I am open to M/M though it isn't my strong suit.
- I primarily write female characters, but I can write for male, non-binary characters, etc.
- Communication is key when it comes to plotting. I love to also create Pinterest boards and swoon over our characters.
- I am an absolute horror fanatic so, I'm ALWAYS open to horror roleplays.
- Please be able to write 2+ paragraphs or more. I like to be able to work with your reply and it makes the roleplay run smoother.
- I tend to write novella or lit, but we can always work out the length of the replies. I'm not harsh on reply length.
- Any face claims are okay, but preferably realistic or description. I'm not the biggest fan of anime fc either, but its up to you.
Also, please list the person's name for the face claim (actor, actress, model, singer, etc.)
- I love fandom and original roleplay ideas. I'll list all of them below.
- I can become fairly inactive at times so, please don't be shy to check in. Just don't harass me for a response. I want this to be fun. Not a chore.
- I do have a life outside of a roleplay so, please understand when I'm gone for periods of time. I will do the same for you. Life comes first. Thank you.
꒷꒦˚︶︶꒦꒷︶꒷꒦˚꒷꒦˚︶︶꒦꒷︶꒷꒦˚꒷꒦˚︶︶꒦꒷︶꒷꒦˚


⛥

OG PAIRINGS & BRIEF IDEAS

⛥




Supernatural Creature x Human
Ex Lovers
Villain x Hero
Paranormal Investigator x Human
Enemies to lovers
Supernatural Creature x Supernatural Creature
80's/ 90's Horror
Modern Horror
Murder Mystery
Victorian Era
Frenemies
Dark Romance
⛥ FANDOMS
⛥
Scream
Resident Evil
The Last Of Us (PT. 1 & 2)
American Horror Story (1, 2, 3, 4, 8, & 9)
Devil May Cry
Twilight
The Hunger Games
Until Dawn
Stranger Things
Halloween
꒷꒦˚︶︶꒦꒷︶꒷꒦˚꒷꒦˚︶︶꒦꒷︶꒷꒦˚꒷꒦˚︶︶꒦꒷︶꒷꒦˚
IF YOU'RE INTERESTED PLEASE COMMENT BELOW OR PM ME!!


​