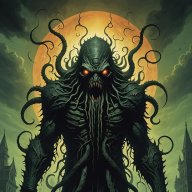 Waiting for Wit
Original poster
SECURITY DEPARTMENT
Invitation Status

Looking for partners
Posting Speed

1-3 posts per day
Multiple posts per week
One post per week
Slow As Molasses
Online Availability

On fairly regularly, every day. I'll notice a PM almost immediately. Replies come randomly.
Writing Levels

Adept
Advanced
Preferred Character Gender

Primarily Prefer Male
No Preferences
Genres

High fantasy is my personal favorite, followed closely by modern fantasy and post-apocalyptic, but I can happily play in any genre if the plot is good enough.

Hello Iwaku!
Next in this series of PSAs is one regarding "Not Safe For Work" images.
NSFW
Iwaku has a full set of 'NSFW' rules for both written content and images,
which can be read here
. However, this PSA is going to be looking specifically at our policies for avatar and signature images.
Most of our NSFW content rules, barring a few significant exceptions such as pornography, only require the content to be hidden and labeled with a warning. However, avatars and signatures are held to a much stricter standard.
It is very hard for members to hide avatars. It is also impossible for someone to put them in a spoiler or give a warning it might contain sexually suggestive imagery before another member sees it. This means that people who are accessing Iwaku from school, work, or public locations, or anyone who isn't comfortable seeing sexually suggestive imagery, cannot avoid these images.
For this reason, all avatars and signature images must be appropriate for a professional environment. If you wouldn't want your boss or your parents seeing it over your shoulder, it shouldn't be an avatar.
Here is the full list of what avatars cannot contain, taken from our NSFW Content Policies resource. The full guide also contains some example images for what would or would not be appropriate for a category.
- Images that draw eyes to genitalia or breasts through their composition. Sexually-charged facial expressions and figures.

- See-through clothing, panty shots, or clothing that barely covers genitals or female nipples except in cases of non-sexualized activity-appropriate apparel such as swimwear. A character in lingerie would be allowed only if everything's covered and it's non-sexualized.

- Sexually suggestive poses, such as leaning in to enhance cleavage, bouncing breasts, hands in crotches, spread legs, butts turned up at the "camera", blow-job face, or any pose that looks like a cropped hentai still where there's something sexual happening out of the frame.

- Exposed penis, vagina, butt cheeks, female nipples, or majority-nude figures. (This includes medical diagrams that depict genitalia, but those without genitalia are acceptable.) Over-generous side-boob and cleavage.

- Visible camel-toe or bulges.

- Anything that's obviously intended to look like cum. It doesn't matter if it's "just ice cream".

- Sex toys or bondage gear such as ball gags.

- Pornography. Erections. Cum. Visible intercourse, be it penetrative or not. This is not allowed on Iwaku period.

- Obvious troll attempts for NSFW outside of the sexual arena, like KKK avatars or a giant swastika. Come on guys.

- Violent death or mortal injury of a human or animal.

- Photographs/photorealistic artwork depicting graphic gore or decay of human or animal corpses.

- Large amounts of blood/gore.

- Drug paraphernalia such as bongs. Visible use of illegal drugs.
And You!
There are two things you can do to help Iwaku maintain our NSFW policies.
First, check your own avatar! Would you be comfortable using that avatar to represent you at work? If you would not, compare it to the content policies in the spoiler above. If it falls into any of the above categories, please change it.
The second, and more important, thing you can do is send in reports!
Even with the NSFW Content Policy resource and this PSA, there will still be members of Iwaku who are not familiar with our avatar and signature rules. If another member's avatar or something in their signature would make you uncomfortable if someone saw it over your shoulder, please send in a report!
Not only will you be helping to maintain Iwaku, you also don't need to worry about getting the member you are reporting into trouble. We do not punish people for mistakenly using a NSFW image in their avatars or signatures, we simply ask them to change it.
Please note that frivolous reports of clearly safe for work avatars, or attempts to report someone as a means of harassment or trolling will be ignored. We review what you report, and don't just act blindly. Repeated, intentional misuse of the report feature could end up getting you in trouble instead!
Other than that, please report at will, and thank you for helping to keep Iwaku a safe and welcoming community for all our members.