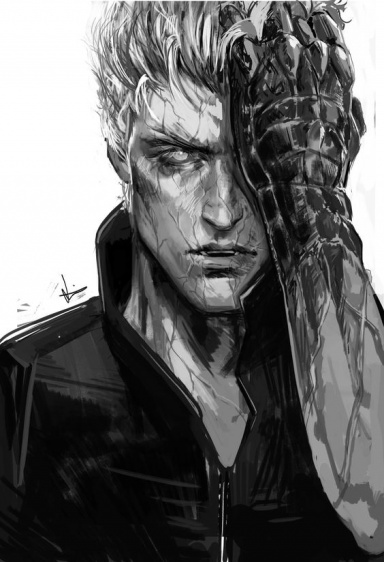 Highlord of the Tal'Darim
Original poster
LURKER MEMBER
FOLKLORE MEMBER
Invitation Status
Posting Speed

1-3 posts per week
Writing Levels

Adept
Advanced
Prestige
Preferred Character Gender

Male
Primarily Prefer Male
Genres

Action, Fantasy, Romance, Modern, Magical, Sci-Fi, Steampunk, etc.
An Old Master and Regalia re-unite to bring back his name. The world will forever change, with him back.
[fieldbox=I K E | S A E N E S T U, red]
N A M E
Ike Saenestu
G E N D E R
Male
S P E C I E S
God | Far Shore
D O M A I N
Peace | Tranquility


A G E
Immortal | 500+ Years
P E R S O N A L I T Y
Ike is a complicated man, with complicated feelings that he buries down. Over his years of living, the wishes brought to him affected him once. Back when Japan was Feudal, wars were common. 'Peace' came at a price, and so did his sanity. Now with the Modern world, most wishes he obtains are for peace in the household, school, etc. Sometimes people don't even pray or wish to him for peace, but other random wishes that people figure bigger Gods wouldn't handle with. He is now more of a laid back, happy kind of guy. The worlds state of peace affects his own personality, to put it simply.
H I S T O R Y
Ike was once a God who was prayed to often. He had shrines, loyal followers, and even his own spot within the Major Gods. That was during the Feudal Ages, when war corrupted the lands, and only blood mattered. Peace was only obtained through bloodshed, never words. He was almost viewed as a God of War at one point. Claiming to be seen on the battlefield, fighting and killing the Humans and Phantoms alike. It wasn't true though. He never laid a hand on a Human, but he ha his Followers do his work for him. A God killing Humans and doing dirty work along those lines, fall into the category of Calamity. He would not be looked down upon by others, and would not stoop low enough to kill a Human for 5 Yen. His Followers would however...

As War began to fade, and the Modern Era began to approach. Less and less people prayed and wished to him. Soon, he fell from the Graces and Minds of the people and even the Gods. He lost his seat, his respect, and even his Shrines as they were destroyed and replaced with Shrines of other Gods. The World didn't need him to bring Peace anymore. They needed Knowledge, Power, Wealth, and many other things, but Peace was already obtained.

So he disappeared for three hundred years to slumber. Now he has awoken, in the year of 2021 Japan. He released his old Regalia before he slumbered, and went in search of a new one. One that he could us to fight Phantoms with and help rebuild his name and Shrines.
O T H E R
- Ike enjoys eating
- Ike is a skilled warrior, thanks to his Feudal days
- The more chaos in the world, the more Ike's personality changes
​
[/fieldbox]

Name:
Yena

Gender:

Female

Species:

Regalia

Master:

Ike-gami

Age:

Appears around 18-20


Form:

Yena takes the form of a one handed straight sword designed for both offense and defense. The blade itself is a cold silvery color while the pommel is decorated with intricate silver designs and the hilt is wrapped in a blue cloth.
Personality:
true optimist at heart. She lives by the motto, "Life is too short for sadness." Quick to forgive, Yena couldn't hold onto a grudge even if she tried her hardest too, and while her anger comes quick and in intense spurts, it doesn't last for very long. Honestly speaking, Yena is a bit like an old friendly grandmother with a happy-go-lucky attitude trapped in a young adult's body. Being a human of many contradictions, Yena enjoys company, yet remains introverted, treasures her friends, but lets them go very easily with a short of "oh-well" attitude.

True to her INTJ nature, Yena is very quiet to strangers and will never initiate a conversation, but she has no problem continuing one. Intuitive, Yena understands and gets patterns very quickly, meaning she is a rather intelligent person, though she can appear quite ditsy as well. Even though Yena tries hard to be nice, but she finds the struggles of many silly, and while she may comfort you at first, she isn't afraid to tell you to move on and forget about it. Empathetic, Yena has virtually no sympathetic side, because she simply cannot bring herself to care. Not that she enjoys keeping tabs on people, Yena has a very bad habit of judging people right after she's met them, and will short of keep track of them within her brain while making false assumptions based on appearances. Like many INTJ's, Yena will not talk to everyone, but rather a more selective group, meaning her friends usually meet a short of set of requirements, giving off the slight impression of arrogance, which she is a touch bit, to some extent.

Even if she may let go of friends easily, Yena will remain fiercely loyal to them, and can get relatively nasty and cold if you do something bad. I did warn you she was a creature of contradictions. However mean she can get, she can also be very nice, and will always plan ahead, anticipating and calculating the things that one might need throughout certain situations, in other words: she is like a girl scout. She will never think of only herself and will always bring extras of anything in case someone else forgot theirs. Strategic to a fault, Yena enjoys coming up plans and will be at an utter loss if something goes awry,.

Her fatal flaw is that she often keeps emotions bottled up within her, and tries not to talk about them simply because she doesn't know how to. But, Yena has a hard time getting over things, especially anything animal related.
Fiercely loyal, she will do whatever it takes to serve and protect her master.




History:

Born a long time ago, all Yena knows is that she has served Ike from the times when he was prosperous to now. After becoming a regalia, she can't remember what happened in the past, except that she had died a bloody death. It was most likely that she was murdered by a family member, but everything is fuzzy.

Other:

Yena has a fondness and weakness for animals.
​
Chapter One:
Peace
​
Last edited by a moderator: