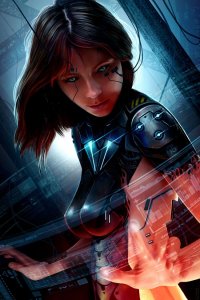 The Murrstress
Original poster
LURKER MEMBER
FOLKLORE MEMBER
Invitation Status

Not accepting invites at this time
Posting Speed

Multiple posts per day
1-3 posts per day
Writing Levels

Adept
Advanced
Prestige
Douche
Adaptable
Preferred Character Gender

No Preferences
Genres

Scifi, Fantasy, Modern, Magical, Horror, Noir, apocalyptic, Grimdark, yaoi, yuri, anything really.
The name of the establishment was "Night Sun".
It didn't look very special. At all. It was a department-sized building next to a popular mall. No one paid it any attention until it became the hotspot at night.
It had become, simply, the best club.
With drink names such as "Spunk Spit" and "BJ On Grass" and knowing the vague, somewhat known drinks such as "Drunk Ninja" and "Shit on Grass", it was a great bar as well.
But what it was known best for, was its light shows, specifically, for glowsticking and glowstringing contests.
*******
Example of Glowsticking:
http://www.youtube.com/watch?v=v40GvZkFxOQ&feature=related
Example of Glowstringing:
http://www.youtube.com/watch?v=RO_uxrHVtmw
********
The thing is. This club is situated in a poor area. And each week, the prize for being named "Best In Show of Glowsticking/Glowstringing" is beyond 50,000 USA dollars.
The reigning champion at the moment is a dancer known as "Phoenix"
View attachment 951
She's won money for both classes, and her signature is wearing over twenty glowsticks on her body at once and using them ALL during a performance, usually all of them are red or orange. She uses the money, not for herself, but for her younger brother, who was diagnosed with leukemia. She pays the medical bills with the prize money. And almost always, under her is "Malachite"
View attachment 952
Her strong point is glowsticking, with a high emphasis on Liquid Style. Her signature is staining parts of her clothing in the fluid of her glow sticks. Sometimes, she will even intentionally get some in her eyes to add to the effect. She's only actually won once, but her reason for fighting every week is to get out of this town. She's trying to buy her way into a new town, due to having a broken home.
Everyone else seems to be a wild card.
But there's been a rumor that there's about to be a championship, with teams, that might end up, with EACH TEAM MEMBER walking home with a full wallet of a million dollars. Three people to a team. Only ten glow sticks per each person.
What everyone is looking forward to, though, is Malachite and Phoenix picking their team members, seeing as how they are barred from picking their friends.
But there's a new group that is apparently coming up through the ranks.
*************************
Name: (Obviously the real name)
Stage/Rave Name: (What is your nickname in the club?)
Appearance: (Obvious)
Height: (This can affect your style of dance. If you're taller, you'll be able to work with much longer threads for glow stringing)
Personality: (Personality is important to know, since most times, you can see it matching up to their style of dancing)
Colors & Number of glow sticks: (You can only have a MAX OF TEN GLOW STICKS. Possible colors: White, Red, Purple, Blue, Orange, Green, Teal, Pink)
Signature: (What are you known for?)
Theme Song: (What's the song you can break a move to in your sleep?)
Reason for competing: (Why do you want that milly?)
History: (Just a short scrap)
**************************
Team Members for Malachite:
1.
2.
Team Members for Phoenix:
1.
2.
Newcomer Team Members:
1.
2.
3.