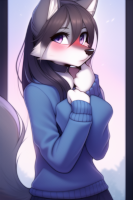 Hopeless Romantic
Original poster
In the urban sprawl of Xenonia, tech has flourished alongside the inception of Neocasting. Utilizing the flow of Nenergy and technology, a near-utopic state has been achieved for anyone able to keep up. Monorail trains ferry people from place to place, raised walkways crisscross above the ground - the higher one's status in life, the higher they live in the skyscrapers that Xenoites call home. And thus the more lavish their lifestyle.

To those who fall through the cracks, they live in the squalor of the lower levels. Below the lowest walkway are the slums, where the dregs of dregs live. To crawl up from ground levels is nearly unheard of, and many in the slums relegate themselves to an existence of always almost enough, but never quite enough.

Firearms have been outlawed in Xenonia, and are the tools of criminals with no regard for human life. The tools of violence in this city are swords, spears, axes, the weapons of old. And among the most skilled in law enforcement, and the most skilled in these weapons, are the Neoknights. Neoknights are chosen from the most promising of Law Enforcement recruits, trained in secret weapon arts as well as investigative skills. Those with the inborn aptitude are taught to harness their energy into Neocasting, becoming Mageknights. Neoknights of all kinds are the highest honored warriors, and are given much adoration by the people for keeping them safe and solving crimes.

In the underbelly of Xenonia, something grows. Crime has become more common on the higher levels, and whispers of a full-on rebellion against the system have reached the ears of high command. This worrying development will soon become the forefront issue of Xenonia, and thus the conflict facing our characters.

-----

Expected Posting Expectations
At least one post per week at least, please.
At least one post per GM post, more allowed during a conversation
At least one good-sized paragraph per response, the more the better
Spelling and Grammar are important for readability. Treat them as such.

-----

If you are interested, please drop a message below! Don't hesitate to ask any questions you may have!​