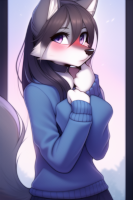 Hopeless Romantic
Original poster
Hey there! My name is Mythy, and I've had a few RP ideas that have been stewing in my head. I would like to know if anyone would be interested in doing one or two of them. Please, if you make a vote post in this thread giving interest, and if you have any questions don't hesitate to ask!

Idea 1 - Agents Temporalis

A Modern/VRMMORPG setting. In IRL, the players are a group of friends who have a party in the game. The game is about to launch post beta-test, which the players had participated in. In the game, players are agents of a post-ascension age civilization, who have an enemy in a time-jumping race of beings. These beings, or 'Temporals', attempt to go back in time and cause significant shifts in time, which would in turn bring about the fall of the present Nexus.

To combat these temporals, there exists the Agents Temporalis. Their job is to go back in time to undo or prevent these changes. Despite being an MMORPG, each time period is in a private instance for the party. As well, your powerful tech will always transform into a period-appropriate appearance, and may at times be disabled for the same reason. An example of the ages they can visit are: Feudal, Powder, Steam, Network, Cyber.

Idea 2 - Potentials

In this modern world, certain people are born with special powers, dormant until certain stresses hit the body - most often at puberty. These people are called "Potentials" and are often sought after as weapons, or persecuted. A potential is always active in times of stress. This state is called 'check', and is only a fraction of the power available. However, in times of extreme stress - such as a mortal blow about to land - 'checkmate' activates. Checkmate is the full release of a potential, and while it is powerful and tide-turning, it is also taxing on the potential.

The players would be new admittees to a school made for these potentials. Both to help them learn to harness and control their stress and powers, and to protect them from those who would use them. The main plot would start within the school days, eventually turning into an adventure.

Idea 3 - Shards of Creation

In this fantasy world, power comes in the form of shards. Shards are essence made form, and while there is magic and weaponry, nothing can compare to the power of a shard. There are many shards, some which turn into gear, some which manifest abilities and spells, some which alters the host's body. There are rumors of Shards of Creation, which are said to give one power perfectly suited to them, and to turn one into a god if all are collected.

The players would be one of many mercenary teams contracted to find the shards of creation. Of course, this path is fraught with peril, and the other mercs will likely stop at nothing to gain the riches offered. And if that wasn't enough, your employer may not be the most.. benevolent.

Idea 4 - Beast Tamers

In this fantasy world, flora and fauna are large and powerful. Humans live in walled fortresses, making their livings and fighting to defend themselves both within and without their homes. However, there is another type of human. The Beast Tamers. Every generation, a few children feel the call to leave the fortress and enter the wilds. Deep within they will find the fortress of the tamers, where they meet the Master. They feel a call to a certain beast, and will raise it alongside themselves. And once they are old enough, they leave the master to go out into the world, and help their fellow humans in the fight against the darkness. The players are some of these tamers.

Idea 5 - StarRunner

In this high-sci-fi world, the United Terran Council is under siege by the Tyrannic rebel faction that has declared war and begun to overtake outlying colonies. The players would be riders (pilots) of FRAMEs (space-worthy mecha). They would also play their accompanying SOUL AI - an AI to help run the FRAME in battle, to feed information, and be a loyal companion. Players could be a human, Anthromorph, or technomancer, and would be able to outfit their own frame. They would be in the service of the UTC StarRunner, and specially scouted for this duty.

​