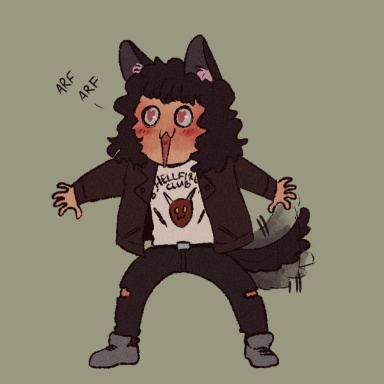 My sun sets to rise again.
Original poster
ADMINISTRATOR
Roleplay Invitations

Group Roleplays, One on One Roleplays, Chat Roleplays
Posting Speed

Speed of Light, Slow As Molasses
My Usual Online Time

It varies a lot depending on my schedule, unfortunately.
Writing Levels

Adaptable
Genders You Prefer Playing

Primarily Prefer Male
Playing Style- Passive or Aggressive

I play what's needed, but I do like to take the lead. In my one-on-ones, I often like being the "Game Master" in the sense of creating the setting, controlling NPCs, and steering the plot. But I still like input and collaboration from my partners. In group games, I prefer to be the GM or to play a leading or mentor role.
Favorite Genres

I love a little bit of everything. My top choices would be Horror, Modern Fantasy, Urban Fantasy, Magical Realism, Noir, Steampunk, Cyberpunk, Splatterpunk, Post-Apocalyptic, Historical, Mystery, old-school High Fantasy, and Sci-Fi (especially Spacesagas). I'd love to do some occasional Clockpunk or Weird West or Wuxia or Dieselpunk, too.
Genre You DON'T Like

I guess the only thing I don't particularly care for is high school drama, and even that can be fun with a good hook.
Hey guys. Quick announcement about a privacy issue that resulted from the September updates. As some of you are aware if you've read our
Privacy Policy
, as well as the
announcement by Kitti
at the time of the update's conclusion that detailed some of the software changes, one of the features added to the base Xenforo software included an attachment manager in the admin control panel that shows all attachments on the site, including those in PMs.
What this means is that instead of looking in PMs directly to see an exact message in its entirety, a power which admins have always had but RARELY use and never without cause, we can (by going to this area of the admin CP) see at a glance a list of attachments. This list includes a small thumbnail, file name, who it was uploaded by, and the type of message to which it was uploaded (thread, PM, etc.) It does not include the text of the message, so there is no context for these images. This feature is something only admins and the site owner can access.
This was a brand new feature and due to some concerns about it, I personally opened the manager during the update and skimmed through. My biggest concern was how much porn was being sent via PM, if there was anything illegal being sent (like child porn, for instance) for which we might be liable, and what kind of policies we might need to implement as a result of this feature. I didn't as a rule look at who was posting individual images, but I did click on a number of thumbnails that looked NSFW so I could see the full image. I also linked a few of these images (which thankfully were mainly hentai art, nobody's personal nudes were peeked at) to a private admin-only chat, because I wanted to get my co-admins' take on what sort of images were being attached and what they thought we should do about it. I admittedly giggled and was poking fun at these images because out-of-context weird hentai is funny. I did not share names except for one, because it was an exceptionally weird piece of original artwork and happened to be from a member who was frequently reported, which caught my eye.
In the end it was decided unanimously that this feature would be made public information and that we'd have a policy of not using it, nor would we moderate to check for NSFW images (or anything else). It has not been touched since.
Why is this being brought up again months later, after an announcement about the feature was already included and the Privacy Policy was revised?
Shortly after everything went down with the update, you may recall that Jorick resigned. The fact is that my use of the attachment feature is why. His reasons for resigning were that he was angry at me for using this tool at all, even to test it for the forum, and found my behavior inappropriate. He felt that he could no longer work with me and insisted that he would step down. Last night, Jorick messaged me asking to provide more information about what occurred because he was not satisfied with what was made available.
For the record, there was never any intention of hiding facts from the community; we believed the matter had been adequately addressed and we had a lot going on, especially as regards our health issues and the many bugs caused by the update. I had a relapse of my multiple sclerosis, which sent me to the hospital for several weeks. I was partially numb and paralyzed with minimal muscle control from mid-torso down. I spent months afterward in physical rehabilitation. This is why I've been absent from the site for so long, which has left Kitti (who also has health issues) to run Iwaku as the sole admin in the interim. Needless to say, stuff hasn't been getting done promptly.
If you are uncomfortable with my actions, I'm sorry and I understand if you would like to leave Iwaku. It was not a moment where I considered what I was doing and how it might be perceived carefully and I regret it. If you have any questions or concerns, please voice them.
One more thing: Please do not harass Jorick over this incident. Thank you.