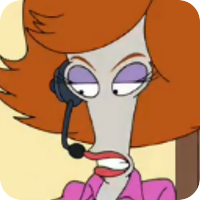 Can I transfer you to my manager?
Original poster
LURKER MEMBER
FOLKLORE MEMBER
Invitation Status
Writing Levels

Intermediate
Adept
Advanced
Preferred Character Gender

Male
Female
Genres

Adventure stories! They can be fantasy, modern, sci-fi, all kinds! Give me some good world travel stories and I'm all over it! I also enjoy romance stories and even though I tend to play females I love playing gay men.
Rose bumped along in the carriage as it rode from the small town of Braxton into the deep forest. It had been a while since she was sent out to meet with her father, a noble out in Hamingtonshire. It was hard to convince Rose to leave Braxton and her mother though, especially with reports from the city guard that there were orcs and goblins roaming the woods and they couldn't afford to send any guards with her. Instead they rented a carriage and a driver and sent her on her merry way. If she was lucky she wouldn't have to use the sword she had clipped to her belt.
As the carriage bumped along the dirt road leading into the deep Midsummer Forest a light breeze blew past her, tossing her blond locks here and there. Just outside the forest there was a small camp full of various people from all sorts of races and backgrounds. It came to a stop and an idea popped into Rose's head, maybe she could find some help navigating the forest with her driver, and maybe even a bodyguard or two. She couldn't afford to use her family name to try and buy people over because that could be just as dangerous as the orcs.
A heavy thump sounded as she hopped down, her boots clunking on the dirt and the driver's horse neighing as she walked around and patted it on the side. Surveying the camp she put on a bright smile, adjusted her sword and waited for a moment before shouting out, "Can I get everyone's attention? I am looking for an adventuring party to help me get through the Midsummer forest to Hamingtonshire! If anyone is able to navigate or is willing to help get me there safely there will be a handsome reward! All interested parties can find me at my carriage here!" She nodded, dusted her hands and walked back to the back of the carriage before hopping back up and setting on the edge, waiting for volunteers.