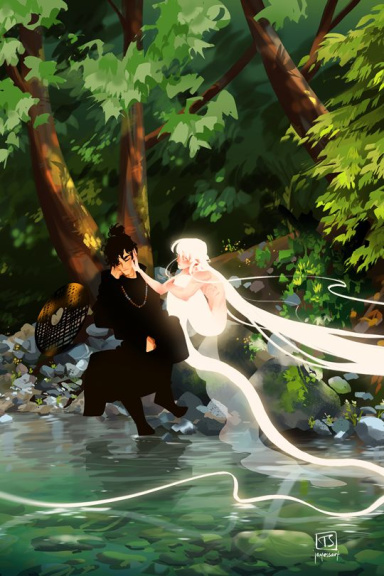 Chaotic Lawful
Original poster
SECURITY LEAD
SECURITY DEPARTMENT
DONATING MEMBER
FOLKLORE MEMBER
Invitation Status

Not accepting invites at this time
Posting Speed

One post per week
Slow As Molasses
Writing Levels

Adaptable
Preferred Character Gender

No Preferences
Sehzade Bayezid was a man known for his great wealth and grander parties, to be invited to his table was an honour. A sign that one had succeeded in life and carved themselves a name in the world and at the side of this fat pompous prince born to a consort that he couldn't even remember the name of himself. Who cared when the golden plates filled with food entered the room. Grapes as large as the fat thumbs of Bayezid, fruits as bright as the jewels he wore and meats so fat it turned his white silken robes translucent, not that it did anything to hide his rolls, which were as numerous as the bread served. The wine flowed, numerous in its types and kind, like the ever flowing fountain of youth that Bayezid seemed to have hit upon, though middle aged, but without a wrinkle in sight and his hair as dark as the day he was born.

Who would expect the Bayezid to suddenly die in the midst of such a feast, along with the orange hues of the descending sun as the candles were lit. Had heaven claimed Bayezid to set the table of their revered god and ancestors? Was the wine poisoned, or was it the golden plates on which the food was served? Possibilities rang and the guests stirred unhappily, eager to leave but unable to do so, for Bayezid's last banquet had only just started.

Honoured guests, please enjoy your next course.

__________

Hiya reader, welcome to this murder mystery that isn't as much a mystery but sure contains a lot of murder! The goal of this story is pretty set: be the last to survive this dinner. Whether it is because dinner was poisoned or because backstabbing happened, there is only one who can leave. More information to come when the story starts!

I'm not looking for any type of character in particular, there is only one requirement and that all characters need to be tied to Bayezid in some way or manner. How is entirely up to yourself, Bayezid was a big man with an even bigger presence and a social life bigger than his belly! Enemy, frenemy, friend, all are welcome, if they are confident that they will survive.

For those who really can't help themselves, the inspiration behind this story is obviously King Midas but also the Black Banquet as hosted by emperor Domitian and the foundations of a tontine. For other questions, feel free to ask them below!

Code by Kuno​