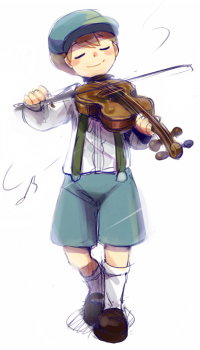 Coup de Gravy!
Original poster
LURKER MEMBER
FOLKLORE MEMBER
Writing Levels

Intermediate
Adept
Preferred Character Gender

Male
Genres

Fantasy, Scifi, Mystery
What is this?​
It's an original setting that could be called post-apocalyptic fantasy RP mostly based around a travelling group and unravelling the mysteries of a world undiscovered and unknown to the players and characters.
Alright... I guess that might be good. What else can you tell me?​
For one, we tried to make more unique skill and combat systems. This is something we've tried to make interesting. The opponents we'll be facing will need teamwork to slay, as they'll be quite a bit stronger than each of the characters. However, in order to go stronger, we've made a system that we thought would be fun; everyone will begin with a certain set of spells and then some, one of which being a forging spell. Throughout the adventure, we will encounter material we can make weapons from, each with its own properties, be it increased magic or lightness. You will find tomes, and even other people to learn magic from, new kinds of it unknown in the very beginning.
So what are the requirements for us?​
We don't have any strict requirements but we'd really like it if everyone could post at least once a week (and remember, this is the bare minimum we're asking for, not the average), assuming that it's your turn to do so. This is mainly to keep the RP alive and going.
Where can I read more about this?​
The OOC and sign-ups thread will be up before too long. We just want to see if anyone's interested in an RP like this one. However, if any of you have any kinds of questions, you could ask it below.