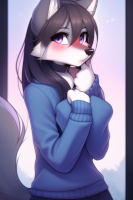 Hopeless Romantic
Original poster
Before the millennium war, humanity was spread out in their nations, living in places far away from metropolitan areas. Now, 100 years after the war, people are once more spreading out, rebuilding in ruined areas - though a large majority of people still live in large, walled metropolises due to the continued Technomatic threat. Hunters cannot be everywhere at once.
---------------------
North
:
Hathlen
- Tundra in the west, and gradually becoming plains the further one goes east, Hathlen is a land that is inlaid with plenty of farmland, with different foods grown in the fertile land and various temperatures. Hathlen is ruled by a royal family, currently headed by King and Queen Zeralt.
South
:
Volutri
- Mostly savannah, many strange mammalian creatures exist in Volutri.Herbs and spices grow in abundance here, and are their main export. The first major technomatic offensive began here, and the wartime mentality has never quite worn off. They are ruled by a semi-oligarchy of clans and other prestigious military families.
East
:
Arthentum
- - A heavily forested and humid land, there is a large variety of flora and fauna that exists in this nation. Both benign and malign, these beings are among the number that exist in this world, many of which are hostile though not as threatening as Technomatics. The Arthentumites are led by a single person, who is overseen by leaders of social regions - all elected by the people.
West
:
Stellhardt
- The largest nation by border size, the actual amount of truly habitable land lies to the eastern side. The majority of the west is a large mountain range, including the Throat of the World. Within these mountains lies a large amount of metals and gems, which is thus Stellhardt's main export. They are ruled by themselves - the nation is split into counties, and each county picks a representative to bring their concerns to the council. The council then meets, and makes any needed changes to national laws before disbanding until the next cycle.
Central
:
The Magitetech Academy
- With the majority of the land in these borders being mountains, the academy itself is located in a large valley of the central area. Considered a neutral ground and sometimes called in as arbitrators, the Academy is a place where your country of origin doesn't matter. When you are enrolled in the Academy, that is where your loyalty is to lie. From your time as a student to your career as a hunter, you are to fight the technomatics that stalk the land, even since the war ended. The Academy itself is led by the headmaster and a council of elder hunters.
-------------------------
Sparks are a strange energy source of unknown origin to Earth. It is never found in its natural form outside of the Technomatic world of Quiren. On Quiren, Sparks are 'born' out of energy, and many are devoured by Technomatics as each new Spark devoured adds to their own, making them stronger. Technomatic culture is a warlike one, with every individual seeking out more sparks so as to become stronger, and not become prey to those who wish to destroy them and devour their Spark. New technomatics are created when a spark suffuses the silicon-based mass of their world, imbuing it with consciousness and power. The millennium war came around when a particularly powerful technomatic found a way to open rifts into Earth, a concurrent dimension, and found that some humans are born with a spark inside them.
Before humans found their way to utilize their sparks, they were easy prey for Technomatcs who hunted sparked humans, and slaughtered them to devour their sparks. And once that was done, they slaughtered those fighting with conventional weaponry - which was nigh useless - and then civilians. Just for the fun of it. It wasn't until the first grandmaster hunter - named Zolam - took down a Technomatic that humans began to learn of the power of sparks. Zolam found others with Sparks, and together they learned about the different ways spark could manifest in humans and how to control them. This, however, was not the turning point of the war. This was what brought about the intensification of it, as the more spark was used, the more power it gained. A war academy and force known as hunters was founded, and was the main force to battle against the technomatics. During this time, conventional weaponry began to evolve into a form that would be able to harm technomatics, but it never seemed to become as effective as a single hunter and their powers.
As time went on, humans began to learn more and more about sparks. They found that there were four general types, and that there was no true relation between sparks and blood/genetics. Though it is more likely for a spark to appear in one who has at least one bearer parent, a bearer can appear from anywhere. Despite this, bloodlines that continuously give bearers are known as clans, and are sources of prestige and wealth. Clans are often powerful and hold much political and social clout.
---------------------------
Mechromancy
- Mechromancy is a Spark that actually manifests outside of the bearer. A small mote of light appears near the bearer when the spark awakens, something that is easily missed by viewers on the outside. This mote is called a 'guardian spirit', and its final form is a good reason for that. A mechromancer is able to infuse their spirit into any cohesive object in a pinch, but they are more often placed into specially and personally built bodies known as golems or mechs. As a hunter grows in power, they generally make more than one golem or modify their golem modularly so as to allow the spirit to fight anything they need. The spirits will fight for and follow their bearer against any odds, and will sacrifice their bodies to make sure their bearer survives. They are not known to stand back and let their golem do all the work, often creating small devices and tools to assist in battle.
Weaponsmithing
- Weaponsmiths' sparks come in the form of a kind of internal energy, called 'ki'. This energy, while able to be released in powerful unarmed blows, is usually given a different purpose. This energy also gives weaponsmiths a certain insight into mechanical engineering, and this is used to create special weapons. These weapons often come with both capabilities as a firearm, and often the ability to mechanically transform into a melee weapon. Both forms utilize ki, both as projectiles and an empowering force. These weapons are constantly tweaked and modified during a hunter's training, and even past. A weaponsmith nearly never stops improving their design.
Elemancy
- Elemancy is the art of Spark bearers who are able to both conjure and manipulate alchemical elemental energies. Most are born with the ability to use one or two elements, such as earth, air, water, plants, and lightning. While creating some elements is more taxing than others, these bearers are often masters of tactics, using their abilities to cover their weaknesses, and that of their team, to take down their foe.
Arcanism
- Arcanists utilize a force that is not very well understood: Arcana. When visible, it looks like liquid chrome. There are a few different schools of arcanism that appear in bearers. Among these are projectiles, shields/barriers, and weapons. Even among these there appears to be specialization, with arcanists often finding a school of thought that words for them, and fitting their style around it.​