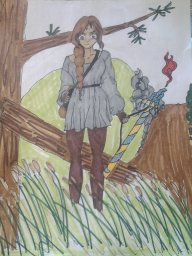 Authoress
Original poster
LURKER MEMBER
FOLKLORE MEMBER
Invitation Status
Posting Speed

Speed of Light
One post per day
One post per week
Slow As Molasses
Writing Levels

Intermediate
Adept
Advanced
Adaptable
Preferred Character Gender

Male
Female
Transgender
Primarily Prefer Female
Genres

Fantasy, Romance, A bit of horror, magical, and almost everything.
For every princess, there was a knight at her side, guarding her. For every knight, there was a lady who tended to his needs. This role was set up for generations upon generations. Always a defenseless princess and a strong man. However, Nanao Thorkinsard was a princess who wanted adventure. She didn't want to be tied down to the castle, waiting to be pawned off to the highest bidder. She wanted to set off on a journey, however her father would not allow it without a knight. So, the princess was assigned a young, scrawnier knight, Felix. He seemed to be withdrawn, not willing to take off his armor around the princess. Being the curious person she was, Nanao caught Felix while he was bathing only to find out that the knight was none other than a she. Now caught with the traditional roles being broken, the two must travel across the land to gain supporters so the king will change the laws and they may be freed from their boundaries.

King Leonus Thorkinsard III tapped the arm of his chair. He huffed, glaring blankly at the wall. His council droned on and on. They seemed to be more than content talking about the necessary taxes and alliances with nearby kingdoms. The king fidgeted, switching witch side he was leaning on. He ran a hand through his hair as best as he could with his crown sitting heavily atop his head. In any normal day, Leonus would have been completely and totally involved in whatever discussion the council was trying to discuss. However, that day his mind was occupied by his only child, the princess.

The girl had been becoming more and more restless those days. It seemed no matter what the king did he could not pacify the girl. It had gotten to the point that she was asking to leave the castle. Leave the castle for heaven's sake! Did she not understand that she had to learn how to lead the kingdom if a husband could not be found for her? Or the previously mentioned search for said husband? Leonus had already set up a good line of suitors waiting to woo his daughter and strengthen ties between their kingdom and nearby others. How could the girl want to leave when she had so many opportunities and duties in the castle?

Sighing, the drow king focused his thoughts back to the current meeting. He leaned back in his chair, voicing his consent to the tax increase and the increased exports to the nearby kingdom to the west. Distraction clouded his mind, until the council started to mention his daughter. "I have lined up suitors." Leonus chimed in as the council mentioned potential treaties formed through marriage.

The girl's tutor stood up. "Your highness, I fear the princess will not receive the suitors lightly." Leonus raised an eyebrow, waiting for the man to explain further. "Forgive any impudence, sire, but your daughter has been expressing her distaste for being tied down. She wishes to explore, experience the land. As knowledgeable as you are, my liege, I fear that her stubbornness may exceed any plans we try to set. I suggest we allow her a year's time to view the kingdom, under a guard's strict supervision of course, and let her get it out of her system before we present her to a suitor."

Another councilman stood up. "My liege, while Sir Markzen has a point in the girl's stubbornness, we simply cannot leave her potential suitors waiting for a year. That could ruin ties with those allying kingdoms. I say we only give her half a year, then she must choose a suitor after she has had her fun."

Shouts and agreements erupted throughout the room, the different scholars and men all trying to get their ideas heard. King Leonus, grabbed his staff and slammed into the ground one, two, three times. "Quiet! We will allow my daughter half a year's time to view the kingdom, if only to learn its layout better, then she must choose a suitor and settle down without complaint! Now, go fetch her and a knight to supervise her on this trip!"

Quickly, servants scrambled about, searching for the princess and a knight, respectively. They found one of their strongest, a rather effeminate man who often wore his full set of armor around the castle. The knight was shorter than most, but skilled with the sword. Quickly, the male servant explained his duty and helped him start to pack before dragging him up to meet the princess.

Another servant was already there, finally finding the princess and explaining the king's degree. "Your highness, your father, the King, has decided you will go on a journey around the kingdom with a knight to supervise you on your journey. After your journey you must choose a suitor and settle down so you may support the future king and your husband. I was told by the king to tell you that you must leave on your journey immediately." The female servant looked back to see the knight and the other servant approaching the two. "There is your knight, your highness."
Last edited: