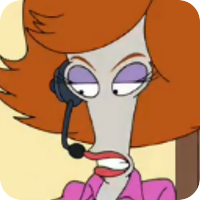 Can I transfer you to my manager?
Original poster
FOLKLORE MEMBER
Invitation Status
Writing Levels

Intermediate
Adept
Advanced
Preferred Character Gender

Male
Female
Genres

Adventure stories! They can be fantasy, modern, sci-fi, all kinds! Give me some good world travel stories and I'm all over it! I also enjoy romance stories and even though I tend to play females I love playing gay men.


Vanessa "Van" Williams stirred under the covers, half expecting Dinkley, her Great Dane to hop up on the bed and lick at her face to wake her but instead she was treated to the sound of light breathing next to her. Her mind swam with confusion, going over the events of the previous night.

She was at the ballroom of Katrinka's Dating Service and everything was just gorgeous and there was Ebrille, offering his love and commitment to her in the form of a small crane statuette. Her heart swelled in love for the man, which she thought was crazy at the time, after all they hadn't known each other long enough but the longing she had felt for him seemed so very real.

As they continued the night together she tried to tell him about her secret, their secret. The truth that she was pregnant and was carrying his child. She was afraid that he would reject the notion, that he wouldn't want anything to do with her, but the sooner she could tell him the happier she could be, no matter his response. When she had finally got him alone though panic broke out, the owner of the dating service, Katrinka, was found attacked in the wine cellar by one of the other girls at the dating service, April. One of the men, April's brother Van had later found out, went to take care of Katrinka and the ambulance and police had quickly arrived on the scene, making sure that everyone was safe and later found April in the hotel that was being built behind the one that Katrinka's service was held. Van had helped the paramedics to where Jon, April's brother, had been taking care of her. With all the confusion of the night it was understandable that Van hadn't had a chance to let Ebrille in on their secret.

Van's eyes opened as she remembered the rest of the night. Next to her was Ebrille's adorable face, still asleep but Van couldn't tell how soundly. Afraid of being alone Van asked to stay with Ebrille, heading back to his home. That night they made love again, Van giving herself over to him without any resistance and this is where she found herself, in his bed, unclothed and waiting for him to open his eyes. A smile played across her lips as her eyes fluttered shut again, she'd let him wake up to find her there asleep. A contented sigh escaped her lips.