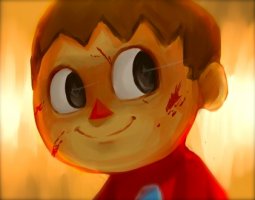 Hi-def
Original poster
LURKER MEMBER
FOLKLORE MEMBER
Preferred Character Gender

Male
Genres

Fantasy, Horror and Sci-fi. I'll try basically anything though. I also love strange and unusual RP genre concepts. Different is good!
The AL Kizar Desert.
The sprawling desert spilled out from the horizon like a huge wave of sand and rock. It was mammoth, and in this south western part of the world, nearly never-ending. It would take a well equipped caravan, carrying a weeks supply of water, just to survive a trek from one end to the other. Many of the people in the small villages on the outskirts of the Al Kizar came to believe it was haunted by evil spirits, bringing death, disease and famine to anyone foolish enough to enter. Despite all this, A lone man made his way towards the heart of the barren waste. In his pack he had about a days worth of water left and some slowly rotting horse meat. He had started on horseback, but soon realized that there was no way to keep his mount watered and fed, leading to the heartbreaking decision to kill and butcher her. In many ways he was a fool for embarking on this suicidal journey, but he had no choice. A victim of circumstance, into the desert was his only way out.
And So Kadin Marx, the well worker and former family man, trekked into the unknown.
View attachment 8414
Kadin Marx is a strong, but painfully slender man. The events of the last year or so had taken a toll on his body. He no longer enjoyed the satisfaction drawn from a good meal and now only ate to survive. The once prominent laugh lines around his mouth now looked like over grown, abandoned roads. The only feature that survived his perpetual stress were his eyes, which were clear and bright. He guessed that most would take him for an alcoholic, or worse, if it wasn't for his eyes. There was something good in his eyes, and the shepherds or occasional group of traders saw this. Instead of being cast out, he was fed and given lodging for the night. Most traveling through this godforsaken stretch of desert shunned wandering strangers, but Kadin had been more than lucky so far on his journey.
Above his head was the merciless sun. The sky was cloudless, not even a needle head point of shade for miles. He licked his upper lip with a rough tongue, tasting salt mixed with course sand. He was thirsty, but not willing to tap into his dwindling water supply just yet. He could make it another mile.
"Just one more mile."
He wheezed through dry lips
He repeated this statement a hundred times, and it was the last thought on his mind before he spotted what had to be a mirage.
Surely it wasn't really there?
Kadin rubbed his eyes, and looked again. On the horizon, just to the south east, were two green and lush palms. Their leaves were vibrant and stretched lovingly up towards the sun. These things told Kadin that water was present. His heart did a somersault in his chest as he allowed himself a sip of water. The sun had started to dip into the sky, and with any luck he would make it to his oasis by sunset. Kadin wept with happiness, not usually an emotional man, but this meant hope. Hope for him and his quest.
Uncountable miles, and half his water supply later, he had made it. And to his amazement it was not a mirage. Without warning bright light exploded in his field of vision and nausea flamed up in his gut, no doubt his body telling him he had gone to far and too long without rest. Kadin dropped to his knees. The hot desert floor met his face with intense heat, but he would not give up. He crawled on his stomach, clawing at the ground, pulling himself towards the oasis.
Just a few more feet.