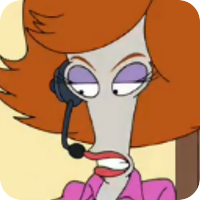 Can I transfer you to my manager?
Original poster
LURKER MEMBER
FOLKLORE MEMBER
Invitation Status
Writing Levels

Intermediate
Adept
Advanced
Preferred Character Gender

Male
Female
Genres

Adventure stories! They can be fantasy, modern, sci-fi, all kinds! Give me some good world travel stories and I'm all over it! I also enjoy romance stories and even though I tend to play females I love playing gay men.
Isla Nublar: Site A
​
Calderon Genetic Corporations troops had started to scour Site A, having been able to sneak under the radar of the Costa Rican government. Their only objective had been to find the embryos that Dennis Nedry had failed to supply them. It took them longer than expected when two squadrons had been taken out by the velociraptors and the dilophosaurus.
Finally one of the troops found the canister hidden under a pile of mud, just down the hill from a crashed jeep tethered to a tree. Before long they were on their way back to CaldGen's headquarters just outside Miami. Finally, they would have the edge on InGen! Preperations for a park of their own were starting to be drafted as the helicopter returned to the headquarters.
Five Years Later​
CaldGen is proud to announce the grand opening of their crowning triumph! Everything Jurassic Park had offered, but they were prepared with the knowledge of what went wrong with InGen's park! They are starting off their festival by allowing only a small, select group into their park, The Jurassic Experience! Armed with state of the art equipment (and a healthy dose of ripping off what Hammond had done with his park) a small group of people are being flown out to an unnamed island hidden in a rarely traveled area of the Mediterranean sea.
----------------------------------------------------------------------------------------------​
So here's where everyone can come in! Basically I'm taking the unnamed company (now CaldGen) that Dennis Nedry (the guy who screwed everyone over in the original movie) was hired to transport the dino embryos too saw that InGen was cornering the market so they got them and opened a (rip off) park of their own, even though InGen was practically gone at this point.
You will be playing people who are coming to the island to visit and tour the park (which is more free-range like Site B, the second movie) but will still feature the automated vehicles driving them through the areas (because really, what fun would it be if everyone could just drive away?)
This game will be played in "chapters" the first will be everyone's background and getting on the helicopter in Nice, France to head to the park/island!
Bio Sheets:
CHARACTER PROFILE
Character Name:
Gender:
Job/Role:
Age:
General Appearance:
Current Goal/Purpose:
General Personality:
General History: