Fluffy
Guest
Original poster
[dash=silver]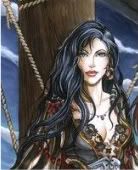 The skies of Zor had a cloudy display that matched the somber mood of a town The Onyx was nearing. There was news about the infamous pirate ship that once belonged to Captain Arko himself, but it was now steered by Lydia: a former crew member of his. No one knew her story… No one except for Zayin, her one and only true friend as well as her first mate. All people heard is she was on a quest for riches and fame! That was fine with Lydia… Knowing she was going to travel this universe because it was an old friend's dream would sound soft anyway.

The Onyx lowered itself at the airship dock outside of the miserable little town. It was generally a pirate ship that floated in the skies, its great sails folding at the command of a button when it stopped. People stared at the ship with awe… It had been a long time since an aircraft of any sort even passed through their territory, let alone the atmosphere.

After a long moment of silence, a tall and proud woman was seen on the figurehead in a crouched position. Her deep, black hair whipped behind her in the ominous winds, her sparkling eyes of light blue staring into the distance. Everything she heard about this planet was true, after all. There was empathy in her gaze that she was certain no one could see from so far away. The tips of her antennae longed to touch the tallest heights possible so they could help her get more familiar with the scents. It excited her to be out on adventures again! Nothing completed her more than sailing through the skies, gazing at the fullness of the stars and visiting new planets. She smiled to herself, letting it escape the moment she stood up to straighten out her expensive looking coat.

She jumped back on to the deck of her ship, her black boots making a thud sound when she landed. "These people need a miracle, Zayin. Get the book for the recruits to sign their souls away. I'll join you after I check the status of our supplies. Make sure your voice is heard loud enough, we haven't got all day."

Lydia spoke in a less professional manner since no one was on board yet, so he might as well enjoy that until they casted off. Their attitudes have been negative to one another lately, so she felt like she should be a tad nicer so she'd not be a grouch for her new crew members. She left him to go announce their arrival and disappeared down a small flight of stairs where she took inventory of their ammunition, food and many other things.
[/dash]