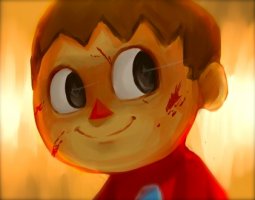 Genders You Prefer Playing

Male
Playing Style- Passive or Aggressive

Moderate to aggressive.
Favorite Genres

Fantasy, Horror and Sci-fi. I'll try basically anything though. I also love strange and unusual RP genre concepts. Different is good!
Genre You DON'T Like

I'll try just about anything. I'm not overly into RPs where the prime focus is romance. I'm not too hyped on fan based anime rp either.
I R O N
C H E F

Welcome to Kitchen Stadium.
As the sue chefs scrambled around the floor of kitchen stadium, trying in a hurried effort to get everything ready for the competition, host, and renowned food expert, Takeshi Kaga cocked an eyebrow and stared mysteriously out over the scene. From his podium, perched a little ways above the floor, he could see the entirety of the Battle arena and beyond that, the live studio audience that sat on the edge of their seats, awaiting the much anticipated battle. The smell alone would be enough to push some crazed fans over the edge, which is why a team of security guards sat in the shadows waiting for some poor fool to try and rush the set in hopes of getting just a bite of the amazing food.
~Cue cameras, set ready..then Lights~

The Scene was lit up like a roman candle as Takeshi made his way to the stage.

"Ladies and gentleman, I welcome you all to Kitchen stadium. Today is a very special day in Iron Chef history. Today, two exceptional chefs, with very different back grounds, will be going head to head for the honer of calling themselves Iron Chefs." Takeshi gazed off into the distance, as if recalling a very fond memory. " I am unable to express in words the joy I am feeling at this moment, the pain that came with the anticipation leading up to this day has been....excruciating, but none the less delightful. So I will not drag it out any further than need be. However, before announcing our chefs I would like to introduce the judges. First we have the beautiful and talented,
Natsumi Okuda, who's music had graced the ears of Japan as well as the entire world. Next is
Mr. Hong Kwok-Moon, a very powerful man, with a deep roots in the fishing industries. He is CEO of one of the largest ship building companies in south Korea. Last, Mr. Matt Brown, brought to the Iron chef competition by chance, expect great things from him. Tonight I would also like to acknowledge our camera men, without them the show would not be what it is today. One of our best is a Mr.Enchong Dimanno, his shots always bring out the highlights during battle."


Takeshi took another step closer to the arena, looking very serious, as if what he was about to say next would shatter the very core of reality as we know it.


" Our first chef is a Mr.
Sean Kelly, a Chef with a predominately Irish influence in his cooking, he has been involved in the food industry his entire life and is the winner of various awards including "The best new chef in New York" Award. Next we have the stunningly beautiful Miss. Kate Angel. Her strong Greek background is sure to bring a level of originality to the battle that will turn heads, while her over the top cooking antics may take them off if our announcer gets too close. And with that I will close, for the chefs gourmet cooking will speak more beautifully than words could ever describe."

~Cue lights as the Chefs prepare to enter the Arena~


Everyone in the building is waiting with baited breath for the unveiling of the secret ingredient.
​
​