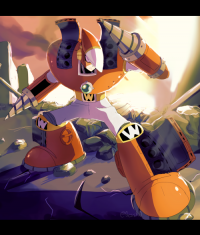 The Guardian
Original poster
The world of Kine is one soaked in Rain and blood. The Eternal Storm has raged sense this world came into being and with it came horrible creatures. Beasts large and small roamed Kine in search of food and territory. For many years the people of Kine were in turmoil, never knowing if today would be thier last.
However, at the turn of a new era the people discovred the world of black smithing. As world spread more and more people started fighting back the monsters, taking back thier land. The is craft got more and more elaborate over the passing years. Citizens and hunters alike fight to keep thier homes safe.
It's here in the village of Lazule that our story begins. Two hunters taking on the same bounty.
Ryoshi was looking at the bounty board in a crowd of other hunters, rain dripping from the brim of his hat. He made his way up and reach out for the Kirioni bounty. He stook it and started to walk away, the crowd silent and watching as he started to leave.