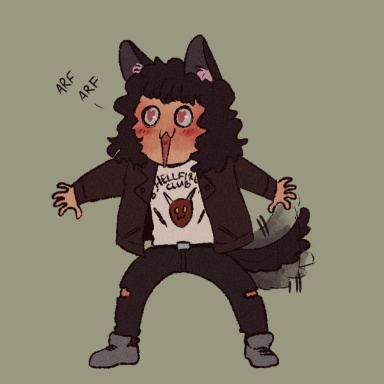 My sun sets to rise again.
Original poster
ADMINISTRATOR
Roleplay Invitations

Group Roleplays, One on One Roleplays, Chat Roleplays
Posting Speed

Speed of Light, Slow As Molasses
My Usual Online Time

It varies a lot depending on my schedule, unfortunately.
Writing Levels

Adaptable
Genders You Prefer Playing

Primarily Prefer Male
Playing Style- Passive or Aggressive

I play what's needed, but I do like to take the lead. In my one-on-ones, I often like being the "Game Master" in the sense of creating the setting, controlling NPCs, and steering the plot. But I still like input and collaboration from my partners. In group games, I prefer to be the GM or to play a leading or mentor role.
Favorite Genres

I love a little bit of everything. My top choices would be Horror, Modern Fantasy, Urban Fantasy, Magical Realism, Noir, Steampunk, Cyberpunk, Splatterpunk, Post-Apocalyptic, Historical, Mystery, old-school High Fantasy, and Sci-Fi (especially Spacesagas). I'd love to do some occasional Clockpunk or Weird West or Wuxia or Dieselpunk, too.
Genre You DON'T Like

I guess the only thing I don't particularly care for is high school drama, and even that can be fun with a good hook.
Hey nerds! We have some pretty important announcements today, so listen up.
First, a small (but important) announcement regarding a stickied resource in Help Desk:
Maybe DON'T use Stylish.
The browser addon Stylish was previously recommended there for users who wanted to set their own custom colors for usergroups on Iwaku. However, it's been brought to our attention that there has recently
been trouble with the addon involving its data practices
. In the interest of keeping our members safe, we wanted to let you know that you should consider whether or not you ever downloaded the addon and if you want to choose to keep it.
All is not lost if you like setting custom website colors, however. We did a little digging and found that alternatives are available. One of those alternatives that we found is called
Stylus
. It appears to be very similar to Stylish in its capabilities but without the questionable data practices and has very good reviews from users. This is now our officially endorsed addon for this purpose!
You can find the new sticky thread in Help Desk
here
.
Moving along, we have a series of related announcements. As some of you may have noticed, the on-site search function is borked. The good news is, we know what's wrong and what needs to be done to fix it. The BAD news is that the
only
way to fix it is to go ahead with updating the forum software to Xenforo 2.x.
This means a few things need to happen.
Save your Blog content now if you haven't already.
We will be updating to 2.x at the end of August/beginning of September. Once we update (as we mentioned
earlier this year
when we deactivated the ability to create new Blog entries), Blogs will no longer be compatible with the forum software. All Blogs will be deleted permanently and there will be no way to restore them.
If you need somewhere on the site to back up your content, you have options.
Showcasing
can be used for creative content such as plot ideas, stories, character bios, art, or roleplay logs.
Roleplay Extras
can be used for any content relating to your existing roleplays.
The Coding Lab
can be used to store a variety of content, including image dumps or WIPs.
If you want to be able to control who can see your content, getting a free blog through
Wordpress
or storing info in
Google Docs
might work for you. If you are interested in having more control and freedom for what you can post, paying for hosting through
Atabyte
and installing Wordpress software to make your own private blog might also be worth it!
Atabyte also offers cheap hosting and free Iwaku subdomains for Iwaku users.
What is NOT recommended as a backup is Clans. Clans are permanently deleted after 60 days without new content, so unless you plan to post frequently, there is a good chance you will have to repeat this process all over again.
We'll be running this year's fundraiser coming very soon.
Obviously with the search function down, we have to update, and we need your donations to help cover the costs of all our purchases so Iwaku can keep as many of its shiny addons as possible. Especially because of the full version update to 2.x, we are going to need a little more than usual.
Fair warning
, we may also be losing a few shiny things. If you're wondering why we hadn't updated before now, it's because many of our addons have not been updated for 2.x yet. Fortunately, we should be able to find alternatives for MOST things. Don't worry, no one is going to lose any actual content. We also may be getting a couple of NEW shiny things!
Keep an eye out for some shiny new announcements in August, including info for the fundraiser and a
very special new contest
as well!