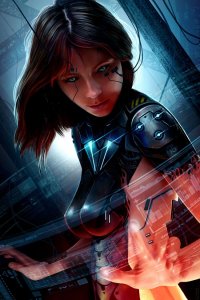 The Murrstress
Original poster
LURKER MEMBER
FOLKLORE MEMBER
Invitation Status

Not accepting invites at this time
Posting Speed

Multiple posts per day
1-3 posts per day
Writing Levels

Adept
Advanced
Prestige
Douche
Adaptable
Preferred Character Gender

No Preferences
Genres

Scifi, Fantasy, Modern, Magical, Horror, Noir, apocalyptic, Grimdark, yaoi, yuri, anything really.
Insane? Check.

Crazy? Check.

Unstable? BIG check.

Unpredictable? BIGGER check.

On Meds for ADD? Sometimes.

Depressed? Depends, what day is it?

Paranoid? Ooooooooooooh you bet.

Protective? I make it seem like a bad thing.

**************

These are words that people use to describe me. Other words are "Lazy", "Bitchy", "Chipper", and "Too goddamned happy".

Wanna hear more?!

Dependant! Cunt-licker! Bi-Bitch! Serial killer!

I HATE this week. I want to pull out my hair, then strangle people with it.

First on my list is my BELOVED brother.

You FUCKING BASTARD! HOW COULD YOU STEAL MOM'S MONEY THROUGH HER CREDIT CARD?! AND BOUGHT SHIT FOR. OTHER. PEOPLE. WITH. IT! AND THEN TURN AROUND AND PLAY VICTIM!?! FUCK YOU!

Next:

My father, My fucking wonderful, PACIFIST!

You're SO goddamned scared of a fight that you START one whenever we fucking talk! You missunderstand me, then get pissed when I try to explain what the hell I'm trying to say!

NEEEEEEEEEEXT: I fucking hate you Catie Glenn.

Yeah. I can't forget about you, can I? That would be too fucking easy! LET'S JUST HAVE NIGHTMARES OVER AND OVER ABOUT YOU! LET'S SCREW MY HEAD UP EVEN MORE! By the end of this, I'll be in a hospital because I just can't seem to get over you no matter what! Some days I EVEN FEEL SORRY FOR YOU. I EVEN MISS YOU SOMETIMES! You're causing me trouble still, and you're not even HERE! YOU DON'T EVEN KNOW WHAT YOU DID! YOU STILL THINK WE'RE FRIENDS I BET! How come I can't only think of the bad times with you? Why can't I forget the times that you were my best friend?

Next: TIME FOR SELF-LOATHING!

Yeah, I'm going to go right out and say this:

I'm tainted, I'm screwed up. I wouldn't be surprised if I ended up somehow hurting everyone I love somehow. I'm the result of bad friendships and relationships, being treated like some disposable utensil. I'm so screwy that I don't even know how to be fuckin' human. Just put me with the animals. I don't want my fuckin' thumbs. I'm sick of thinking like this. I'm taking advantage of everything, and I take everything for granted. I'm confusing and it's hard to follow what I say. I'm manipulative, and I'm a bitch. I'm twisted. I'm the result of everyone's shit and not being able to handle it.

I'm annoying. I'll admit to that whole-heartedly. I try to make up for it by being useful, but it never really seems to work.

Fuck my life. Then shoot me.