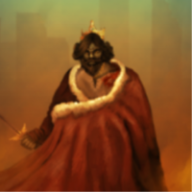 The Burger King
Original poster
Playing Style- Passive or Aggressive

I am in the middle between passive and aggressive. But I prefer to plan things out with my fellow RPers so I don't mess them up. Although I do keep plot twists under wraps. I believe planning things out helps make for better posts so I do it often.
Favorite Genres

Fantasy, sci-fi, post apocalyptic, parody.
Genre You DON'T Like

No SMUT EVER. Not big on modern RPs, not a fan of Mass RPs due to past experiences. I may make exceptions though if an RP is particularly interesting. I will NEVER get involved with anything like yaoi or furry FYI, those I do not make exceptions with. Also not too keen on perverse RPs.
*Still editing and modernizing this OOC will change this if Piro manages to find the newer OOC.*
I Can't See Your Love: Revelation of Sins
Roleplay by Katsugi.
The Underworld, a place of total anarchy and endless violence, where the dark beasts reign and races from Shintaion are considered inferior species. It is here that Atoshi, Kraw, Camack, Neil, Arisa and a few others journeyed to in order to stop Harken Zaka once and for all! However, they were separated. They split into several groups and did battle with Harken's Four Monarchs of the Underworld and a few others.
Mara, a Monarch of the Underworld who was used by her brother Kiyoshi, was tricked into beginning a ritual that would end with Shintaion's moon crashing into the planet itself! She was in a trance and under Harken's mind control. Rai managed to get through to her after a long battle. Mara realized Harken was the true person who killed her parents and broke free. She moved the moon back and teleported the heroes except Rai and herself to the a passageway in the base that leads to the Soma Plains. Harken's plan of dropping the moon onto Shintaion was foiled and Shintaion spared from certain doom. Kiyoshi was incinerated in a pot of lava, no longer able to haunt Mara any longer.
The Underworld also dealt with a near catastrophic event when Tegan's flagship was mounted with a light bomb capable of destroying the entire Underworld. Lowe managed to take control of the airship. Yet the airship was to crash, someone had to stay in board and steer it so the bomb would be dropped into a large body of water. Carla begged to take Lowe's place but to no avail. Akio escorted her and Tegan out of the room. Carla killed Tegan in a fit of rage after he laughed about Lowe's impending death. Carla, Akio and everyone else except Lowe escaped thanks to the airship Raven. Lowe dropped the bomb harmlessly into the Lornz river. Unfortunately, he could not land the airship safely and instead decided to crash it into the Zaka Clan's Anubis base. Rai and Mara's fates were unknown as they raced aganist the clock to get out of the base before the airship hit. Lowe is presumed dead. Everyone else survived the incidents and are en route to the Underworld Guard HQ.
Elsewhere in the Underworld, Kraw, Atoshi, Neil, Nina and Helen have broken into the Zaka Clan fortress, ready to defeat Leo, one of Shini's minions who has taken the castle from Helen after Harken vanished into the Sealed Realm.
What is the purpose of the Sin orbs? When will Harken return. Just how much of the Arlon energy has he stolen from the Sealed Realm? Even if Harken is slain.... The threat of Shini still looms over both Shintaion and the Underworld. All that is certain is the stage is set for the final battles! The end is neigh!