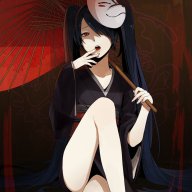 Otaku Mode Activated
Original poster
Posting Speed

Speed of Light
Multiple posts per day
1-3 posts per day
One post per day
Online Availability

12:00am-4:00am
Writing Levels

Give-No-Fucks
Beginner
Elementary
Intermediate
Adept
Adaptable
Preferred Character Gender

Female
Genres

Fantasy, magic, adventure, comedy, anime, slice of life, high school, fandom, romance, but I am always open to many others.

​
[fieldbox="Natsume, red, solid"]
​
Finally, the sound of the school bell rang for school to be over. Not that Natsume ever paid attention in class, the truth was she never needed to, she had taught herself a lot when she had been stuck in her room alone for punishment when she was younger. But, finally, she could leave and head for the gangs hide out. The hide out was an abandoned house, well, not so abandoned anymore after the gang decided to take it for themselves. It became like a second home or for some of them their real home because it was where everyone in the gang fit in. They had made it quite nice too, decking out the inside with everything they wanted because they practically lived there all the time.

Natsume got up out of her seat that was in the back corner where she always looked out the window if she actually went to class. Other times, she wouldn't go at all and would be found hiding out at the roof of the school which technically wasn't allowed but no one was ever going to stop Natsume and her gang members from doing what they wanted. The same went for their hide out. It was an abandoned house, they were technically not supposed to be there but no one ever forced them out. Either the gang had connections that were preventing it or everyone was just too afraid to kick them out.

Natsume stung her bag over her shoulder and began to walk out of the classroom, automatically having her classmates move out of the way so they wouldn't run into her; they never knew what she would do to them. Sometimes, she could have just brushed something off but other times she just might hit someone. She left the classroom, heading down the hallway towards the exit of the school. She would most likely start meeting up with the other members of the gang while they all made their way towards the hide out which was where they spent most of their time if they weren't out making trouble for everyone. While school bored her all the time, hanging out with the gang members was something she really enjoyed, people who she considered as her friends. She walked out of the school, heading for where the house was located.
​
[/fieldbox]
​
[fieldbox="Remi, yellow, solid"]
​
Remi had been trying to explain to the teachers for the thousand time about her outfit when the bell rang. They just couldn't understand that the outfit was what "Mad Prism" was supposed to wear. With the sudden sound of the bell, without any okay from the teachers that were disciplining her, Remi posed and then began to speak. "Mad Prism must be going now, she has work to do!" She stated, trying to act cool, well, what she thought was cool. With that, she suddenly began to run off which left the teachers standing there, staring at the back of Remi which was trailed by a large bow and its two fabric long tails that had the crescent symbol on it.

The cosplaying girl ran for the door so she could get to the hide out as fast as she could. She always liked getting there before most. She had an office in the house; it was one of the many rooms that were in the house. The house was quite large after all. It was where she did her business and most would come to ask her for something, unless she magically showed up which happened quite often because she found it fun.

While she didn't actually have any magic or special abilities, she pretended she did and somehow it was almost like she really did considering she would always show up with the things the gang needed and would appear out of nowhere. She was the person who would suddenly come out from the shadows posing and saying mad prism is here, which made you wonder if she really did just suddenly appear or had been standing there the whole entire time waiting for the right moment to come for her to speak. Either way, she was quite interesting and she did satisfy any need for comic relief in the gang.

Remi continued to rush out of the school, almost running into one of the door because she thought it was already open but it wasn't and she needed to open it up herself suddenly before she smacked directly into it. Then, she ran outside with the wind blowing around her hair and costume as she went through the front entrance of the school and down the street for the house.
​
[/fieldbox]
​