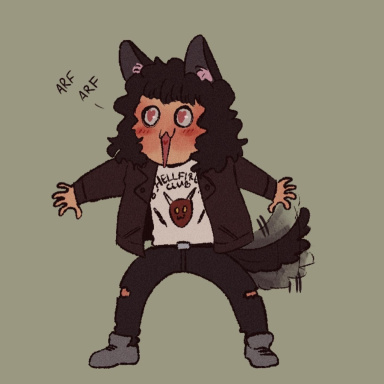 [*screaming into the void intensifies*]
Original poster
DONATING MEMBER
LURKER MEMBER
FOLKLORE MEMBER
Invitation Status

Not accepting invites at this time
Posting Speed

Speed of Light
Slow As Molasses
Online Availability

It varies a lot depending on my schedule, unfortunately.
Writing Levels

Advanced
Adaptable
Preferred Character Gender

Primarily Prefer Male
Genres

Psychological horror
Body horror
Supernatural
Giallo
Splatterpunk
Dark fantasy
Historical
Low fantasy
Magipunk
Weird West
Noir
Thriller
Gothic horror
Southern Gothic
Gaslamp fantasy
Cyberpunk
Space saga
Clockpunk
Space Western
Space opera
Paranormal
Modern fantasy
Dieselpunk
Post-Apocalyptic
Crime drama
Medieval fantasy
I had been up early this morning. My sleep schedule was off again; waaay off. At least I had Iwaku to keep me company. Since joining five weeks ago, the place has already come to feel like home. And the roleplaying. Oh man, the roleplaying. Speaking of which, as I checked my Skype, I noticed a certain name on the list I'd been keeping an eye out for. We'd spoken earlier in the morning (for me)/evening (for him), but he'd since dozed off. Now, though, he was mine to hassle. And I had a very particular thing to hassle him about...
​
[10:43:08 AM] Eri: Hey Vay. You know the onexone thing we've been discussing?
[10:44:57 AM] Vay: The one we mentioned, fleshed out a bit and they stared talking about WoD and forgot about?
[10:45:18 AM] Eri: Yeeeah, that's the one, haha.
[10:45:48 AM] Vay: YEah I rememeber, your got new ideas?
[10:48:26 AM] Eri: Welll. Sort of. Maybe?
[10:49:14 AM] Eri: I was poking around looking for inspiration, and started thinking about internet creepypasta.
[10:50:01 AM] Vay: Hurm...
[10:50:15 AM] Eri: Are you familiar?
[10:50:42 AM] Vay: a bit, just the main ones like slenderman
[10:51:16 AM] Vay: mine mincraft one about odsidian being evil
[10:51:24 AM] Eri: Gotcha.
[10:53:16 AM] Eri: Well, I was looking up some creepypasta and came across this post on some chick's private forum. I only looked at it 'cause the site theme reminded me of Rose.


One of the many interests which Vay and I seemed to have in common- and in fact, the first we discovered- was MSPA, a webcomic which I highly recommend. His
Skype icon
is a picture of Karkat, from the Homestuck arc, of which Rose Lalonde is also a character.
​
​
[10:53:30 AM] Eri: Check it out.
[10:53:31 AM] Eri: http://lovegoodhorror.forumotion.com/t1-something-interesting-i-found-early-this-morning

[10:57:37 AM] Vay: He should have shared the link :P but sounds interesting, rpable even
[10:58:40 AM] Eri: Yeah, that's what I was thinking. I'm going to see if I can track down the original. It can't be the only time someone's posted it, or if it is I'm sure it's up on one of the blogs somewhere.
[11:00:35 AM] Vay: Link me if you do find it.. though hmmm.... mindpowers through embedded video? Sounds far fetched, though ims and forums though, doable.
[11:01:14 AM] Eri: Well, maybe it was the IM in the first place. : P
[11:01:36 AM] Eri: Anyway, I will let you know.
[11:02:30 AM] Vay: the search might give you ideas, I know I'll be looking at my ito folder
[11:02:48 AM] Eri: Eeexcellent.
[11:03:53 AM] Vay: Then you have studied master Junji's work?
[11:04:06 AM] Eri: But of course.
[11:04:16 AM] Vay: Another thing for the list!
[11:04:20 AM] Eri: Indeed!
[11:04:41 AM] Vay: Hold on..
[11:04:50 AM] Vay: look at the time this was posted
[11:05:00 AM] Eri: What?
[11:05:34 AM] Vay: Not even an hour ago...
[11:05:48 AM] Eri: Whoa, really?


I blinked and sat up straighter, going to check the forum post again. Just as he said, the timestamp read "
Today at 9:43
".

​
[11:05:56 AM] Eri: Hey, you're right.
[11:06:01 AM] Vay: nor chance of you finding the original >=)
[11:06:47 AM] Eri: Hang on. I'm pulling up /x/.
[11:13:03 AM] Eri: Yeah, like she said, it's been bumped if it was there. I'll see if anyone on the board remembers it, though. If it's only been gone since this morning...
[11:14:40 AM] Vay: Alright, though we have the story not sure what the original would give us other than a shot at the vid
[11:15:37 AM] Eri: The OP might be a regular. Or he might have linked it in the thread somewhere and someone else has the link.
[11:15:44 AM] Eri: It's worth checking.
[11:16:30 AM] Vay: indeed
[11:16:42 AM] Eri: This could be the next Slenderman, haha.
[11:17:16 AM] Vay: nothing replaces slenderman, nothing *fist over heart*
[11:17:23 AM] Eri: True.
[11:18:17 AM] Eri: A girl can dream. >: D
[11:19:03 AM] Vay: this is giving me "the ring" vibe.. hope I don't have to go looking for a well
[11:19:36 AM] Eri: It does kind of have that vibe, yeah. I bet the OP is a fan.
[11:21:11 AM] Vay: Well I hope you find it, if only to stalk them and find more good stories
[11:21:19 AM] Eri: Indeed!
[11:21:34 AM] Eri: There are some other classics I can link you to, if you want/
[11:21:36 AM] Eri: *.
[11:21:54 AM] Vay: I'd love you forever if you did
[11:22:42 AM] Eri: I love this one. The setup is perfect. http://www.creepypasta.com/candle-cove/
[11:23:57 AM] Vay: you know i was just on this site while we were talkign WoD
[11:24:16 AM] Eri: Oh yeah?
[11:28:46 AM] Vay: thats a good one
[11:29:52 AM] Eri: This one is pretty famous for people actually buying it. http://www.falconchurch.com/showthread.php?180-Lavender-Town-Tone(Pokemon-Red-Green)-THIS-IS-VERY-VERY-LONG
[11:30:28 AM] Vay: its long apparently
[11:31:20 AM] Eri: Indeed. Not as long as it claims. : P
[11:31:57 AM] Vay: I scrolled down and looked
[11:34:13 AM] Vay: i played those games
[11:34:26 AM] Vay: I'm still alive ... i hope
[11:35:08 AM] Eri: Haha, yeah. I dunno why people fell for that one.
[11:35:40 AM] Vay: because there no glarign red text saying its not real
[11:36:07 AM] Eri: Right. >>
[11:36:40 AM] Vay: let us not forget war of the worlds
[11:37:07 AM] Eri: The original creepypasta. *Nods*
[11:37:50 AM] Vay: had the musical ersion of cassette as a hid.. great bedtime story for a little todler vay
[11:38:02 AM] Eri: Awesome.
[11:38:09 AM] Eri: Orson Welles is so fucking cool.
[11:39:26 AM] Vay: yes, yes he is, sparked both tmy interest in sci-fi and horror >=)
[11:40:02 AM] Eri: Nice. >: D
[11:40:26 AM] Eri: This is another classic, for slightly different reasons: "So ur with ur honey and yur making out wen the phone rigns. U anser it n the vioce is "wut r u doing wit my daughter?" U tell ur girl n she say "my dad is ded". THEN WHO WAS PHONE?"
[11:40:53 AM] Vay: Her mum
[11:41:06 AM] Eri: Good answer.
[11:41:52 AM] Eri: One more: http://www.creepypasta.com/the-bad-dream/
[11:42:54 AM] Vay: yeah you've completely distracted me from coding now an its almost 1am =D
[11:43:07 AM] Eri: Oops. 8D
[11:43:27 AM] Vay: holy....
[11:43:41 AM] Vay: that one is
[11:43:54 AM] Eri: It's one of my favorites.
[11:43:56 AM] Vay: good thing i have a sword next to my bed
[11:44:03 AM] Eri: >:]
[11:44:28 AM] Vay: thansk for sharing that right before i sleep, you're too kind
[11:44:42 AM] Eri: No problem! 8D
[11:45:35 AM] Vay: ahh my tortured screams will reach your ears on your far shores ere the sun rises, an you will know you have done yout job well
[11:46:02 AM] Eri: Indeed. *Rubs hands together*
[11:46:47 AM] Vay: i only hope when you clain my shattered soul that it's pittiful remnants please you. :P
[11:47:15 AM] Eri: We shall see.
[11:49:11 AM] Vay: in all seriousness though, i should sleep, work in the morn
[11:49:34 AM] Eri: Of course, of course.
[11:49:44 AM] Eri: Sleep well. Don't let the skin-takers bite.
[11:50:25 AM] Vay: in they bite let them have my skin, but for the sake of oue list, do not let them have my heart.
[11:50:42 AM] Eri: I will send them a memo.
[11:51:02 AM] Vay: good, that will surely get the job done
[11:51:09 AM] Eri: Night Vay. :]
[11:51:25 AM | Edited 11:52:18 AM] Vay: night ozzie, good luck with your search
And that concluded Vay and Ozzie time for the day, at least until late tonight for me. Humming to myself, I pulled /x/ back up in a new Firefox tab. Time to see what Anonymous could tell me...
​