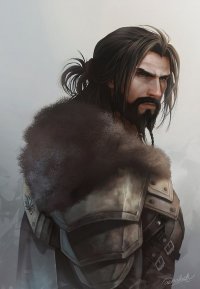 I'm one of those "details and implications" guys.
Original poster
LURKER MEMBER
FOLKLORE MEMBER
Invitation Status
Posting Speed

1-3 posts per week
One post per week
Online Availability

I work swing shift, schedule changes daily.
Writing Levels

Adept
Adaptable
Preferred Character Gender

Primarily Prefer Male
Genres

Medieval Fantasy. Or pirates. Pirates are always good. When it comes to reading, however, a good steampunk is always great. Above all, however, I would definitely have to say my favorite is Dark Fantasy.
I just posted a blog based on a writing exercise that I personally have been using for a few years now. Religion is a topic frequently avoided because it gets a little messy at times. At many times. Regardless, I love putting my characters in a situation where the idea of a deity or many is mentioned to them. In this one, I have used a recent character revamp (Found
here
) and put him in a church where a clergyman has stated he was blessed.
I thought this was a pretty interesting idea to post in the public and see what other peoples characters might do when the idea of god is brought up to them. Remember, the character, not the person, your characters response does not have to reflect yours.
So as a writing exercise post a short passage of what your character would do alone in a church and confronted with the idea of god.
BEFORE READING: The passage below does not necessarily reflect the opinions and views of the writer, just the character. This is a writing exercise for my recently revamped Mystro Kijaki.

"You are blessed by the power of god." This clergyman was doing his best to comfort the exhausted warrior covered in scales, the body of the dragoon hot with blood and passion. This statement warranted an angry huff as Mystro whipped his neck to stare at this man of the church.

"Do you not see me? This is the power of no god, this is not the blessing of a benevolent deity, this is the force of the devil." His claws clenched tightly enough that the soft palms of the man had begun to bleed, dripping blood from the crevices that folded through his fist. "The fact that I do good of my own is my own doing, I have chosen to take this power into my hands and do as I please with it, that is the proof I need to know this is the work of a devil. I am the devils prodigy."

As stubborn as the man of god was, he simply bowed his head and continued to evolve his theory, "Could it not be that you choosing to do good of your own is the work of god within you?"

Another sling of his neck and lunge with the white-scaled arm stuck the robed man to the church wall, holding him beneath the stained glass window depicting the devil himself. "NO!" Screamed the dragoon as the word echoed through the tall building, sound waves bouncing off of every surface and finding themselves on the ears of the only two residing within the church. "I choose to do this and nobody else! If I am the devils creation and you would have me believe god controls my being then you imply that I have no means of existing for myself! If I do not believe it is by my own choice that good is to be done then there is nothing left for me to believe at all. I would sooner give in to the despicable urges of my body before believing I am but a play thing for the powers that be." Releasing the holy man, Mystro snarled and glared with rage in his eyes. There was no way he would believe any of this. "If I am gods play thing then I would slay him myself to free myself from his shackles."

Shocked by the response, the clergyman subtly signed towards his deity and let out a gasp of relief that his neck would continue to support his head another day. "I may only hope you come to know as I do."

Turning around to show the full view of his wide wings covered in white shimmering scales and glossy black patterns stretching from one to the other, more words hissed out of the fanged jaw, "It is you that does not know the true passion of man. I am Dragoon and Human, before I am this beast I am man and you would do your best to place your faith in the people that need it."