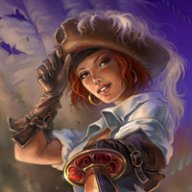 Edgenoble
Original poster
LURKER MEMBER
FOLKLORE MEMBER
Invitation Status
Posting Speed

One post per day
1-3 posts per week
One post per week
Slow As Molasses
Writing Levels

Intermediate
Adept
Preferred Character Gender

Female
Genres

I am a fantasy lover all the way. I'm willing to try new things though. My favorite types are medieval plots, forbidden romances, and plots with a lot of action. (My favorites are Slave X Master, Royalty meets Commoner, Kidnapper X Captive, overall just forbidden romance that's included in most plots I have set up^^)

Elijah Serrano



"Mrs. and Mr. Serrano." The manager as he saw the pair enter into the warehouse, grinning as he approached them. They weren't common customers, but with their control over this city business hadn't been threatened like it had been by previous clans, so he was grateful for that. Mrs. Serrano smiled politely in response, but glanced around the cells as her husband spoke to the other man. "A bodyguard, you say?" Mr. Serrano nodded. Their daughter, Kristine, had been with a bodyguard from a young age; but Elijah had always seemed able to hold his own. With dangerous threats looming, closer than ever now, it was better safe than sorry. The Darcien clan had become increasingly more violent with their attacks over the previous months, especially toward the leaders themselves. "Preferably one that can fight, but will not turn on us." A grin broke across the manager's face. "Actually, I might have just the one."

"He's a returnee." The manager explained as he led the couple further into the warehouse. "His previous owner sold him back here after quite a few years because one of their own was mistreating him. He didn't take well to the abuse, so they brought him back. I don't blame him, and as long as your son doesn't torment him violently, he should be well behaved." They passed by a werewolf, who growled at them, and Mrs. Serrano held her nose and turned away. "Mutts. Filthy mongrels." Her attention turned to the man they were following.

"Please tell me you aren't going to try to sell us a wolf?" "A fox, actually."

He answered.

"He's a kitsune, a fire wielder so be careful not to spook him."

The woman gave her husband a nervous look. The purpose of a bodyguard was to protect Elijah, after all; not to get him burnt to a crisp.

"But he's quite tame, I assure you. Typically obedient, mostly quiet so he shouldn't give your son too much trouble. He can be a bit on the fiery side, but that's to be expected from those of his species. Best of all, kitsune are know for being extremely loyal, so I highly doubt you'll have issues with him sneaking around with the enemy behind your backs."



Finally they reached Zach's cage. They could see the man's form in the back of the cell; sleeping perhaps, or just trying to get away from the noise that echoed throughout the large building.

"Zach, looks like I may have found you a home."

The manager said, leaning near the door. He checked in with the kitsune every so often, just like he did with most of his favorites around the warehouse.

Last edited by a moderator: