ADVERTISEMENT RULES
It's only fair if we can come and advertise on your forum too. >:D
You can bump your topic once a month if you really want to bump.
We prefer if you only advertise roleplaying and writing forums, but it's okay to spam other stuff too.
No spamming of offensive content. D:<
No one wants to buy your drugs or penis enlargers, so go away you spambots!
Ever so often we check links and remove dead ones. You're welcome to post a new topic if your thread gets archived.
That's all! Post a topic with your link. :D
LINK BACK BUTTON CODES!

[url=https://www.iwakuroleplay.com][img]https://www.iwakuroleplay.com/images/buttons/biwaku_88x31.png[/img][/url]
OR
HTML:
<a href="https://www.iwakuroleplay.com"><img src="https://www.iwakuroleplay.com/images/buttons/biwaku_88x31.png" border="0" title="IwakuRoleplay.com"></a>

[url=https://iwakuroleplay.com][img]https://www.iwakuroleplay.com/images/buttons/biwaku_600x100.png[/img][/url]
OR
HTML:
<a href="https://iwakuroleplay.com"><img src="https://www.iwakuroleplay.com/images/buttons/biwaku_600x100.png" border="0" title="IwakuRoleplay.com"></a>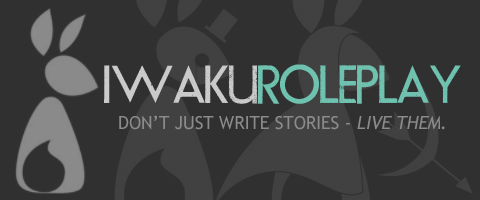 [url=https://iwakuroleplay.com][img]https://www.iwakuroleplay.com/images/buttons/biwaku_480x200.png[/img][/url]
OR
HTML:
<a href="https://iwakuroleplay.com"><img src="https://www.iwakuroleplay.com/images/buttons/biwaku_480x200.png" border="0" title="IwakuRoleplay.com"></a>

[url=https://iwakuroleplay.com][img]https://www.iwakuroleplay.com/images/buttons/biwaku_500x120.png[/img][/url]
OR
HTML:
<a href="https://iwakuroleplay.com"><img src="https://www.iwakuroleplay.com/images/buttons/biwaku_500x120.png" border="0" title="IwakuRoleplay.com"></a>

[url=https://www.iwakuroleplay.com][img]https://www.iwakuroleplay.com/images/buttons/biwaku_468x100.png[/img][/url]
OR
HTML:
<a href="https://iwakuroleplay.com"><img src="https://www.iwakuroleplay.com/images/buttons/biwaku_468x100.png" border="0" title="IwakuRoleplay.com"></a>
Last edited by a moderator: