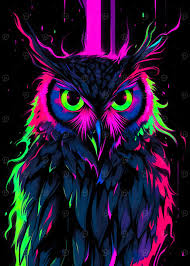 RADIOACTIVE OWL GHOUL
Original poster
ADMINISTRATOR
MYTHICAL MEMBER
Invitation Status

Not accepting invites at this time
Posting Speed

1-3 posts per week
Slow As Molasses
Online Availability

10AM - 10PM Daily
Writing Levels

Adaptable
Preferred Character Gender

Female
Genres

Romance, Supernatural, Fantasy, Thriller, Space Exploration, Slice of Life
I just finished a round of advertising for Iwaku, and as usual I have come back frustrated and disturbed. XD One of the major things that really annoys me about some roleplay forums is their big emphasis on word counts. They require you to have a minimum number of words in each and every roleplay post.

Now, I have always been of the opinion that it's not the number of words or the size of your roleplay post that is important. It's the content of it. You could write a huge five paragraph post, that seems like it's chock full of descriptive goodies and yet have contributed absolutely nothing to the roleplay. Or you can write a 1 paragraph post, which at a glance seems totally useless, but actually gives a great line or starting board for progressing the scene. Or vice versa! A huge post filled with awesome storyline, description and plot elements. Versus a tiny 5 liner that does nothing be react and give you nothing to build off of. D:



Then the SMARTASS in me thought about challenging everyone in Iwaku to write the longest post they possible can about something as silly and mundane as sitting in a chair. :D No plot, no characterization. Just sitting in a chair. An example of how length and word counts don't mean it's quality roleplaying. It just means you're good at describing a million detailed things.

...So do that. >:D Flex your creative muscles. See how descriptive you can get about a character sitting in a chair. NO PLOT. Just sitting in a chair.

If you're a short poster like I am, you'll find it a fun challenge. If you're a long poster, I would LOVE to see how you cram in all those details. XD Maybe I'll learn something.