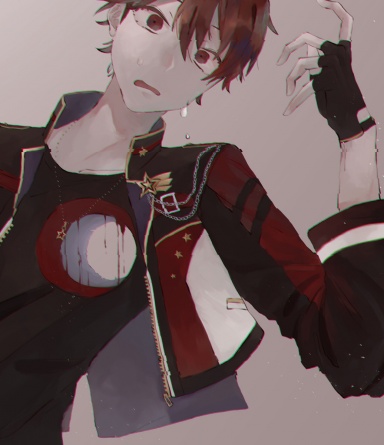 I've learned to appreciate life just a little more
Original poster
Roleplay Invitations

Group Roleplays, One on One Roleplays, Chat Roleplays, Not Taking RP Invites at this Time, Private Convo Roleplays
Posting Speed

A Few Posts a Week, One Post a Week, Slow As Molasses
My Usual Online Time

10 AM to 12 PM (BRT)
Writing Levels

Intermediate, Adept, Advanced, Adaptable
Genders You Prefer Playing

Male, Female, No Preferences
Playing Style- Passive or Aggressive

Passive
Favorite Genres

No preferences but I do struggle with making things serious at times. I definitely have more of a knack for comedy.
Genre You DON'T Like

I'm really iffy about forced romance plots, I prefer when the characters developt it naturally. I don't join fandom RPs with canon characters in the roster nor do I play them.

AKA: Please help me find motivation for writing and kill my boredom by giving me all sorts of art things to do.
​
I've been doing these for a while, started by adding filters and borders to pictures for my own use in RP's, then more complex edits, then I started offering it to friends when they'd complain about 'finding a good faceclaim, but not in the right colors' and nowadays these same friends started coming to me with requests like 'make this a different color' or 'I don't like plain white backgrounds so fix this for me please'.
I like doing these, they're reminiscent of digital drawing just a lot more quick to do, so I thought why not open a shop where I could help more people out, and have more fun with it...
What I'll take as requests:
Honestly, as long as it's not Character art ('cause there's a section for that) or writing requests (I've had my fair share of ghost-writing before, it is stressful!) the sky is the limit. I take anything. I'll give you a head's up if your request sound too far beyond my skill repertoire or just literally impossible...
What I'm used to doing are:
Image edits (from simple color changes, backgrounds to even more complex ones such as altering/covering radically a part of it), Removing backgrounds (To when you need your image to be a transparent PNG), IC headers and making signatures.
For BBCode
I stick to a style I call 'Minimalistic but pretty' meaning the code isn't suuuuper complex, but it looks nice. I also take mobile and theme compatibility as
a priority
when I code things, making 1/3 of my time spent on codes adapting it for tiny screens.
What programs do I use?
For those curious I have: Paint Tool SAI, Paint.NET, Medibang Paint Pro, GIMP2, Photoscape, Inkscape and Photoshop CC to my disposition, plus a lot of online tools and mobile apps. I just think all of these have something they do better than the others, or they have more/different filter/text options.
Things I need to know:
What is the request? (Picture edit, make a signature, maybe try my hand at a banner, etc...)
The idea: Give me a basic description of what's in your mind and what it is for. If it's an edit tell me what you want changed, what color, etc...
The desired dimensions: Sometimes I can get a feel for these from what the request IS, sometimes I cannot. Just so there is no mistake, if it's a banner or a signature or something like that, please give me some pixel dimensions to work with.
Feeling of the product. This one is a bit harder to convey, but like, what am I supposed to feel when I look at the final product? This is helpful towards choosing fonts and colors when your basic idea is something more ample and vague (example: make a background, IC post header...)
Urgency of the request. I'm going to queue these with priority and complexity in mind on this very same post (or the next).
OPTIONAL: If your request asks for some text, already choose a font and a color for it. It's the type of thing that will help me a lot if you bring it figured out, but if not, it's okay.
If I feel like I need some more specific information for your request, I will make you more questions.
Things YOU need to know:
How long does it take? It depends, but there have been things that, from the moment I started them to its completion, have taken me 5 hours without any breaks. Last CS I coded took me an entire day of work non-stop.
Work ethic: I am an annoying perfectionist with these things. This means I won't be done with it until I've considered it passable and I will make you little progress reports if I feel like I need the requesters' input on something. (Even if you said something like 'I trust your job' and just let me do my thing, I can't help it)
When will you start? If you don't give me a date or say it's urgent, I will pick it up whenever I find free time for it, normally in-between roleplay responses. I'll let you know when I start working on your request!
'All of your examples are Anime and illustrations, can you edit actual photos for me?' Yes, I can, I've actually done it before. Don't guarantee it will be as good as the rest of my edits but I'll certainly do my best with it.
IMPORTANT: This is a hobby and a motivation booster more than anything. I don't want it to get in the way of actual writing. It's supposed to aid it not replace it, please have that in mind and be patient. (I have a life too!)
--Examples--
Personal Use: Edited to remove the chibi team members and unit label from the image.
MY BBCODE THREAD
Navigate to Delivery Post
Request by
TheMidnightSin
: Remove the background of one image (Transparent PNG) and combine it with another (watermark style)
[Worked time: Aprox. 6 hours]
Last edited: