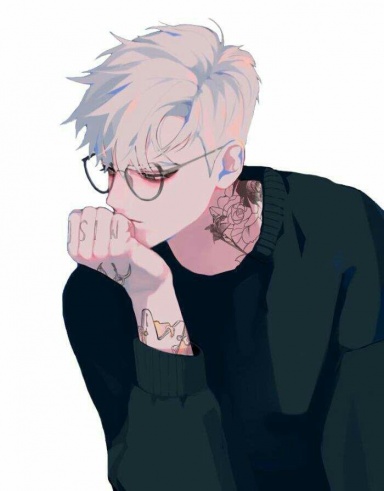 Roleplay Invitations

Group Roleplays, One on One Roleplays, Chat Roleplays, Private Convo Roleplays
Writing Levels

Give-No-Fucks, Adaptable
Genders You Prefer Playing

Male, Female, Transgender, Futanari, Androgynous, Primarily Prefer Male, Primarily Prefer Female
Playing Style- Passive or Aggressive

both
Favorite Genres

i like everything mostly yaoi

Jax Sawyer

Jax couldn't help to laugh when he notices the surprise on Sariah's face and smile in satisfaction. Feeling prideful that his sneaky flaws never seem to fail him. Unless he started talking. "
Sorry about that Sariah you seem to so focus that I just have to do it
," he said raising his hands up waving her an apology. He looks over to the food that was laying around the table and doesn't hold when his stomach protected in hunger, but, he is better than before he eats he should discuss things first with the monkey
When he was about to ask her something he felt someone poked his shoulder and his gazed turn to look down look down at the rooster.
"
im Ryan"
He says introducing hisself while offering Jax a hand shake.
Jax smile "
Names Jak"
he said reaching is hand for a handshake
He watches him with his sharp killer eyes as the rooster point and explains to him that the instrument was a P.I.A.N.O while spelling it to him '
what kind of Vduvat (not allowed to translate this) is this?!'
jax thought when he realized that the rooster seemed to have misunderstood what he said. After all, he spoke Russian to him. With that being said he thought well not too embarrass the already poor rooster in front of the monkey and just try to play along with him.
It would be a shame if the monkey laughs at his naiveness .with playful grin spread across his cheeks. He chuckled when the monkey smacks his back and rub his head with a sly grin"
i… sorry, i, not good talk English
" he said to him in purpose while holding back laughter when he realized how funny he sounds like
"I can teach you.....after we attend this meeting"
he says looking at his watch
When the rooster called that he will teach him later he waved his hand and smile "
I will be honoured
" he said as he watched the rooster leave and he turns to face the monkey as he watched.
"I'll see you in there"
Ryan says to Jax before looking at Saria "
again, forgive me for ruining your brekfast Saria, i hope you will allow me to make it up to you after we sort out this mess"
Jak look at Ryan and chuckle "
ah, what a loverboy I should better teach him how to be smooth someday"
he said with a smile
when all things have been cleared he sits behind her and he turns back into his serious demeature
"
Alright big tiger whatever you're planning I'm in. I only said no at the time was because the Rooster was here. Since he probably believes I'm on his side he won't suspect anything we do together. We'll discuss more these plans later. Let's get to the meeting room and get this whole mess over"
she said shaking her head going towards the meeting room.
Yet before she leave jax grab her arm "
Sariah Green, i. am honoured of your participation and I'm very impressed with your plan with the rooster. Just keep it up and never get a cough"
he said letting her go as he takes out a recorder from his pocket "
here take this everywhere and never let anyone caught you recording them since we cant make a risk,"
he said before agreeing with her to go in the meeting
"
after the meeting let's meet somewhere where no one will bother us, "
he said as he followed her for behind when he got there he takes a random seat and take out his notebook and ballpen
Scarlet
Mad Captain Kazu