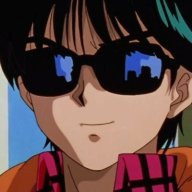 Definitely not a Fekfox
Original poster
COMMUNITY DEPARTMENT
It was normal for the BeneTech to have protestors outside of their buildings. The company was a leader in both genetics and pharmaceuticals, and so they were used to having all manners of protests performed, usually up to four a week. But today's protest was unlike any other. Despite the sweltering new York summer heat, entire city blocks were blocked off to keep the people that filled them safe from any drivers. Thousands of people stood in front of and across the BeneTech Research and Development building, screaming anti-mutant propaganda or pro-mutant sentiments at the opposing sides as they waved their signs and banners around. It seemed like at any second a confrontation would breakout and what was currently an emotion-fueled crowd would soon become a hate-filled and vindictive mob. And BeneTech wouldn't have it any other way.
The last 10 years had been harsh on humanity. Between the mutant terrorist attacks or the occasional X-gene activation gone wrong, people had enough, and they wanted a solution. While many companies sought to appease both sides in some shape or form, BeneTech was one of the few who saw a chance to make a real profit, and what could be more profitable than safety and stability? The cure had been ready for a few months now, but tensions weren't high enough then. The people didn't
want
a mutant cure the way they did now. But after the event in Reno? People were ready. Bailey Hoskins, a fourteen-year-old boy found himself in conflict with his bullies. The stress led to the activation of his X-gene, causing him to detonate, killing himself and twenty-thousand others. The resulting outcry was like a flare, signaling to BeneTech that it was time to roll out their product.
Standing atop the BeneTech stage were several reporters and their cameramen, each performing their own segments, all talking about the same things. The crowd. The cure. Dr. Kavita Rao. Mutant Terrorists. It might as well have been one broadcast altogether. But everyone wanted the scoop, everyone wanted to be there, and BeneTech needed that. Especially the world's biggest news network for Mutant ongoings.
"I'm Kate Hemmingway with RVN news speaking to you live from the BeneTech Research and Development building here in New york. We are just minutes away from a huge public announcement on what we believe BeneTech's leading scientist, Dr. Kavita Rao, will be making about their long-rumored Mutant Cure." The Reporter did her best to block out the chanting protestors and the screaming crowd, focusing only on the camera in front of her. "As you can see tensions are high between both anti-mutant factions and mutant sympathizers. Many mutants have gathered here as well, most likely hopefuls for the cure." The camera panned over the crowd, making sure to capture the messages on the banners as it did.
"Interestingly enough, the face of anti-mutant sentiments is not present at this announcement", Kate continued to speak as the camera returned to her face, " Reverend and televangelist William Stryker has chosen not to attend the announcement, calling it a "waste of time" and an attempt to "hide the wolf in sheep's clothing". Obviously, many here seem to agree with the reverend, but only time will tell how this cure will impact the country and the world over." It was no secret that the Veteran turned holy man despised mutants, often referring to them as machinations of the devil. It wouldn't be unfair to call him the face of the Anti-Mutant Movement, a movement that he wholeheartedly endorses.
"That's everything for now. We'll return when Dr. Rao makes her appearance and begins her speech." Kate gave a small nod to the Cameraman and, after a few seconds, was given the signal that they were off the air. "God I wanna go home." She groaned immediately. "It's too loud, and to be honest, I'm a little scared. This whole event seems like it'll just get blown up by whatever Mutant terrorists have the balls to show up."
"You're right about that." The Cameraman responded, chuckling dryly. "Who knows, maybe Magneto and is Brotherhood will show up too." The statement was met with a look of disgust from his coworker, and he only shrugged in response. "It's a possibility. You should never count anything out of the picture."
"Let's hope that never happens." Kate scoffed. "Any other group? I'd probably have a chance to getaway. But the Mutant Brotherhood? I'm sure I'm as good as dead. Probably all of us here." Just the idea of Magneto showing up sent chills down her spine. Sure the treaty between the world and Genosha was in place, but it was fragile at best, and Erik Lensherr was very quick to anger. This might be all that he needed, the only thing that he needed to push him over the edge and break it.
"Yeah. Hope." The Cameraman responded curtly. He shook his head and turned the crowd, his eyes pouring over the people with the faintest trace of a scowl on his face. "I guess hope is all any of us got."
---
@Aero Blue
@CrystalTears
@MaryGold
@Jays
@Luxii
@DayDreamer
First post is up! Sorry it took so long, but it's more casual and slowgoing than an actual group RP would be anyway :D hopefully it's enough to get the ball rolling! If assistance is required, feel free to ask!