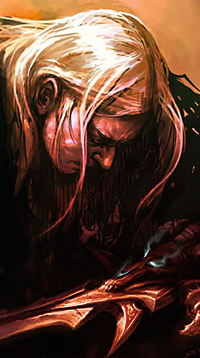 ☩ death knight ☩
Original poster
LURKER MEMBER
Invitation Status
Posting Speed

One post per day
1-3 posts per week
One post per week
Writing Levels

Adept
Advanced
Adaptable
Preferred Character Gender

Male
Primarily Prefer Male
Genres

Fantasy, GrimDark, ModFan, Horror, Historical, D&D, Lovecraft
WRITING GENDER
cold are the counsels of women -- brennu njála
---
A STORY ABOUT HATS
My favourite professor in college, a professor of literature, often said that we have different "hats" we wear when we read and write. For example, when you write a form letter, you're likely wearing a different writer "hat" than the hat you wear when you write a Star roleplay. It is our ability to wear these different "hats' that allow us to write complicated, and diverse characters with life experiences often outside of our own. My professor always tempered the Romantic notion of limitless imagination with the following clause - borrowed from another writer - "A writer can transcend all of their own experiences, except when it comes to race" - essentially, a white author can't write about the experiences of a person-of-colour (POC) faithfully. More specifically; a white author can write about a black character, but they can't write about the character's experiences as a black person.

This notion of "experience" also applies to the concept of gender. Although gender is often one of the first aspects decided about your next roleplay character, a character's gender may have a strong impact on who they are as a person - or it may not. A character's gender may also have an impact on how that character is written by you, the player. What "hat" do you wear when you play a female character - versus the "hat" you wear when playing a female character? What about characters that don't fit the traditional gender binary of male and female? The fact of the matter is that a male writer will likely never be able to faithfully reproduce the gendered experiences of a female character ; and vice versa.

That's not to say you shouldn't write outside of your gender. In fact, one of our former members, Brovo, used to compile demographics about RPers on this site. Their demographics prove that many writers on Iwaku don't write characters of their own gender:

"Males overwhelming play their own gender over any other[…] (42.6% Male, 8.2% Female, 0% Non-Binary.)
Females, meanwhile, seemed a little more divided over whether they played male or female characters more often. (18% Male, 23% Female, 1.6% Non-Binary.)
In the only poll that asked, approximately 50.8% of voters identified as Male, 41% of voters identified as Female, and 5.2% identified as Non-Binary."

Obviously, people are playing as a gender that is not their own; and that's a good thing! More gender balance is a very important thing in literature - as recent studies by a group at Florida State university have found a huge imbalance in male and female characters in children's literature. Although Roleplays don't necessarily have the same problem, I have found that many of the fantasy RPs I've been in, for instance, have had a distressing ration of men outnumbering women -- and an alarming lack of non-binary individuals.

Perhaps the problem lies in the question of "hats" yet again. How can I write a female character if I'm not female? Won't my "hat" be offensive? Or, an even more challenging question is ; how can I write a trans or non-binary character if I'm not? Should I even make the attempt?

The answers to these questions can be found in the race example above. "A white author can write about a black character, but they can't write about the character's experiences as a black person" Likewise, with regard to binary gendered, transgender, and gender-nonconforming characters; you cannot write about the specific, gendered experiences of that gender identity. This guide will help you navigate how to wear your "hat" for genders that may not be your own.

WHAT IS GENDER
The Human Rights Campaign defines gender identity as the following: "One's innermost concept of self as male, female, a blend of both or neither – how individuals perceive themselves and what they call themselves. One's gender identity can be the same or different from their sex assigned at birth." In other words, it is how a person identifies their gender, as male, female, both, neither, or other -- regardless of what they were assigned at birth.

If the gender that the character identifies as is different than what the character was assigned at birth, they fall under the umbrella term of "trans". Transgender, and transexual are far more "clinical" sounding terms, and very few trans people actively refer to themselves using this terminology. Notably, a character's trans identity has no impact on their sexuality. A trans character can be gay, straight, bi, or any other orientation under the sun.

A person who is non-binary, does not identify as either male or female. Gender, in the modern understanding, is not a binary structure at all; but a larger gradient. A non-binary person may feel like they have female aspects, along with male ones. A non-binary person may also not identify as any gender on the spectrum at all; seeing themselves as having no specifically gendered characteristics.

Cisgender, or "cis" is a term which I may use from time to time within this guide. It simply means that a character or person identifies as the gender that they were assigned with. Never refer to this status in your writing as "Normal" or "real" -- that implies that trans and non-binary people are abnormal or not real, which simply isn't the case.

GENDERED STORYTELLING

So you know what gender identity is; a self identified concept that underscores a character's identity. Great! Now which "hat" do you wear when you're talking about gender? As I discussed earlier, your "hat" as a cis-woman writing about women is likely different than the "hat" you wear when you write about men, trans, or non-binary people. How do you write about these things in a non-offensive way, and a way that's true to the character that you're trying to express?

Once again, I'll quote myself like the arrogant bastard I am: you cannot write about the specific, gendered experiences of that gender identity. What this means is that if you a cis person, you (in all likelyhood) have no idea what the experience of an average trans or nonbinary person is -- you simply don't have any insight on the topic. That may seem harsh, but trans and non-binary people reading your RPs (and yes, there are lots of trans / non-binary people on Iwaku) are judging your portrayal of trans and non-binary characters. Even if their character is not trans or nonbinary, trans and non-binary writers may see your portrayal of trans and non-binary characters take issue with fetishization and othering.

Fetishization refers to a tendency to see trans and non-binary people (particularly trans-women) as sex objects, rather than people, and reduce them down to their genitalia. Trans and non-binary people are not defined by their genitals, and your character shouldn't be either. Female characters written by men often suffer from a strong "male gaze" in writing; a depiction of the world and the women in it from a masculine point of view, presenting women as objects of male pleasure ; and not having a worth beyond that. The writing often displays this by having the narration comment on a female character's body. Film Noir as a genre provides an excellent example of this:

"She held him at arms' length, looked at the pipe still gripped in his hand, then looked at his face and read him like a book. She ran the tip of her red tongue slowly across her full cushiony, sensuous lips, making them wet-red and looked him straight in the eyes with her own glassy, speckled bedroom eyes." -- Chester Himes, "A Rage in Harlem"

This quote doesn't occur in a sexual scene. It's an everyday scene, but it draws undue attention to the narrator's desire for the woman -- without noting anything else about her, other than her desire for sex. This isn't a Star RP scene. Likewise, sexualizing trans and non-binary occurs even outside of Star RP roleplay. Their trans identity plays a larger role in the sexualization of trans-characters ; highlighting their dress and voice more than even their physical appearance.

"Othering" is closely linked to the idea of fetishization of trans and non-binary people. Othering is the idea that trans and non-binary people are somehow different than cisgendered people, based upon their gender identity. In writing, the narrative will take steps to point out how "different" these characters are from others, in terms of appearance, sexuality, and general demeanor. This tendency to point out the differences is generally intended to give the reader "clues" to the character's "real" gender. However, as we've already talked about - a character's self-professed gender identity is their real gender! Having your narration give "clues" is utterly pointless (as well as gross) because chances are, you've already filled out the gender field in their character sheet, and used gendered pronouns for them. Your fellow partners know their identity, and so do you! It's not a mystery, you don't need to give "clues"!

How these "clues" tie into fetishization is that these clues are often veiled references to sexual characteristics, associated with a specific gender. This suggests that a character's gender identity is based upon their physical sex, and if they have X, Y, and Z feature ; they are not the gender they claim to be. This is of course the idea behind "traps"; characters who appear to be one gender but are "really" another. The idea of traps is frankly, disgusting. Straight up, no bullshit. People don't get "trapped" into being with trans and non-binary people, and such language perpetuates ideas about trans and non-binary relationships that affect trans and nonbinary people in real life. "The Establishment", a feminist multimedia site recently had a blog entry that I think puts this best:

"Until we decide to have a real conversation about the fetishization of trans bodies, stories like Mia's [ a transwoman in a relationship with rapper Tyga] will continue to make headlines as a "scandal," and trans women like me will keep encountering people who try to tell us that we should be grateful for the leftover libido of chasers — as though that paradigm could ever be equal to a loving relationship built on mutual respect." -- Charley Reid

Nonbinary and trans people have relationships like everyone else, based on communication and trust. Your characters, if involved in romantic relationships, should have similar relationships. Something I see from time to time is that a non-trans / non-binary character in a relationship with a trans / nonbinary character is portrayed as somehow heroic or saintly for loving the aforementioned character. This goes directly to Reid's point; trans and nonbinary characters don't have to be grateful that they're loved by a character that fetishizes them.

Avoiding "othering" and fetishization in your RP is a simple way to make your RPs more LGBT friendly, and make your trans and non-binary characters more human and less sex-object. You can enact this in your RP by not calling attention to the sexual qualities of your characters - unlike the quote from "A Rage in Harlem" - and by avoiding language that is intended to "clue" your partners to your character's "real" gender.


GENDER AND THE MIRROR

Mirror Scenes are generally how (usually cisgender) people display trans / non-binary perspectives. A Mirror Scene - which is my term, I don't think anybody else uses it - is when a (usually closeted) trans character looks into the mirror and sees themselves in gender-identity appropriate clothing and is sad that they don't look like that. Mirror scenes are about the biggest cliche you can get when writing about trans characters. Trans people tend to look at these scenes and feel embarrassed, or see them as just general cringe-worthy. I personally find them laughably ridiculous - which resulted in an embarrassing experience for me.

Suffice to say, my university's comic zine had a comic about a transman, written by a pair of cisgender women. In the comic, he's getting put in a dress for his highschool prom - all while looking in a mirror, and saying that he'll never been what he sees in the mirror ( A mirror scene). It was ridiculously cliche, and sort of soured me on the whole comic zine ; I found it borderline offensive, to be honest. A month or so later, I was meeting with an art group in town and I showed them some of my comics. One of the women in the group asked me why I didn't submit them to this comic zine, and I told them that they had published some comics I found distasteful - notably, the Mirror Scene comic. Little did I know, I was talking to one of the writers of that comic. She said that she believed it to be accurate, and that she knew what she was talking about - she had done research. And what did I know anyway?

That story concludes with her finding out I was trans - and both of us being very embarrassed by our choices. I've included this story for two reasons. One, to show I'm a big idiot who can't keep their mouth shut - and two, to reiterate a point i made earlier. No matter how much research you do, no matter how much you believe it to be accurate; if you a cis person, you probably have no idea what the experience of an average trans or nonbinary person is. You simply don't have any insight on the topic. But, again, you can write trans characters. You just don't write about their experience as trans or non-binary. Being trans or non-binary does not define your character, and gender identity is not the whole of a character. This goes for cisgendered characters as well.

YOUR GENDER HAT

You're ready to write a character of a different gender identity than you, and you think that you're going to avoid these common pitfalls. You've put on your trans or nonbinary "hat". Now that you're sitting down to write about your character; there's a few things to keep in mind. Namely; how do you want to approach their trans or nonbinary identity? There tend to be two schools of thought regarding this. One approach is to underscore its importance to your character's identity by constantly discussing their gender, the other approach is not to mention it at all. Both of these methods have their flaws.

Constantly talking about a character's gender reinforces their identity, and adds to the diversity of your RP's cast. However, it often results in your character's gender identity being the sole defining factor of the character, and can lead to things as cliche as mirror scenes. If you constantly discuss a character's gender, you can end up talking about trans and non-binary experiences -- and we know that can lead to embarrassing moments. And, it's frankly inaccurate. Trans people and nonbinary people don't obsess about their gender, in general. In my experience, there is definitely a fixation with it, upon starting the transition process, but the idea that the only thing that trans and nonbinary people care about is just not true. Also, fetishization rears its ugly head again; you don't need to talk about your trans or nonbinary character's genitalia every four lines, I promise. (I've seen it. ) Constantly talking about a character's gender identity leads to cliche, boring, and honestly, embarrassing posts.

Not mentioning your character's gender identity at all is an attractive option, as you can avoid the fetishizing and cliche-ness that reveals itself in the other option. However, the leading language of "othering" and "clues" can still appear. If you try to hint that your character is trans or non-binary through description, it often leads to the idea that your character is somehow "hiding" something, and that their "true" identity has to be uncovered -- which as we've discussed before, is not so good. And, although this sounds counter-intuitive; your character probably won't be understood as trans or non-binary. Not mentioning your character's gender identity is at its worse when it implies that your character is hiding something - but can also just be flat-out erasure.

So what do you do? There's not really a perfect solution to this problem. But being conscious of the problems of fetishization and othering is a good first step, and actively working to avoid them, and other cliches like the mirror scene is very important. Listening to trans people, when they express discomfort about your characters is also very important - and trying to understand why they might be offended by your portrayal. Although I poo-poo'd it before, doing research is a really good idea as well ; but don't expect your research to give you equal knowledge of trans and non-binary people's experiences. Because it won't.

My practical solution is either mention it in your character sheet - and use appropriate pronouns. They / them pronouns often communicate more about a non-binary character's gender identity than 1000 words describing how they feel like they were "born in the wrong body." (Don't use that cliche either, ugh!) If your character's gender identity comes up within the RP, you, the writer - needs to address this head on, even if your character doesn't. And always, always keep in mind: Being trans or non-binary does not define your character, and gender identity is not the whole of a character.

A STORY ABOUT PANTS

Iwaku is an amazing community, in that we have many queer people roleplaying queer characters. Players being sensitive, and using common sense, is something that I see everyday on Iwaku, and something I've seen since I first joined in 2011. The world's changed some, in the past five years; with gender non-conforming and trans people becoming a more accepted part of the LGBT community, and the world at large. It is important for our fiction, and our RPs, to include trans and non-binary people because that reflects the world at large.

Trans and non-binary people have been in our stories since the beginning. The Icelandic family saga are sometimes referred to as the first "novels", and within those stories are dozens of gender non-conforming characters -- to the point that the medievalist Carol Clover had to invent a new gender paradigm to encompass all of their identities. When writing your fantasy narrative and grimdark medieval epics; remember, in 991 A.D there was a transman called Aud/And Breeches. Maybe don't name your character And Breeches.

Here are some final things to think about when making a character of a different gender identity than you.

What is this character's personality outside of their gender identity?
How would my character describe their gender identity, and why?
Which pronouns does your character prefer, and why?
How will you balance discussions of your character's gender?
Is my character only trans / non-binary for the purpose of a reveal?
Am I writing this character for sexual purposes? How will I handle that?


Last edited: