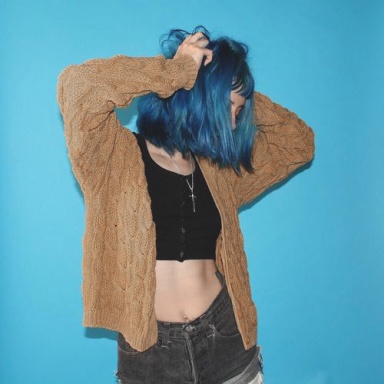 Protesting summer
Original poster
Roleplay Invitations

Group Roleplays, One on One Roleplays, Private Convo Roleplays
Posting Speed

Speed of Light, Several Posts a Day, A Few Posts A Day, One Post a Day, A Few Posts a Week
Writing Levels

Adept, Advanced, Adaptable
Genders You Prefer Playing

Male, Female
Favorite Genres

fandom, slice of life, modern, fantasy
Genre You DON'T Like

sci fi, anime, anything smut heavy

the hunt for a few stories
please send me a pm and do not post here
code by winnie
➳ twenty-three years old
➳ adept/advanced writer
➳ writes a minimum of two-three paragraphs per post/character
➳ loves detail
➳ loves romance, angst, fluff, drama and action all in one big package roleplay
➳ uses only real people as faceclaims
➳ plays both males and females, though depends on mood.
➳ loves to double up and play up to a maximum of four characters per roleplay
➳ can play any sexuality, but strong preference for [m x f]
➳ engages in smut as long as it isn't the focus of the roleplay and only with fellow redstar members
➳ frequently online and usually always available to reply because #nolife
➳ very friendly and likes to talk ooc
➳ loves loves loves making character sheets and coding
➳ can roleplay on either threads or through pm but nowhere else
➳ a partner who is an adept/advanced writer and won't go below two paragraphs or so
➳ a partner with a good grasp over the english language [proper grammar, punctuation, spelling, etc.]
➳ a partner preferably over 18
➳ a partner who contributes to plotting and won't respond with single word answers
➳ a partner who will communicate
➳ a partner who is relatively active [real life comes first of course but if there aren't replies in at least two or three days, i tend to lose interest]
➳ a partner who is flexible and doesn't mind playing either gender or any sexuality / can double
➳ a partner who won't ignore the things i say and will hopefully have read all of this through
there are a couple of fandoms. always willing do double up for canon x oc, or just do plain ocs. for canon x oc, i've listed my crush in brackets, and am willing to play almost anyone in return. just ask [pm only]
➳ twilight [edward cullen]
➳ teen wolf [stiles stilinsky]
➳ stranger things [steve harrington]
➳ the hunger games [finnick odair]
➳ the maze runner [newt]
➳ any modernised/realistic version of disney/dreamworks animated movies
➳ game of thrones [jon snow]
➳ the mortal instruments [jace herondale/simon lewis]
and here are some pairings i'm currently interested in. once again, always open to combining some to make doubling possible. underlined is my preferred role, but i'm willing to change:
good girl
x bad boy
jock x
nerd
bully x
bullied
gang member x
innocent bystander
gang member x
daughter of rival gang leader
drug addict
x former drug addict
extremely messed up guy x
extremely innocent girl
guy x
brother's girlfriend
girl
x boyfriend's best friend
former friend x former friend
womanizer x
virgin
vampire x
human
werewolf x
human
werewolf x
hunter
most are not fully fleshed out plots but that's mainly because i like to do that with my partner.
IT'S HALLOWEEN
since halloween is nearing, a nice roleplay about a group of friends staying out in a haunted house for the night would be fun. there could be a bit of fluff, followed by scary things that make them fear for their life.
NEW YORK, I LOVE YOU
if anyone's seen that movie, i'd love a thing where we play multiple characters experiencing different hard ships and relationships in the big city while all being connected in some way.
REUNION
something about old friends reuniting, repressed feelings coming out, maybe a fling or two, or an affair. so much to do with this one if we play multiple characters.
MEDIATOR
something like the book series. there's someone who can communicate with ghosts who just moved into a house that has a resident ghost.
WITH THE BAND
saw this on tumblr but maybe something where a band is on tour and one of the members' sister comes along and has a connection with another member. there's a 'hands off sister' rule, but the chemistry is undeniable so there's a lot of sneaking around and maybe more angst with pr if said member is pressured to date someone else for publicity and etc.
THE SECRET CIRCLE
or something like it? teens with powers, all grew up together only to realise what they're capable of when they turn 18 or something.
THE AVENGERS INITIATIVE
not necessarily the exact thing, but a similar concept where we play young superheroes? either in a world where superheroes are illegal, like in the incredibles, or maybe there's even an academy for them. maybe even do a superhero x supervillain thing.
CHILDREN OF THE OLYMPIANS
except not necessarily just greek mythology. children of any kind of mythological god, or maybe even them acting as hosts to gods. can have it be a random thing all of a sudden if the gods need help, or maybe it's meant to happen every few years and they have a school to help prepare them for it.
FAKE BOYFRIEND
something where these two people decide to date in order to hide something else of theirs like a crush or in order to make someone else jealous, but along the way, fall for each other instead.
SET IT UP
two assistants decide to set up their bosses so they have more time on their hands to do their own work or be with their significant others, but end up falling for one another. honestly so much angst and drama and also potential to double as the bosses.
and that's all i've got for now. please remember to pm me if interested!
[please be interested lmao i need partners]