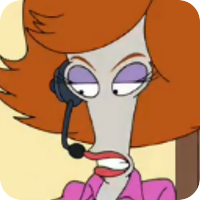 Can I transfer you to my manager?
Original poster
LURKER MEMBER
FOLKLORE MEMBER
Invitation Status
Writing Levels

Intermediate
Adept
Advanced
Preferred Character Gender

Male
Female
Genres

Adventure stories! They can be fantasy, modern, sci-fi, all kinds! Give me some good world travel stories and I'm all over it! I also enjoy romance stories and even though I tend to play females I love playing gay men.
The world has been mostly unchanged, cars have died out and planes never existed. Cities are little more then glorified train stations or farming communities and that the majority of people just live and work on trains themselves. Tracks span the world over, plunging under oceans through massive tunnels, over long bridges etc.
The majority of the story will be split between travelogue where the trains would stop in different cities and would allow for slice of life moments and will consist of a group of people living on one of the largest train cities out there: Train Setagaya, one of the 23 trains created by Tokyo Train Manufacturing Corporation. The city trains are gigantic taking up multiple tracks (three for an average sized city-train and up to five for the largest city-trains including the Setagaya.)
In recent news there have been reports of terrorists bombing tracks of trains and trying to destroy different train cities but have oddly been leaving the station towns alone. They use outdated vehicles (preferring motorcycles) to carry out their missions. The World Manufacturing Company (Which are now the acting Government from their secret city hidden somewhere that only Justice Runner Tracks can go.) have dispatched their own military police called the Justice Runners. The Justice Runners specialized trains that use magnets that allow their trains from track to track. They also have their own special tracks that only their trains can access and fit on. They are usually silent and are only dispatched for problems that would affect the government however the city trains typically have their own security personnel.
This game is open for joining! Next posts will be for bios and cast list! (Feel free to ask questions!)