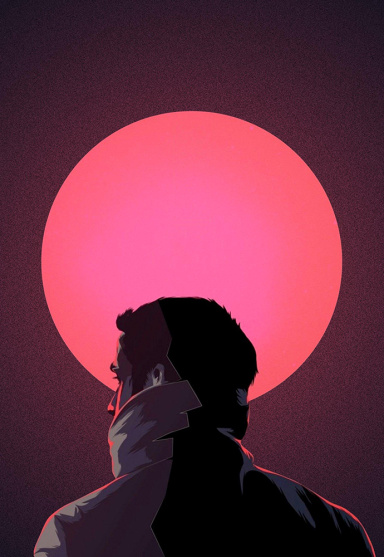 Dear motherfuckers, I'm teetering if you must know
Original poster
DONATING MEMBER
FOLKLORE MEMBER
JACK CREEL​


A slow day at Dragon's Playground; a few of the regulars stop by, promising they'll be at the game on Wednesday, a mother picking up a present for her son, and a pair of lost Japanese tourists looking for the train station. Not exactly the most profitable day of trading you've ever had, but hey, the sponsorship deal you got with Wizards is helping to keep you afloat.

Then things start to get weird.

One of the display cabinets next to the window collapses, sending dice, paint and miniatures flying across the floor. Tim, one of the local students you employ to help mind the store, and you rush to start cleaning the mess, but then both of you stop as you suddenly realise how the mess has 'arranged' itself.
"Dude, what the fuck?" Tim exclaims next to you.

A bottle of super-glue has burst open, the substance splattering across the floor and hardening far too quickly for this to be normal. Next to it, one of the pots of paint from your Warhammer products has split open, and beside that, dice have scattered in patterns far too precise to be normal.

Together, they have formed two words. Two words you've been hearing ever since it brought you back.

SILENT HILL.
BRADLY GILMAN​


You left for work late this morning, and you're paying dearly for this mistake.

Congestion on the main route to work is even worse than usual this morning, due to a collision between two trucks in the early hours of the day. Motorists from all walks of life, yourself included, have found their day grinding to a sudden halt as they are forced to wait for the wreckage to be cleared.

Angry shouts, curses and car horns sound all around you, drowning out your car stereo. You sigh and settle down for a very long wait.

And then it happens.

Suddenly the engines being revved and the car horns are forming words, metallic and resonating through your head. The angry shouting and swearing changes from insults and demands to the same words, repeating over and over again. It's here, you realise, manipulating the world around you, issuing it's demands once more.

And all around you, the cars and the people scream "SILENT HILL".
JACK CLARK​


"Alright, it's lights out, folks!" you hear the guard scream over the cacophany of your fellow inmates.

The lights in your cell dim, but the noise from your fellow inmates never seems to cease. Over the irritatingly cheery song playing over the intercom, you hear them; shouting, screaming, rambling, crying. The thick, padded walls seem to do nothing to drown out the noise, and you grit your teeth; it'll be another few hours before the guards finally decide to sedate the crazy ones.

Then suddenly, the noises dim, and you know what is coming next.

He starts with a scraping on the wall to your left, insane whispers reaching only your ears. Then the halls begin to echo with insane giggling, followed by furious yells from the cell across from yours.

Punctuated through the mad ramblings, you hear one phrase repeated, followed by the promise to get you out of this place if you comply.

Over and over, he yells, whispers and chuckles "SILENT HILL".
VIN TOBOE​


Ricky Malone's boys have paid yet another visit to your office.

This is the third case they're asking you to influence, all of them connected. The three were small-time members of Malone's outfit, drug runners and thugs occasionally doing a bit of racketeering. Malone discovered they had been holding out on him, making money on the side, and didn't take it very well. Planting a shipment of drugs on them, the mob boss informed the police and had them convicted for several decades.

The trouble for Malone is that now the group is having their sentences cut, due to them making a deal with the District Attorney. Malone's convinced that they're going to sell him out, so he wants them to stay in jail so he can arrange a suitable 'accident' to befall them.

It just so happens you're the lawyer of all three; Malone wants you to lose their cases.

"C'mon, Vinny-Boy!" Pete O'Halley, one of Malone's favoured racketeers, exclaims, "It might not sit too well on your conscience, but think of the money!"
"And if the money don't talk as much as it should," growls Thomas the Tank, a huge man built like something akin to a brick shithouse and Malone's top trigger-man, "Be sure to dwell on the fact that Mr Malone will be very, very upset if you refuse to take his rather generous offer."

You look at the two mobsters staring back at you, just as you feel a hot, inhuman hand on your shoulder.

When he speaks, his voice crackles like an inferno, and you can feel the heat resonating from him. "Do you win or lose in a situation such as this?" he ponders, the two men in front of you completely unaware of his presence, "Do the answers lie in Silent Hill?"