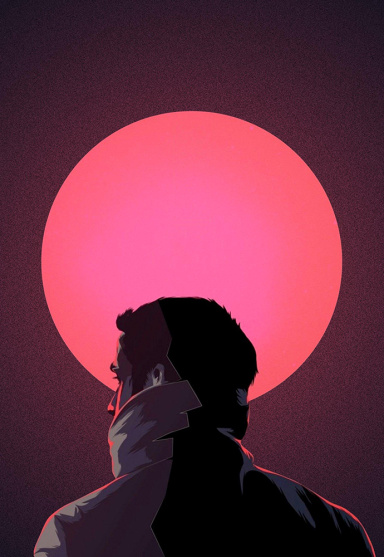 Dear motherfuckers, I'm teetering if you must know
Original poster
DONATING MEMBER
FOLKLORE MEMBER
[size=+2]

PART ONE – DARK DREAMS[/size]
[size=+1]"The oldest and strongest emotion of mankind is fear, and the oldest and strongest kind of fear is fear of the unknown."
- H.P. Lovecraft
​
TARAS

Your dream is a dark one.

It follows no coherent narrative, instead being made up of a series of images and memories played back to you; sometimes rapidly, so fast that they barely register before your subconscious moves on, sometimes painstakingly slow, drawing out every aspect of the recollection before finally shifting to the next.

The smell of your mother's rooms in her third husband's mansion.

The feel of your first Tarot cards, a gift from your mother during your time in the 'loonie bin'.

Standing in the office of Detective Seinberg as he hands you the folder entitled 'JENNY HENDRICK: CC12.06.05', a dismissive smile on his face as he says to you, "All right, boy scout. You want a case? Try this one on for size."

Memories, experiences... some half-remembered, some as vivid as the day you experienced them.

Then something changes.

You are in a corridor, not unlike the hallway your flat is connected to and yet... utterly different at the same time. The walls seem to move into different shapes even as they remain still and the hallway stretches along far longer than it normally should. You find yourself moving along it and can make out a lone figure facing away from you standing at its end. As you draw closer, the feature's of the lone figure start to become clearer. Pale skin, around your height, with pale-blonde hair...

Recognition hits you, followed immediately by a sensation of panic as you find yourself being drawn ever closer...

...the figure turns to you.

"Witches," says Taras Novikov with a horribly familiar smile, "Must be."
With a cry you snap back awake, your body covered in cold sweat.
MICHELL
Your find yourself drifting from the edge of sleep into a plane of infinite creation.

Your mind is your palette, the world your easel; here you may create the stuff of literal dreams at your whim, your only limitation being your imagination. At your command the empty canvas that is your dream begins to take features; mountains of the deepest crimson rise in the distance, stones form hew themselves into impossible shapes at your fancy.

You are as a God here, and with your imagination you can create masterpieces.

Lost in this trance of raw creation, it takes you a while to notice the subtle, insidious changes.

A colour of deepest black begins to trickle into your created world, so infinitesimal at first that you barely notice it; a colour you previously imagined becomes a shade darker, a dark stream you never willed to exist comes into your dream anyway. Small changes... yet slowly, that trickle becomes a steam, and that stream begins to flow...

...when you finally realise what is happening, it is too late. The stream has become a river and finally an ocean. Your world is being drowned in the deepest darkness, swallowing all colour, all creation, until there is nothing but thick, visceral black. You cannot escape it, cannot hold it back; it flows like a tsunami towards you, destroying all.

Your last sight before you are engulfed by the darkness is a familiar sign appearing in the black-stained sky you once created that has now rebelled against you; a sign you know well...

...for in your last painting it was your signature, your mark.

The blackness swallows you whole and you begin to drown in it, cut off from all light, all life. You cannot breathe nor can you move, sinking ever deeper into the dark as something inhuman laughs at you...
...gasping for breath you somehow manage to drag yourself back to wakefulness, lying in a tangled mess of bedsheets and pillows.
JEREK
You stand at the doors of an impossibly huge neo-Gothic Cathedral.

Yet its every detail you know like the back of your hand, for it was crafted by your very hands.

When last you saw it the cathedral was barely a fraction of its current size; a model you crafted for your current employers. Yet in your dreams it has expanded to its full majesty, the model a reality in the realm of your subconscious. Along it's vast main chamber you walk, past the pews of polished gun-metal and the monuments to future Saints of mankind.

So taken are you by this scene that you jump, even in your dream, as the lights go out and plunge you into complete darkness.

For what feels like forever you stand in the dark, totally lost and alone. Then ahead you catch a fleeting glimpse of a neon sign, flickering indistinctly in the gloom. Desperately you race towards it, and suddenly find your feet pounding across asphalt. The scene becomes ever more familiar the closer you get to the neon sign, the sort of sign you might find advertising a bar...

...the realisation and horror hits you as you feel a sudden weight enter your hands, the smell of discharged gunpowder and stale beer. From behind you, a voice echoes.

A voice that eminates from something that could not possibly be human.
"GUILT," it laughs, "IT CAN BE A KILLER."
At the sound of the gunshot, you jolt awake.
DEVON

Even when dreaming, your mind remains in your room, your sanctuary from unfamiliarity.

Here, though, it is different. Brighter, the walls and objects found within taking on colours and hues they never could in waking life. From your window, you can see the entire world unfolded before you, and you know that if you should wish it you could see anywhere you wanted from the comfort of your own room; the great pyramids of Egypt, the Niagara Falls, your brother's home in California...

You pull up a seat in front of your window to watch the world, and are lost to the sight for what feels like hours.

A sensation of elation, of euphoria, overtakes you.

That's what makes your floor shattering so terrifying.

The wooden floorboards crumble to pieces, or are smashed apart by unseen hands, and you topple into darkness, falling towards a bottom you cannot hope to see. For several minutes, maybe even more, you continue to plummet; you begin to wonder if your fall will ever end.

When you finally land, you wish it had not.

Despite falling an impossible height, you land carefully, unharmed. A single speck of light illuminates the spot you stand upon, and all else is obscured. Yet slowly, you begin to see shapes moving in the darkness. Shapes so large they could not possibly be real. Yet this is a dream; in this place, they are.

As your eyes begin to adjust to the gloom, you begin to panic more. The huge shapes are beginning to take a humanoid shape to you, their vast legs striding past the spot upon which you stand. The terror grows evermore as they become clearer and clearer; you want to run, but find that your legs are refusing to move.

If you move, they might realise you're there.

Finally, you can see everything, and it is all you can do to keep yourself from screaming. Striding past you are the impossibly large figures of human men and women, dressed for work, dressed for life, all moving to and fro and completely unaware of your presence. They could almost pass for human, discounting their vast size...

...and their faces, which are horrific visages of demons and eldritch things that defy the human imagination. You stifle a scream, and just before you drag yourself back to wakefulness you feel something rest a hand on your shoulder and intone,
"YOU'D NEVER LEAVE ME, WOULD YOU?"
MICHAEL
From sleep, you find yourself sitting at a table surrounded by complete darkness.

Alone, you find yourself somehow unable to even rise from the empty table and remain seated, just waiting for something to happen. It is a long time before anything does. You find yourself growing nervous and apprehension as to what could be lurking in the black that is all around you.

Then suddenly, light. It hits you like a fright train, the sudden dazzling display leaving you blinded for a moment. When your eyes adjust, your surroundings have changed. You are inside what resembles a darkly-lit courthouse, though there are subtle... faults with what is a very familiar location to you. The walls move and seem to wobble of their own accord and the lights have a surreal, translucent quality to them.

Most disturbing of all are the judge and jury, who completely lack faces yet seem to stare at you constantly, lacking eyes to break the unwavering look.

And even though you cannot see any expressions upon their faces you know exactly what they are thinking as they stare. They are judging you, and it's a ruling not in your favour.

Staring down, you break into a cold sweat as you realise you are dressed in the orange prison jumpsuits with a ball and chain around your leg. You attempt to scramble up and run, to get away from those terrible looks, but faceless guards hold you in place.

You cry out as the judge rises to his feet, and from somewhere in the courthouse a terrible voice that comes from no human throat utters,
"GUILTY AS CHARGED."

When you finally awake, you find yourself lying in tangled heap of covers and pillows beside your bed.

[/size]