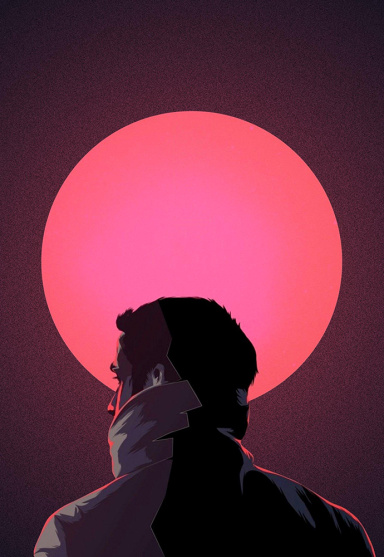 Dear motherfuckers, I'm teetering if you must know
Original poster
DONATING MEMBER
FOLKLORE MEMBER
Home is a sanctuary, a place where it is said a person feels at their most comfortable. Home's where your heart is, where you go to unwind, to relax. It's the place you feel safest.

What if that safety was violated?

What if terror and fear came into your very home? What if darkness invaded the place you come to rest at night and twisted it into a hideous mockery of what it once was? Would you fight to defend your home? Or would you try to escape the darkness, and leave your sanctuary behind?

The inhabitants of the 13th floor of the Baynes Building are about to find out...
* * *
Welcome to the OOC of an introductory chronicle for World of Darkness.
Though WoD can often focus on players taking the role of supernatural entities such as Vampires and Werewolves, this game isn't about that. This is a Mortals game, focusing on a group of ordinary people trapped in an extraordinary, horrifying situation.
This is a game for people who'd like to try playing the WoD system and see if they like it. It's as much an introductory game for me as it is for anyone joining; I've not run much of this system, as much as I love it, and I've never really run it on a forum before, either.
So this'll be an interesting experience for all of us, I guess.
* * *
[size=+2]
CHARACTERS
[/size]
Whoever they are and whatever they do, all the characters in 'WoD: Floor 13' have one thing in common; they all live on the same corridor on the 13th floor of the Baynes Building, a large and imposing block of flats in the middle of the city. As such, you may be friends with each other, or you might just be acquaintances that you say hello to as you walk past. I leave this up to you guys.
You'll need to stat up your characters using the World of Darkness character-creation system, but you'll also need to fill in a character sheet to give your characters a bit more detail and to flesh them out a bit
(ie. So Grumpy can cannibalise your back stories to create nasty things to chase you)
. Should you need the books, I suggest hitting up the Table-Top Tyrants group here on Iwaku; they'll sort you out.
HTML:
[b][u]GENERAL CHARACTER STATISTICS[/b][/u]
[b]Name:[/b] 
[b]Gender:[/b]
[b]Ethnicity:[/b]
[b]Age:[/b]
[b]Occupation:[/b]

[b][u]PHYSICAL CHARACTERISTICS[/u][/b]
[b]General Appearance:[/b] (please include an image of your character, and please don't use manga/anime images)
[b]Strengths:[/b]
[b]Weaknesses:[/b]

[b][u]MENTAL CHARACTERISTICS[/u][/b]
[b]Talents:[/b]
[b]Virtue:[/b] (your chosen Virtue from the WoD Rulebook)
[b]Vice:[/b] (your chosen Vice from the WoD Rulebook)
[b]General Personality:[/b] 
[b]Inner Personality:[/b] 

[u][b]HISTORIC BACKGROUND[/b][/u]
[b]History:[/b]
[b]Biggest Regret:[/b]
[b]Greatest Fear:[/b]
[b]Darkest Secret:[/b]

[u][b]YOUR ROOM[/b][/u]
[b]Description:[/b] (what does your character's room look like? How do they keep it? Is it clean, or constantly messy? Do they have any hidden spots where they store things? Each apartment contains a living room with a small kitchen connected to it, and a large bedroom with an en-suite bathroom)
[b]Image:[/b] (a picture can say a thousand words)
HTML:
[b][u]ATTRIBUTES[/u][/b]

[b]MENTAL[/b]
Intelligence (X)(-)(-)(-)(-)
Wits (X)(-)(-)(-)(-)
Resolve (X)(-)(-)(-)(-)
[b]PHYSICAL[/b]
Strength (X)(-)(-)(-)(-)
Dexterity (X)(-)(-)(-)(-)
Stamina (X)(-)(-)(-)(-)
[b]SOCIAL[/b]
Presence (X)(-)(-)(-)(-)
Manipulation (X)(-)(-)(-)(-)
Composure (X)(-)(-)(-)(-)

Mental - 
Social - 
Physical - 

[b][u]SKILLS[/u][/b]

[b]Mental[/b]
Academics (-)(-)(-)(-)(-)
Computer (-)(-)(-)(-)(-)
Crafts (-)(-)(-)(-)(-)
Investigation (-)(-)(-)(-)(-)
Medicine (-)(-)(-)(-)(-)
Occult (-)(-)(-)(-)(-)
Politics (-)(-)(-)(-)(-)
Science (-)(-)(-)(-)(-)
[b]Physical[/b]
Athletics (-)(-)(-)(-)(-)
Brawl (-)(-)(-)(-)(-)
Drive (-)(-)(-)(-)(-)
Firearms (-)(-)(-)(-)(-)
Larceny (-)(-)(-)(-)(-)
Stealth (-)(-)(-)(-)(-)
Survival (-)(-)(-)(-)(-)
Weaponry (-)(-)(-)(-)(-)
[b]Social[/b]
Animal Ken (-)(-)(-)(-)(-)
Empathy (-)(-)(-)(-)(-)
Expression (-)(-)(-)(-)(-)
Intimidation (-)(-)(-)(-)(-)
Persuasion (-)(-)(-)(-)(-)
Socialize (-)(-)(-)(-)(-)
Streetwise (-)(-)(-)(-)(-)
Subterfuge (-)(-)(-)(-)(-)

Mental - 
Physical - 
Social - 

[u][b]Specialties[/b][/u]

[u][b]Other Traits[/b][/u]

[u][b]Health[/b][/u]
(-)(-)(-)(-)(-)(-)(-)(-)(-)(-)(-)(-)
[-][-][-][-][-][-][-][-][-][-][-][-]

[u][b]Willpower[/b][/u]
(-)(-)(-)(-)(-)(-)(-)(-)(-)(-)
[-][-][-][-][-][-][-][-][-][-]

[u][b]Merits[/b][/u]

[u][b]Morality[/b][/u]
10 (-)
9 (-)
8 (-)
7 (X)
6 (X)
5 (X)
4 (X)
3 (X)
2 (X)
1 (X)

[u][b]Flaws[/b][/u]

[u][b]Other[/b][/u]
Size: 
Speed: 
Defense: 
Armor: 
Initiative Mod: 
Experience:

[b][u]Weapon/Attack[/u][/b]

[b][u]Equipment[/u][/b]