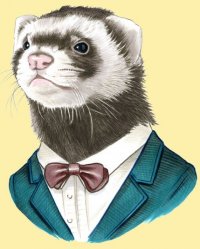 Ferret Dad
Original poster
Invitation Status
Posting Speed

1-3 posts per week
One post per week
Slow As Molasses
Online Availability

Afternoons and evenings, some weekends.
Writing Levels

Intermediate
Adept
Advanced
Prestige
Douche
Adaptable
Preferred Character Gender

Male
Female
Primarily Prefer Male
Primarily Prefer Female
Genres

Fantasy, Science Fiction, Post Apocalypse, Horror, Romance, Survival...
Pretty much exactly as the title says. Everybody enjoys a good few real stories about crazy workplace environments. Now, mine isn't completely insane. (Obviously I'm not a police officer or a soldier or anything like that.) Though, I do work fast food in an industrial neighbourhood, at an Arby's. What you're about to read are the tales of a man who, in only about a month of working this job, already has several tales to tell. Some are funny, some are sad. Some are about sexism, racism, hardcore drugs, and death threats. Others are about plain old silly fuckups. As such...
If you are easily triggered, you probably shouldn't read the following stories. I'm not the most PC person even on the best of days, and I'm going to be talking about the worst scum of humanity short of murderers and rapists, among other, much lighter stories.
So, you know, keep that in mind.
I might also keep updating more stories as they happen, if people enjoy reading these. So, without further adieu...
Episode 1: Racism, ho!​
First day on the job. Someone decides to bring their sick kid along. Orders a meal with a lot of our extremely fake cheese sauces. Shoves it down their kid's meat devouring hole. Unsurprisingly, we had it returned about twenty minutes later, all over one of the windows. You can tell the little shit was trying to punish his mom too by attempting to do as much damage as was humanly possible via a spray and pray tactic that you'd normally see in a video game.

Thankfully, because I was new and working in the back at the time, I didn't have to clean it up. It must have been quite a sight for the people going through drive through though.
One of the first days I worked a late afternoon/early night shift. I was being trained on how to do cash and how to work my entire area without support. (Cuz', up until that point, I always had someone watching over my shoulder.) This is when two drunks arrived, one after the other. The first one was a drunken white guy, mid 30's or 40's, who asked for a sandwich we don't sell. When we informed him that what he was looking for was not on sale, he started blaming the United States of America. He went on a tangent about how the US would have never gotten into space without Canada, somehow. Also, apparently, something about how our prime minister wasn't a "black faggot lover", but hell, I dunno, he was speaking drunkenese, so I might have misheard that.
Nonetheless, as most everyone else went to the back, trying not to die from laughter, I was the only one to keep a straight face. I proceeded to hand the guy his meal, only for him to shout out "CAANUDDHURRRR~" and stumble out. I started snickering uncontrollably, and that is when drunk guy #2 waltzes in. It was a drunk native. From here on out, we'll call him George. George thought I was laughing at him. George proceeded to get angry. George then "pulled out" his invisible shotgun and started threatening the store unless we gave him free burgers. The supervisor came out and told him to leave. He then started claiming that we were being racist toward him and oppressing him after he threatened to use physical violence on people. This is when his girlfriend showed up.
Oh lawrdy. The two yelled at each other and it was very clear that this dumb fu-- I mean "George" was posturing due to a terrible disease known as "
biggus dickus
. He is neither the first nor the last to suffer from this terrible disease. After all, if you can threaten or intimidate fast food employees into giving you a hamburger, surely, this means you are the top (wo)man and everyone should bow to your greater authority, amirite?
Anyway, eventually, the supervisor called the cops on him. He proceeded to stick around for a few minutes, outside the store, waiting to jump anyone who left. A complete disgrace to his race, a walking stereotype on legs. It's sad, but they really do exist, and they make
everyone's
lives worse as a result for it. Both their own, and anyone related to them by skin tone, because they validate the racist fears of people like the Great Canadian KKK Patriot that came in just before him.
Oh, and then the cops showed up like, an hour later. Because, you know, the cops will always be there to help you. Unless you're poor, black, or live somewhere full of crime. Then the odds are pretty fuckin' slim that they'll bother beyond just getting a police report.
#justice?
Starting to close the store. Everything is well for now, all according to plan. Got delayed due to a pile-up at drive through that had to get taken care of, but, I had ten minutes to spare. Yes. Excellent. I won't be late getting home. Five minutes before I got to lock the doors, I heard the sound of someone entering the building. Well, okay, that's frustrating, but it can't be that bad. Probably just someone darting in to get a late night snack, a couple sandwiches, then fucking right off and leaving me to my business. Alright, I got this. I got this.
I got this
.
400 pound woman and her four spoiled as fuck children come in.
Why?! WHY?!!??! Jesus titfucking christ on a pogo stick, what the hell is wrong with you lady? Why are you bringing your kids into a store at 9:40 PM? Do you
want
me to snap? Do you have any idea what you've done?! EVERYONE HERE TAKES PUBLIC TRANSIT. She, of course, being a fat, blubbering, ignorant prick, had no idea what she was doing to everyone in the store. Still, I took the higher road. I decided, mentally, she must not know what she was doing, she just wants to get some food. Ignorance does not imply malevolence, just stupidity. It's okay. Stay calm, me. All is good. I'll just take the bus 30 minutes later. Yeah, all good.
"Yeah, we're going to order about 10 medium beef and chedders, six curly fries, four apple turnovers..."
"Ma'am, we're no longer making apple turnovers, the store is closing in fifteen minutes. They sold out about two hours ago."
"Well then make some more."
"Ma'am, they take about half an hour to make. The store will be closed by then."
"Well make them then, that's what you're paid to do. Stop arguing with me and do your fucking job."
My manager overhears this. Manager walks over, says I can go home. Great! Holy shit I love you (in a not homo way) manager! (Context: Manager is also a land whale. He's about 320 pounds. So I don't hate fat people, but I do hate self-absorbed fucktards. Fair deal?)
As I grab my jacket, I overhear her yelling the words "you only refuse to do it because you're a fat fucking lazy piece of shit who is going to let my children starve."
We haven't seen her since then. I'm pretty sure she's banned from the store anyway.
How to completely destroy someone's confidence in ten seconds.
Step 1: Be a sexist douchebag who thinks women belong in the kitchen.
Step 2: Make a joke about women in the kitchen and expect a response from the cashier. (Me.)
Step 3: Do this while the FEMALE STORE OWNER is standing right beside me.
So, I looked at my store owner. My supervisor. The woman who hired me naught but a couple weeks ago at this point. I smile, and then, I embrace my cute little cashier masquerade entirely, look back at the sexist, and reply, boldly... "Exactly, that's why the owner of this glorified kitchen is a woman, who spends most of her time in the kitchen, making delicious sammiches." Supervisor walks into the back area, shaking her head. Welp. I'm doomed.
A few minutes later, she comes back and tells me that I made the customer happy, so it made sense. Oh, thank fuck. I still get to have muh shitty, minimum wage job.
Wait... Fu--
This happened about a week ago, working night shift. It was a quiet night, everybody was done their cleaning a couple hours early, so we were cleaning up the store. A native had walked in an hour earlier, lookin' like he had the typical shakes (drug addict kind, twitchy fellow, unkempt looking) but he seemed to leave on the bike he had ridden in on after using the pay phone in the secondary entrance. Okay, all good. Family comes in, they decide to have dinner, all of them are quite polite. The kids even said thank you, that made my night, it really did. They spend an hour in the restaurant, all is good.
I walk out to collect trays and clean the lobby, when I notice the native's bicycle was still around. One of the kids was walking towards the male bathroom, when it suddenly hit me: Drug addict, public washroom.
So I step ahead of the kid and claim I just need to quickly change the bathroom's toiletries. He asked what that word meant, I told him to go ask his family. I then sleuthed in to find the native guy way high off his ass on heroin, needle on the floor. The moment he spotted me, he started asking me to provide unto him certain sorts of sexual favours, as he mistook me for a woman. I think. That or he was completely gay, or was so high he didn't give a shit about his own sexuality anymore. Fuck if I know, fuck if I care.
All I know is, druggie druggie was being naughty naughty. So the family politely escorted their kids home, and we politely considered calling the cops, but the native fuckin' bolted out as the family was leaving, and we didn't catch him on security cameras. Dammit.
Basically, I don't think he'd have actually raped the child. Just so we're clear on this point. However, given the situation, I didn't want to take that risk, and be "that guy" who didn't do anything.
Also, I know, a lot of terrible stories involving natives. We just happen to have a disproportionate number of drunken/drug addled/violent natives here. Even then, most natives just want a sandwich, like everybody else. It's only about 1 out of every 40 or so folk (1 out of every 10 or so natives) that end up being batshit fucking crazy or insultingly self-absorbed. So, you know, remember: These are the
specifically bad stories
, most customers are fine people, and that includes the natives.
It's okay though, because the next one has nothing to do with natives. Instead, it has to do with someone who reads way the fuck too much Tumblr.
Oh boy, this one.
This one was special
. It was the first day I was on cash duty, and I was training in the afternoon, when it wasn't busy. I actually enjoy interacting with customers (most of the time), and the cash register was a new thing for me to do and learn, so it held my attention for a while. (I still enjoy it now, but I'm sure the spectacle of being trusted with my month's salary in a drawer will wear off fairly quickly.) So, anyway, a lady and her teenage daughter walk in. Neat.
So, they order their sandwiches, and they do hyper special nonsense to it. Being that I was new on cash, and the supervisor was busy, I resorted to shouting back what to do to the standard sandwiches to our cook, who was a middle eastern girl, dunno where from though. Nice lady, works hard, her English is fantastic but she beats herself up for it a lot. Going through school to impress her parents, first generation immigrant type deal. The good kind. The normal kind.
"Why are you shouting at her??" Asked the teenager, incredulous, as she finally spent five seconds looking away from her phone to look at me.
"Well, I'm new to cashier duty, so I was instructing her as to what to not put on your sandwiches, so you would get what you wanted." In hindsight, I probably should have used less commanding language. Like instead of "instructing," probably should have said "suggested," and instead of saying "what you wanted", I could have said "what I believe you asked me to do." Always take personal responsibility, tends to defuse situations a lot. Anyway...
"But you're yelling at her!"
"Yes, in order to be heard over the sounds of kitchen devices."
"I bet you yell at her all the time. She's not stupid you know, you could talk to her face to face!"
"I can't actually leave my station here while a customer is getting their order done."
"That doesn't excuse you from verbally abusing her!"
Meanwhile, this whole time, the mother is looking over at her daughter, with this most wicked smile. Basically, this was her mother's reaction to her daughter chewing out a cashier for making sure their sandwiches would be made properly.
So, I finally did the smart thing, and I apologized. Profusely, and non-stop. Forums? Sure I can debate my heart out, no problem, can always walk away. My job? Oh fuck that, I'm not paid to give my opinion. I'm paid to make n' sell sammiches, like the most basic bitch that ever lived. This managed to shut her up, however, judging by the narrowed eyebrows she had as she typed away on her phone furiously, I'm sure I was the subject of a tumblr post, or a tweet, or a text message, or something equally banal and empty. They got their sandwiches and started walking away, and, being that she's fucking
retarded
special and unique
, or extremely inconsiderate, I overheard what she said to her mother as they walked away.
"One day, I hope every man is in as lowly a position as him, so that they can finally understand what it's like to be a woman."
Ah, don't worry little lady. I didn't really give a shit about the opinion of a socialite who goes to college on Daddy's Money then, and I still don't now.
Episode 2: Gay Horseshoes and Feminist Hand Grenades...​
This one is pretty short, but still highly amusing rather than upsetting. I was going through store closing procedures, when I noticed someone pulling up through drive-through. I had my headset on, so I could hear the sign telling the driver that we were closed. (Literally, the drive-through closed one minute before he got there.) So of course, I see him pulling out, and realize sickeningly: He's going to try and get into the store. I also noticed that he was about 400 pounds, putting him into the Full American Glory category. So I immediately dash to the two entryways and lock the doors (cuz' I was supposed to do that in a couple minutes anyway. I wasn't just locking out a customer for no reason: I was saving everyone in the store from working unpaid overtime.) I notice him pulling into the parking lot as I walked away from the door, and started taking the nozzles off the soda machine when, lo and behold, I hear him pounding at the door.
"GIVE ME MY ROAST BEEF! GIVE IT TO ME YOU FUCKING ASSHOLES!"
Walked to the back door as he drove away. Got to my bus with just a minute to spare.
This is just sad, really. So I was working cash (as I normally do at this point) and it was the tail end of a busy lunch hour. Things were starting to wind down, employees were moving out to start cleaning wherever and whenever they could. I was about to go check the lobby when a black couple entered. Neat, sammich makin' time. Except that the lady was chewing out her husbando for something, idfk, apparently it had to do with fish. Maybe they have pet fish? Their accents sounded distinctly British too, so I'd wager a guess they were either immigrants or tourists. (No, I couldn't tell you what kind of "British" it is, aside from it sounding like it came from southern England. Maybe London? Idfk I'm not British.) Anyway, they get to the till, lady is still chewing out her husbando. I ask, politely, though with a raised voice so I could be heard, if I could get them something to eat. Lady tells me to shut the fuck up and that she'll get to me when she's ready to be served.
'Kay.
The guy then speaks up, rather timidly, trying to tell the lady to calm down a moment, and not abuse the cashier. Aww, thanks buddy, you're treating me like a person. This was a mistake however, as she suddenly had this look... A little difficult to describe beyond "psychotic", as her eyes suddenly shot open widely. You could see how bloodshot they were as her face turned several shades of hellish red, and in the middle of the guy's order, the waifu starts
beating his ass in the middle of the store
. Punches him and slaps him several times, leaves an obvious bruise on his cheek. The guy apologized profusely and left the store, waifu following him and screeching profanities at him, calling him a weak cunt, so on. Nobody in the store stood up for him. Nobody. Some people were even laughing. My blood was boiling, but there was nothing I could do, not without risking further drama, which isn't fair to the store owner. Again, I'm not paid to be political, I'm paid to serve sammiches.
Nonetheless, I looked sympathetically at the guy as he left, and all I could think was this.
Good luck black british bro. Wish society gave a shit about you, but, well, they don't. I will though! Wherever the hell you are. If I ever see him again I'm giving him a free sammich, even if I have to pay for it. Dude deserves a lot more than that, but it's all I can really give.
Middle of the afternoon, about an hour away from the end of one of my shifts. Now, for context so y'all can understand this story: I live in Alberta. The Conservatives who ruled for 40-something years got their teeth kicked in as the mid-left NDP party swung into a sudden majority rule. Lots of old folk come in for coffee in the afternoon, to read the news or talk about it with their pals. A lot of them are really nice people. Hell, some of them even do this terrifyingly rare thing:
Tip the cashier
. Ooh lah lah, money is so funny in a rich man's world, innit?
Anyway, this group of old white guys comes in. They pay for their food, but were grumbling about something. Being the curious fuck that I am, I start cleaning the lobby so I can be near their table and overhear their conversation. What follows is perhaps one of the most deranged conspiracy theories I have ever heard about "the gays." Enjoy. (Each old person gets their own colour for the dialogue.)
"This is why we shouldn't have legalized gay marriage."
"What d'ya mean, [name]?"
"Well, see, look here."
(He points at the newspaper.)
"'Dem New Democrat Party folk got in charge, right?"
"Yeah. Socialists are going to ruin this province, what of it?"
(I'm a socialist. This is the point where I turned away because I was smiling in amusement.)
"Well, see, them gays have been marrying for a few years now, right?"
"Yeah."
"So now the gays are adopting babies and programming them to be gay left supporters, right?"
(Rofl what?)
"Of course."
(I was having such a hard time keeping myself from not bursting out into laughter at this point.)
"Well, see here... I've figured it out. The socialists have recruited the gays to get our kids to feel sorry for them. That way, the gays can spread their teachings to adopted children, forcing the political vote left. They can take over the whole country and make a new soviet union through the gays!"
(Oh. My. God.)
"That seems a bit crazy, [name]."
(Yay, a reasonable voice!)
"Maybe, but they came after our oil once. It's worth a lot of money. They could easily corrupt it and take it over if the gays infected enough people with their insidious beliefs. Remember, Jesus warned us of false prophets. All they have to do is get them while they're young and brain wash them into being gay, and then claim they can't change it!"
(Hahahahahahahaha the fucking hypocrisy holy shit.)
"So how can we fight it?"
"Vote for whoever will ban gay marriage!"
(lolwut really? Provinces can't fuckin' ban gay marriage you imbecile, and no federal party will stand on that platform.)
"Can't we just try to fix them?"
(... What. No, reasonable guy, WHY MUST YOU BETRAY ME?!)
"We'd try, but they would just claim it's abuse."
"A shame."
"Yeah, a real shame. Some of them could make productive children if they just took on wives instead of engaging in sin."
(Kayfuckthisimout.)
They probably kept talking about more inane conspiracy nonsense, but I had finished cleaning the lobby spotless, so I had to leave them to their stewing. They stuck around for another 20-30 minutes, then waved and politely said goodbye to me. Had I not listened to them, I'd have probably thought them to just be another group of nice old people. Regardless, as I waved goodbye in return, all I could think was this.
There. A whole pile o' stories. If y'all want more, I have like, a dozen more. Seriously.

Episode 3: The Rise of Determined Reason!​
So today, we were told that the two cashiers on duty (myself & Cashier A) as well as drive-through (Cashier B) were going to have a competition over who managed to sell the most of our current sandwich special. (Which is the loaded Italian btw. It's overpriced but does taste good.) Being that I was the new guy, the other cashiers looked at me with some level of pity, as though I wouldn't be able to keep up and they would have to try and handicap themselves to allow me to succeed in some way. They weren't really mean about it, but they were both the chatty cathy types, so I could overhear them doubting me in the back while I was finishing with some brief stocking. I saw a couple customers coming in and asked if I could take them first. They agreed, waving me off, again, likely with pity.
Bam, two specials sold. They looked surprised, and I simply glanced their way and smiled in a friendly way. Meanwhile, within the back of my mind...
Needless to say, in spite of attempts to then sabotage me, I kept my lead and won the competition without ever losing it at any point. Everyone (myself included, really) expected drive-through to crush it, because they simply get more opportunities via more customers. Nope, they lost it, to such a crushing degree that both cashier positions at the front of the store, individually, sold more of the special than the drive-through managed at all.
Turns out, customer service and a charming smile will win you more money per customer than the convenience of the drive-through. About 20-30% more, in fact. And I'm the goddamn king of bullshit smiles, apparently.
Oh, and I'm still friendly with all my coworkers. It was a friendly competition after all, not a bloodthirsty deathmatch. The reward was only 10 bucks.

Here is a list of the stupidest questions I have heard both at drive-through and at front till so far. Feel free to quote the ones that caused you the most pain and/or laughter.
"Does your roast beef contain pork?"
"Can I have [insert McDonalds/Burger King/et cetera item here]." (This once happened 15 times in one day, with one lady in particular doing it 3 times in a row in drive-through before finally stumbling onto a thing we do actually sell.)
"Can I have my sandwich with American bacon?" (No? What? That is a stupid fucking question. Bacon is bacon, it comes from pork, doesn't matter where from the pig it came from, christ.)
"Is this water Halal?" (... I... Would assume so, yes.)
"Do you sell vegan sandwiches?" (No. We're Arby's. We sell fucktons of meat and pretty much nothing else. The only vegan-okay food we could even feasibly sell would be the fries.)
"Can I have milk for my son, but the kind that isn't a dairy product, because he's allergic to dairy." (... You fuckin' wot mate? We carry two kinds of milk: Cow milk, and chocolate cow milk. You can see that on the menu. We're not a grocery store.)
"Are your animals certified from farms that don't torture them in pens all their lives?" (Bro I barely fuckin' know if this meat is from North America, leave alone if it's certified anything beyond being food... And only technically food, at that.)
"Can I have a sandwich and pay you back for it later?" (Do we look like a bank to you?)
"Can I have change for this 100 dollar bill?" (I'm going to murder you. We're not even supposed to take those most days. Even when we do, we can take like, one. If it's part of an order in excess of 20 dollars. Otherwise you will deplete our till with it and then we can't serve in cash to any other customers.)
"Do you think this tastes good?" (It's my job to say yes and lie to you about it either way, why the fuck do you trust me?)
"Can you give me an employee discount?" (No.)
"Can you just upsize the fries beyond large?" (No. There is no size beyond large.)
[After buying sandwiches, et cetera, gets them all.] "Can I change my order?" (No. You've paid for it, you've got it, now eat it. I can get you a new order, though.)
"I demand a refund!" (If you ate the fucking sandwich, I can't give you a refund, except under extenuating circumstances. Seriously, I'll go get my manager, they'll tell you the same thing. You can get a refund if we overcharged you. If you got the wrong order, we'll happily apologize and get you the right one, but you'll need to prove it with a receipt, which we hand to you, even if you decline wanting one. For this specific reason.)
"Can I sell you X?" (No. We're selling you a product, fuck off. Go call the higher ups if you want to sell Arby's on something, individual stores have no power to change their menu or most finances, so trying to sell us something is pointless.)
This is a story of instant karma and social humiliation. Something different from the usual fair of screeching daddy's girls, drug addicts, drunk natives, and so on. A fair change of pace, I think. It started with one of the old homophobic dipshits from Episode 2 coming in and ordering a coffee. He struck up a conversation with me while he waited for me to get his coffee, sugar, and cream. (If the store ain't busy, I can do extra things to make a customer happy. Also, this was the more reasonable guy from earlier. The one who said that gays making a new soviet union was "a bit crazy.") A gay couple (two women) entered the store as captain dipshit here starts talking to me about the gay agenda, and why gays don't belong in politics. Now, he doesn't seem to notice that they're gay. I however, do. You know that "gaydar" thing, that strange feeilng? Well, I didn't really need that, cuz' I saw em' smooch each other on the way in the door. He didn't. I kept my mouth shut though, because I wanted to see how this would go.
As I finish making the coffee and hand it to the old guy, I notice he had turned his attention to the two girls. They were nodding and simply listening, tolerating his spew about how "dem NDP gays" were ruining the oil-based economy. The two girls then held each other's hands and kept smiling. Old guy compliments their manners and looks. One of them finally opens their mouth and says "thanks, I'm sure me and my girlfriend will remember this."
Homophobe took a few seconds to catch on, then, finally, he seemed quite humiliated. He was alone, and the two girls offered to eat with him. He quietly accepted. They sat down and enjoyed their meal. He walked out smiling, they walked out smiling.
There was no explosive drama. They actually communicated and learned about each other and grew as a result of it.
Nobody is going to goddamn believe me, but, hell, it happened. Now whether the homophobe is actually going to be a better person as a result of this event, hell if I know. I hope so. We'll see when I next see the guy. From here on out, we'll call him Reasonable Homophobe. Hopefully that second word will get dropped when next I speak with the guy.

Episode 4: This Is The Episode Where @Seba Woes For Humanity
​
Not much to say with this one. Essentially, it was a late night shift. Now we get all sorts of folks in the late night, and I've already grown accustomed to being entirely unsurprised by it all. This one surprised me. Mainly by being a 60+ something year old man walking into an Arby's about half an hour before closing, and he started flirting with me. Now, this isn't the first time I've been flirted with at that point. I usually get at least one sexual offer a week working night shifts at Arby's. It's really kind of sad, but this one in particular wins and gets first story spot here because, well... I turned away to get his sandwich, and I hear him say...

"Shake that ass God gave you."

Welp. Creepy. Real creepy, buddy. He wasn't high or drunk either (insofar as I could tell anyway), and he was seriously eyeing me over. I must say, the sad thing I've learned is, that 90% or so of the homosexual propositions you'll get, are from doms. By nature's glorious genetic hammer, I'm a dom. So being asked for sexual favours as a sub, for a sexuality I'm not compatible with, by a 60+ year old guy, 30 minutes before closing, is pretty much a winning combination of nope. Super nope. Ultra nope. Just nope nope nope, buddy. But, of course, I had to hand him his sandwich, smile, and usher him off. He did at least say I have a nice smile. So, you know. -1 Nope-O-Meter point there. It's too bad he fucked up and ended up with, you know, 108 points total. Or maybe I might have actually meant that smile.
Again, night shift, though I had just started, so it was technically the afternoon. 4:30 PM ish, to be exact. I remember this quite clearly because I hadn't quite said "I love you" to my girlfriend yet over my phone. A father and his daughter walk in to order some food. Standard faire, nothing out of the ordinary. She looks to be about 13-14, he looks to be about 30's to 40's, trades worker for sure, because he utterly dwarfs me in size. Would be intimidating if not for his charming smile and friendly demeanour, I think he knew he was naturally intimidating and tried to disarm it in public. Still, he orders. Chicken will be five minutes because none was prepared yet, because apparently, nobody had noticed that we were out, so we had to go make more. Well fuck. Oh well. No big deal. The father walks out to go to the bathroom. Again, no problem, most teenagers are totally absorbed by their phones and self-inflated egos to ever bother with me, I like things that way. Then the 14 year old says I'm cute. Well, that's adorable. I mention off hand that I have a girlfriend, but thanked her for the compliment. "Oh, well, that's okay, I like taken men."
Jesusfuckingchristno
. I am now caught in a catch 22: I can't leave the customers there until the food is done, because my supervisor is around and will have my ass for it. I can't flirt back because, um, illegal. Also I love my girlfriend, I don't need this sort of drama in my life over someone who has probably (hopefully) never done did a naked male. Seriously, girlfriend > whatever stupidity this moron is offering. So she tries to ask for my number, and I decline. I already had a girl back when I was in high school once send me over 500 text messages threatening to kill herself if I didn't devote my entire existence to loving her, so, really, no. Fuck that. I'm good. She keeps pushing for it. Finally I do the old "give her a fake number" trick. She immediately calls it after noticing my phone was in my back pocket. It does not ring or buzz. I claim it's because it's off: Store policy, not supposed to have phones on the floor.
Then my dad texts me asking what my schedule will be like. Which causes my phone to buzz, since I have his number set as an important caller.
I take one look at the 14 year old and she glares at me, with immense hatred. Before she could so much as open her mouth, I dashed to the back and immediately told my supervisor. She informed me that this cunt does this to every male cashier in this particular Arby's and has been doing so for at least a year. I ask her about telling her father, and she says her father only got angry at the supervisor for "making slanderous libel" about his daughter.
Well. Great. So I'll probably be harassed by this dipshit every time she and her dad come into the store. Joy. And there's nothing I can do about it because nobody would ever believe that a 14 year old female is sexually harassing a 23 year old male, because of social standards. Great. Awesome.
This chick, more than anything else--the druggies, the aggressively hostile idiots, invisible shotgun native guy, so on--makes me worry for my life. She could easily make a false rape claim and completely fuck over my life, so I have to dance very,
very
carefully around this. I think in the future every time I see her, I'm just going to immediately dash to the back of the store and tell whoever the supervisor or manager is that I'm not risking my social life and possible future career over some horny, idiotic, attention seeking 14 year old. No. Just no.
Here's one that's less rapey and troubling for my life and more just hilarious as a good end note. This was early-mid afternoon, about an hour or two after the lunch rush. Only a half a dozen customers in the restaurant at this point. A couple of customers came in, they looked like your standard faire industrial folk. They were 20-something year olds, construction workers maybe. We get a lot of those, usually buddies on break getting some fast food because they forgot to pack some food for themselves, and you can't do hard labour while hungry. That just hurts. I know from experience, it just hurts. Anyway, they buy a couple burgers, eat, and go to the bathroom. Normally I don't note this sort of thing, but they both went at the same time, holding hands. Well, it could just be awful implications, right?
I have never heard louder moaning from a bathroom in my entire life. Holy shit. These two could probably outdo porn stars. It was about 10-15 minutes, too. Everyone just stared as they left. Best part? One of them winked at me as they left.
They knew we heard them.
They didn't care.
They just wanted to do something wild and stupid I guess.
PS:
No matter your sexuality, please don't fuck in an Arby's bathroom. It's not that I give a shit, I mean, you do whatever (or whoever

) you want. I just guarantee that, aside from myself, nobody ever cleans those bathrooms properly. You are fucking on about 300 different people's piss and shit. That's just not healthy.
Last edited: