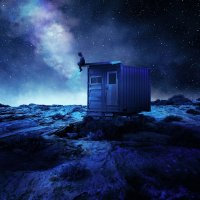 Manikos Karagiozis
Original poster
FOLKLORE MEMBER
Preferred Character Gender

Male
Genres

Fantasy, Horror, Sci-Fi, Modern, History; just about anything, really. Though, I am not too big on Romance.
This is a thread that I will posting up my poems, and possibly some chapters of my writing skills.


Out where the street lights burn,
Hitting upon your broken wings.
You once could fly, but now you slowly walk.

Feathers split, bursting into single particles.
Whisking and clinging in the air.
What are you trying to be?

Once a guardian, now an unsure soul.
Grasping for a little life,
Reaching out for that one pure rose.

You want it to touch your bare skin.
You want it to slide through your fingers.
Letting it touch your soul;
Letting you see.

Alas, can you see what is truly in front of you?
Can you see the disturbed spirits?
As they grab up at your chains, pulling you downward.

But looking onward, do you see the glimpse of a rose?
Standing and watching, right before your very eyes.
Her arm stretches out, but as she does not move.

You see her standing; you know what you have to do.
Fight.
Break the chains that surround you;
Calm the spirits that haunt you.

Burst out your true power,
Let it become you;
Let it breathe.

Go forth into her arms,
Leaving a trail of ash behind.
The chain slowly dissolving.

Wings beginning to sprout,
Fresh and beautiful.
Calming of all surrounding,
Tears bursting out. . .