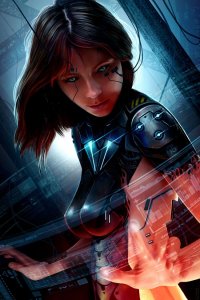 The Murrstress
Original poster
LURKER MEMBER
FOLKLORE MEMBER
Invitation Status

Not accepting invites at this time
Posting Speed

Multiple posts per day
1-3 posts per day
Writing Levels

Adept
Advanced
Prestige
Douche
Adaptable
Preferred Character Gender

No Preferences
Genres

Scifi, Fantasy, Modern, Magical, Horror, Noir, apocalyptic, Grimdark, yaoi, yuri, anything really.
Ok, we all know what it's like not to have a way to express what our characters look like. It's frustrating. It's horrible. We could know exactly what we want them to look like, but at the same time, have a hard time conveying that mental image.
What you DON'T do, is use SOMEONE ELSE'S art, get on paint or something like that, repaint some areas and then say "THIS IS MY CHARACTER". Reason why I'm against it? No one EVER sources the original creator, or say that it isn't theirs.
In some cases, it's ok. But in others, like the one below, takes it WAY too far.
Anyone can tell it's ACTUALLY Sakura from Naruto, with cruddy repainted hair.
Buuuuut, sometimes they get a little better, don't change quite as much.
It's sometimes a little harder to tell. But they still don't credit the original work. They'll keep the changes to only a certain trait, like focusing on the eye color. Usually the rule of thumb in this case, is that usually when changed, the new eyecolor may seem a little off. Too bright, or too dark, or they carelessly paint over the bright shine on the pupils. Sometimes, it almost close to perfect, unless you've seen the original pic.
Look at the difference between these two
Look closely at the second one. The eyes are UNIFORMLY grey, with NO change in any area. No shading.
I dunno, that just pisses me off..... and so does tracing when someone doesn't say it was traced.
Original:
Traced:
What are YOUR thoughts?