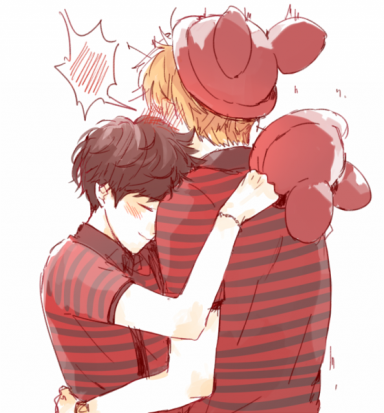 The Lovers
Original poster
Invitation Status
Posting Speed

Speed of Light
Multiple posts per day
1-3 posts per day
One post per day
1-3 posts per week
Writing Levels

Intermediate
Adept
Advanced
Adaptable
Preferred Character Gender

Male
Genres

Romance - Action - Drama - Fantasy - YAOI .... I feel like I can put everything here so don't make me do it ^^;

"
I

w
i
l
l

h
o
l
d

y
o
u

a
n
d

n
o
t

l
e
t

g
o
"

It had been too long since he had been in this place. A few things had changed over the past years. The store where he would usually buy snacks at, as a kid, had closed down and gotten replaced by a bookstore. His old house was no longer standing, but instead had become a parking lot along with some of the neighboring houses. Six years was a lot of time, a lot of time that allowed for a lot of change. Minhyuk's new home was close to his old one, though the neighborhood was a bit nicer. During the week they had been back, Minhyuk had helped to move all of the furniture, his stuff and a ton of other boxes into their new home. The most troublesome to move was the piano that his grandparents had gotten him. He loved it, but it was too heavy to push up to the second floor where his bedroom was. It was a bit old too, creaking ever so slightly when they got it up the stairs, but Minhyuk had always loved pianos. It helped him express himself when words couldn't do the job, or vent without having to get angry. It had also helped him cope with the stress, especially when his school uniform had arrived in the mail.

A part of him was anxious to go back to school. It wasn't the fact that it was a public school or anything of the like, but because it was in his hometown. There would, more than likely, be people that he had met as a kid. The sad part was how he couldn't remember a lot of them. He couldn't even remember his best friend. Her name, Seo Yun-Hee, was still fresh in his memory, but he couldn't remember her appearance all that well. Did it even matter? She would have changed over the last six years, just like he did. Minhyuk was a short kid, and his mother used to give him almost a buzz-cut, but now he had a lot more hair on top of his head. He had even pierced his ears, twice. His voice was also deeper, though not too much. "I wonder if she'd even bother to remember me after all these years, maybe I'm just hung up on the past," Minhyuk sighed to himself as he rested his head on top of the piano keys, giving off a very sour tone. They had left on an even worse tone than what his chin had created. He didn't even know why she got so mad, and in the end, they hadn't talked before he had moved.

Minhyuk had attempted to call her on several occaisions to tell her, but in the end, he didn't get in touch with her. It had been six years since then, no contact. Did she even live here anymore? Six years, she had plenty of time to move. "I guess we probably won't meet. It's hoping for too much, isn't it?" He murmured to himself before pulling away from the piano and grabbing his bookbag. His hair looked good today, dark as always, but it did look good. The tie and shirt was a bit uncommon for him to wear, but it worked somehow. The school emblem was new, though he hadn't checked them out before he had moved. "Okay, Kwon Minhyuk, first day at school. You may recognize them, you may not. Whatever you do, do not screw this up. First impression is everything, you know that," he told his reflection in the mirror before walking downstairs. The house was empty besides himself, which was how he spent most of his mornings.

After a quick breakfast and brushing his teeth, Minhyuk left to walk to his new school. The building looked very much the same. It was big, white and had the old clock in front of it. The gate outside the school was black, though also a bit rusted from the weather it had withstood the past however long it had been there. It was filled with students, none he recognized, though he ignored most of them and instead walked over to a familiar face. It was Mrs. Park, the teacher he had talked to when he first admitted the application for the school. She was a sweet young lady, with long black hair that she usually kept in a bun and glasses perched on her nose.

"Morning Mrs. Park," Minhyuk greeted her at the gate, where she had probably waited for him to help him navigate through the school.

"Ah! There you are Minhyuk-ah!" She smiled. "I'm happy the uniform fits you, I was a bit worried I might have picked out a size too big for you," Mrs. Park added before beckoning him to follow her into the school. "You're going to be in my class first, let's hurry so you won't be late," she added before the two of them walked down the hallway. The school was like most schools. Hallways weren't too narrow, windows littered the walls along with students that were busily trying to get to class in time.

"Okay! Settle down everyone!" Mrs. Park said as she entered the classroom, gesturing for Minhyuk to wait outside, though she left the door open so he could see her. Mrs. Park waited until everyone got quiet and seated, before standing behind her podium to speak up again. "I know it is a bit sudden, but we have a transfer student today. I am trusting you guys to be welcoming and help him around the school, okay? He hasn't recieved his books yet, so be nice and share with him too," she said to the students that didn't seem to be caring too much about it before beckoning him inside.

His heart was hammering so loudly, he was certain the entire class had to hear it. Minhyuk swallowed the lump in his throat, before taking the first step beyond the door frame and continuing to stand next to Mrs. Park, before giving a polite bow to his future classmates.

"Don't be shy, introduce yourself."

"I'm Kwon Min-Hyuk, it is a pleasure to meet you," he said before standing back up and smiling. He was nervous, very nervous, but so far, there were no one in the classroom that he immediately recognized, which made him feel even worse. There were probably people he should have known sitting at their desks in front of him. Hopefully, they had forgotten him too.