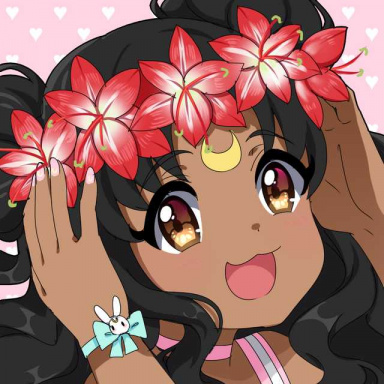 ☽ The child of luminosity ☽
Roleplay Invitations

Group Roleplays, One on One Roleplays
Posting Speed

A Few Posts a Week
Writing Levels

Advanced
Genders You Prefer Playing

Male, Female, Primarily Prefer Female
Playing Style- Passive or Aggressive

Both I guess. It depends on the character I make and the partner I'm roleplaying with ;)
Favorite Genres

Romance, Fantasy, Horror, Adventure, Action, ect (I'm up for anything)
Genre You DON'T Like

Yaoi/Yuri (I never played them so yeah)

Location: New King's Landing Port, The Black Mermaid
Interaction: Hawke Farwynd (

Ritual Lobotomy

)
Mood: Concerned & Focused
The redhead heard him before she actually saw him.

"Sounds like a compliment coming from the queen of big heads herself. The honor is mine, Your Grace"

he countered moments later.

"Sure, sure. However, my big head supports my big brain, what's your excuse?"

She shot back with an amused grin. Bantering back and forth with him like this almost made her forget the state of urgency she was in. Maya wouldn't admit it but she felt comfortable around Hawke, especially after everything they shared, but she couldn't let that go to his head.

She watched as the tanned male descended the mast with all the grace and control of that of a cat. He even managed to stick the landing gracefully to which Maya gave him a brief look to show she was impressed and nothing more.

"And good day to you too"

, he added cheekily before flashing a charming smile at her that briefly made the female blush. Rolling her eyes she crossed her arms across her chest and began.

"Yeah yeah, long time no see and all that. We need to talk..."

she started.

"Anyway"

Hawke began before he cut himself off as a trail of blood trickled from his nose down to his lip.

Maya's crimson eyes widened with concern as she watched him reach to wipe the blood away.

"Fuck..."

he mumbled to himself before trying to brush that all aside and get back to the conversation at hand.

"Either the party was cut off before it started, or something is going on"

Hawke mused before crossing his arms and turning his attention back to her.

"So which one is it that brings you here so unexpectedly?"

He continued, however, Maya was paying that no mind. All she could do was stare as the blood continued to flow from his nose.

Sighing the woman reached in her picked and pulled out a handkerchief,

"That can wait, come here."

her tone was slightly annoyed but one could tell she was worried. She quickly closed the distance between them and applied the cloth to his nose, wiping the blood trail away before folding the cloth and pressing it to his nose once more with added pressure.



"You've gotta add pressure to stop the bleeding."

She spoke up again, her voice barley above a whisper since the conversation was just meant for his ears only. While Maya worked she stayed focus on his features, quickly finding herself scanning over his face before her eyes faltered to his lips, bringing back memories of that drunken night they shared to her mind once more. The woman felt the heat on her cheeks again as her body shook with embarrassment.

"S-surely you can manage this,"

She spoke up again, gesturing he apply the pressure to his nose on his own.

Once he did Maya stepped away from him and sighed.

"Are you alright?"

She asked before crossing her arms across her chest again.

"Because if you're not let me know and I'll be out of here. "

She began before shaking her head an continuing, "You were right, something is going on, hence why I have no time to be playing doctor or babysitter with you. Hagen ordered me to come collect you however so I'm making good on that."

The woman sighed again before running her fingers through her hair, a sign that she was stressed.

"This is serious, Kaylee and maybe even Hagen's lives might be in danger and we need to move quickly. I can't disclose the information I currently have to you here though. We need to speak somewhere private."

She continued as she glanced around at all the crew still lingering around.

"That is, if you're up to it."

she offered the last bit as a challenge of sorts. She knew Hawke was capable but she wasn't sure if he was capable enough to deal with what they were about to experience. Above all else Maya needed him to focus and be quick on his feet should anything happen. Peoples lives were at stake after all.