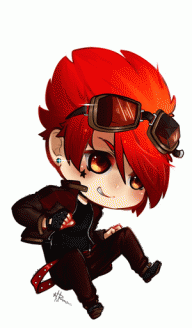 Playful Tyrant
Original poster
FOLKLORE MEMBER
Invitation Status
Posting Speed

Speed of Light
Multiple posts per day
1-3 posts per day
1-3 posts per week
One post per week
Writing Levels

Intermediate
Adept
Adaptable
Preferred Character Gender

Male
Female
Genres

Fantasy, Medieval, Modern Fantasy, Romance, Yaoi, Post Apocalyptic, Apocalypse, Magical, Horror.

​
The year is 2059 a dangerous pathogen known as "Vrykolas-Romero Virus" (VRV) Began infecting humans throughout the eastern side of North America approximately six months ago. The VRV is unlike any other virus humankind has ever seen before. The initial strain of the virus was to cure all deadly diseases; it was supposed to be the next big thing! It was totally ambitious and dangerous; they knew it had complications, but how bad they did not realize. The VRV mutated in its hosts killing them after two weeks of exposure, sometimes faster depending on the individual person. After death it could take several minutes or even hours for the corpse to reanimate itself, these reanimated corpses have collected quite a few nicknames. "Walkers," "Walking dead," "Z's," and many others. These creatures only know one thing. The need to feed.

Since the appearance of these "Zombies" worldwide panic was quick to ensue, the larger cities taking the fall first. The Americans were blamed and left to their own devices while the other countries fended for themselves. A group of close knit scientists and some Government hire ups have locked themselves away in their own private bunker to attempt to cure this virus. Whether they are still in activity the rest of the country does not know.

As for the survivors they have made their own discoveries about the undead that the scientists never predicted. Some never stopped mutating. The mutations ranged from pack like hunting techniques, while some lost sight all together. Some were so fast, the likelihood of you getting away were so slim it hurt. There were some who retained some of their intelligence, preferring to become an Alpha. Then there were the beasts, the animals that contracted the VRV. Depending on the species that contracted it depended on the mutations that it took on. Most of the animals died off in response to the mutations, their bodies unable to handle it even in their undead state. Most animals developed "mole" like senses, losing sight all together. Most of them also do not come out during the day, as the sun severely damages their body beyond what already has been done by the virus. All large "z-dogs'' are found under the command of an Alpha.

Now here is where the survivor comes in to play. You are a survivor. You managed to escape the initial outbreak, whether by sheer luck and determination or because you simply had the skills for it. You could have been a part of an evacuation group or thought that it would be better to escape on your own or with someone else and staying away from large groups. You all have heard of a so called "Safe-haven" for all those that have survived. It was ironic too that it was called "Heaven." You could either be searching for "Heaven" or you want to stay as far away from it as possible. There is one more thing that has been discovered about the virus. There are those who are somehow immune to the VRV and thus become "Carriers." Because they can still infect other people, only by coming in contact with their blood or saliva, a lot of the other survivors will try to kill them. Some feel they should be able to survive just like everyone else.

There are those who are known as "False-Carriers" These people are believed to be just like Carriers, but unfortunately their "Immunity" is temporary. False-Carriers are ones who are most likely to turn into Alphas or some other mutated creature. Where will you be? Where will you go? What will you do? Who will you be?
~~~~~~~~~~~~~~~~~~~~~~~~~~~~~~~~~~~~~~~~~~~~~~~~~~~~~~~~~~~~~~~~~~~~~
Rules~
-Your typical no god-modding, Power playing, or killing any other character without the player's permission.
-If you end up getting into another fight with another character, who will win and how much damage you receive needs to be decided ahead of time.
-If you have an idea or a plot twist you want to add, it must be discussed in OOC first.
-Not everyone can just be completely prepared for this situation, just like everyone can't be specialists.
-Limit to two characters per person.
-Please allow at least three posts before you post again so no one is left behind.
-You must be able to post at least 2 paragraphs (5-7 sentences a paragraph.)
-If you plan on leaving or just up and leave, kill off your character or your character will be killed off for you.
-Proper grammar and punctuation is a must. No mary-sues and gary-sues.
-There will be violence and gore, so a more mature player base would be better. Especially if you can't really handle violence and gore.
-Romance is encouraged, but remember fade to black when things are starting to get steamy.
~~~~~~~~~~~~~~~~~~~~~~~~~~~~~~~~~~~~~~~~~~~~~~~~~~~~~~~~~~~~~~~~~~~~~~
(image of your character; you can use real or anime.)
Name: (First and last.)
Nickname:
Age:
Carrier: (Yes or No, remember not everyone can be a carrier. There are very, very, few due to being killed.)
Height:
Job: (what were you before the outbreak.)
Bio: (tell us your story, must at least be a paragraph.)
Personality:
Weapon/survival gear: (limit to 5-6, remember you can't carry everything.)
Strengths: (you can add more or takeaway.)
-
-
-
-
Weaknesses: (Everyone has them)
Name:
Age:
Height:
Pack: (what do you have in your pack of zombies, how many.)
Ability: (If you are blind, higher senses. All Alpha's have at least one ability. Be creative.)
Bio: (Explain what you did before you turned and how you turned.)
Weaknesses: (Every alpha has a weakness to their ability.)
Setting~
The setting is somewhere in the middle of Tennessee, and can go out as far as mid Georgia. (Atlanta)
Heaven is located in Mount Juliet, Tennessee.
There are other much small safe-havens around as well, but none are located near the largest cities in the states.
No safe-havens located near Nashville, Memphis, Knoxville, Chattanooga, Clarksville and Murfreesboro.