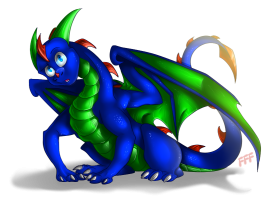 Technologically-Advanced Reptile.
Original poster
LURKER MEMBER
FOLKLORE MEMBER
Invitation Status
Posting Speed

Speed of Light
Multiple posts per day
1-3 posts per day
One post per day
1-3 posts per week
One post per week
Slow As Molasses
Online Availability

Mountain Time: 10:30PM to 4:00AM currently is my norm.
Writing Levels

Give-No-Fucks
Beginner
Elementary
Intermediate
Adept
Advanced
Adaptable
Preferred Character Gender

Male
Genres

Fantasy, Sci-fi, Magical, and more.
Age Of Elements Overview
and here be our In Character thread. Time to start us all off.

---------------------------Ahem---------------------------------

-------------------------------------------------------------------​
In all of the cities, there is a History that is taught. A History Long through the ages that has been passed down from generation to generation, using a combination of wrote Transcription, and Storytelling to the youth of the land. Even within the free country, this history is passed down.
"Long ago, There was but one dragon. This Spiritual being, Infinitely powerful, and infinately wize, used his power to create the creatures of the land. His Creations were the perfect embodiment of the 4 foundational Elements. As time went on, each of these dragons created more beings, but before they passed on, Their children lay the foundation for The Elemental climate we all enjoy today. As time went on, these Dragons were conversed with via the Dragon Priests, Whom many of you may have seen within the 4 nations. To this day they are still charged with Communicating with the beasts of legend, and interpreting their wishes. Failure to Heed the Dragon Priests is, in most circumstances, worse than a direct disgrace to the leaders of the individual nations. They used to be the Dragon riders, in the times of olde, before the great disappearance, back before bending." A Long Pause would Ensue. "Little is known about These dragons by anyone who isn't a dragon priest themselves. However, with this being said, There is a Little you should know. Not all of the Dragon of Spirit's offspring were Pure in their Intentions. Several of them were tainted. One of the Pure Dragons Was Izana Kunigiri, if the old Tomes were deciphered correctly. The full story is known only to the Dragon Priests, But, He failed to keep watch over his Mischievous Brother. Willingly suggesting a punishment, he was stripped of his Dragon Status, and Locked in a reincarnation Cycle. Commonly referred to as the Izana Cycle, or, As you are no-doubt familiar, Izana Day. It is Unknown whom the Host of the Legendary Dragon is, but one thing is speculated. Each of the Legendary Dragons recieved an Item to keep along their person every Reincarnation, for those that ended on that Path. Some may be Necklaces, Some may be rings. It is unknown if any others exist, If Izana is the only one, Only the Dragon Priests know for sure. However, it is Thanks to this Izana, and his relatives, that we enjoy Bending as it is. Now, For those of you present that haven't Chosen, Here is a Basic Run Down of what the Elements symbolize in the nations that take after them."
"Water.
Water is the element of change. The People of the Water Tribe are Capable of Adapting to many things. They have a Deep sense of community and love that holds them together through anything.
Earth.
Earth is the element of Substance. The People of the Earth Kingdom are Diverse and strong. They are Persistant and Enduring.
Fire.
Fire is the element of Power. The People of the Fire Nation have Desire and Will, and the energy and drive to Achieve what they want.
Air.
Air is the element of Freedom. The Air Nomads Detached themselves from Worldly concerns and found peace and freedom.
So, there you have it. All of the elements have their strenghs and their weaknesses. It is up to you whether to choose one, or try to master them all."
As the Story enes, a Radio Starts playing the Sounds of an announcer Talking about Pro-bending in the pre-game.
In the training area, Mako Stretches, Throwing a few short Firestrikes, and some Airbender-like dodges. "So, Is everyone ready for our Match today?"
Last edited: